Normalizing Opportunity
People with records have fulfilled their obligations to the judicial system and are ready, willing, and able to contribute to the economy.
Yet the stigma and lifelong barriers associated with having a record—known as collateral consequences—continue to punish people for a lifetime, making it difficult for people to move on with their lives and achieve long-term success and economic advancement.
Through the Normalizing Opportunity campaign, JFF's Center for Justice & Economic Advancement calls on policymakers to break down barriers to economic opportunity—and establish policies that create equitable economic advancement—for the 70 million people in the United States with criminal records. Our actionable recommendations will expand the talent pool available to fill critical workforce gaps and build a more equitable and just society.
We have crafted a policy agenda that provides federal, state, and local leaders with specific strategies to break down systemic barriers to the equitable economic advancement of all people with records, with an intentional focus on Black and Latinx communities. Designed as a road map for efforts to "normalize opportunity" for people with records, it identifies policy solutions within and across the U.S. education, workforce, financial, and housing systems, as well as the legal, judicial, and correctional systems.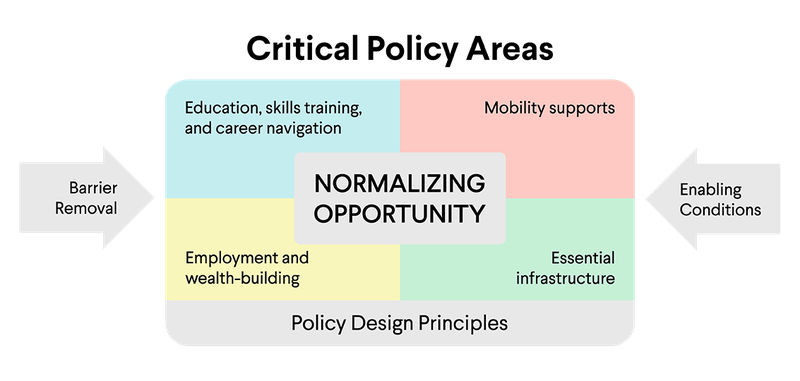 Experience tells us that there are four critical areas in which policies will have an impact on opportunity for people with criminal records to advance economically:
Education, skills training, and career navigation
Employment and wealth-building
Mobility supports
Essential infrastructure
Fair Chance Corporate Cohort
More than 70 million Americans have a conviction or arrest record that prevents them from gaining employment and economic advancement. Fair chance hiring is built on the principle that job candidates be evaluated on their skills and competencies, not their past convictions.
When people with records have access to economic opportunities, they perform the same or better than their peers and have higher retention rates. Employers who institute fair chance hiring practices gain a competitive advantage from expanding their talent pool, having a diverse and inclusive workplace, and increasing retention rates.
On December 8, 2022, JFF announced that it had acquired the nationally-respected Second Chance Hiring program from Dave's Killer Bread Foundation. The program, inspired by Dave's Killer Bread co-founder Dave Dahl's personal experiences with incarceration, provides training to and produces resources for employers on how to adopt and implement fair chance hiring.
JFF's Center for Justice & Economic Advancement is excited to continue to offer this program to mobilize the business community. If you are an employer who is interested in participating in the program or would like to learn more, please contact us at justice@jff.org.
About Us
Jobs for the Future's (JFF) Center for Justice & Economic Advancement leads efforts to break down systemic barriers that indefinitely penalize people with criminal records and create equitable opportunities that give them a fair chance to pursue quality jobs that match their talents, skills, and aspirations.

Launched with funding from Blue Meridian Partners' Justice and Mobility Fund, the Center works with employers to create good jobs that lead to career opportunities for millions of people, especially Black and Latinx individuals who are disproportionately affected by incarceration.
We work with partners to scale practices and policies that promote economic advancement for people with criminal records.
We impact economic advancement for people with records by eliminating policy barriers and creating conditions that promote hiring and access to education and credentialing programs.
We work to influence public perceptions and give a platform for people impacted by convictions to draw on their inner strengths and skills to re-engage with their communities and achieve career success.
We work with employers, intermediaries, government agencies, post-secondary educational institutions, community-based organizations, and more to develop, scale, and promote effective programs and frameworks to make fair chance hiring the expectation, not the exception.
Levers of Change
The Center drives equity and opportunity through four levers of change: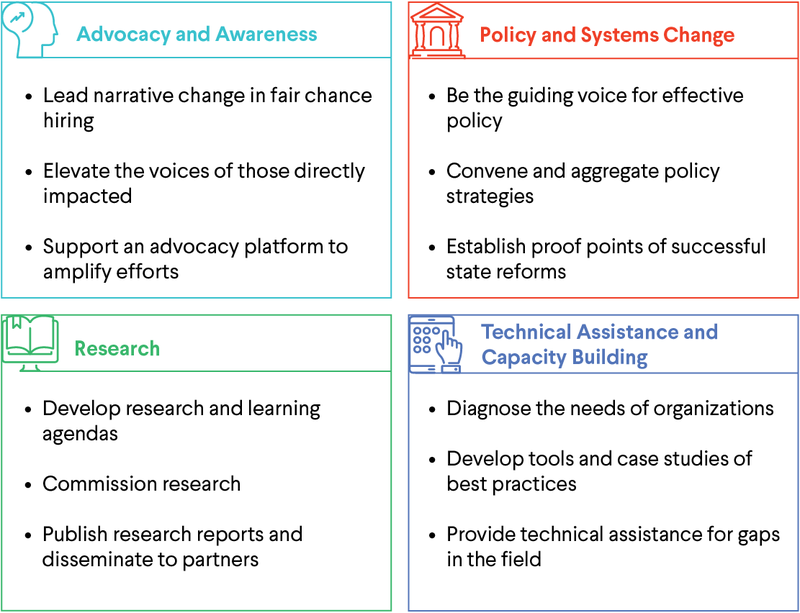 Through these levers, the Center works with partners—especially individuals who have personal experience and expertise navigating the impact of the criminal system—to expand access to education and employment opportunities by:
Mobilizing employers to adopt equitable and inclusive hiring practices, with a particular focus on racial equity
Providing technical assistance and capacity-building support for promising models that equip people for high-quality jobs and navigating their own career trajectory
Advocating for policy and systems change
Raising awareness of this complex challenge to change the narrative about people with records
Researching to identify and spread transformative solutions
Contact Us
The Center for Justice and Economic Advancement is continually building partnerships with employers, intermediaries, and other stakeholders. If you'd like to be part of the change to bring economic mobility and advancement to people with records, reach out to us.