The Network
The Student Success Center Network is dedicated to advancing economic mobility and racial justice by dramatically and equitably increasing the number of students earning postsecondary credentials with value in the labor market.


Managed by JFF since 2012, the SSCN partners with nearly half of all community colleges in the United States to develop, implement, and scale student success strategies. Each of the 17 statewide Student Success Centers (SSC) works with community colleges in their state to increase student completion rates, close equity gaps, and strengthen communities.

Through their participation in the SSCN, Centers have access to relationships, knowledge, expertise, resources, and platforms for innovation and influence that they use to support colleges and students in their states and shape postsecondary education nationally.
Centers benefit from:

— Peer learning and support
— Technical assistance
— Strategic advising
If we were not part of the Student Success Center Network (SSCN), our community colleges would not be engaged in the transformational change currently underway. The networking with peers, sharing of resources, lessons learned, contacts with national experts, and general support of the SSCN have made all the difference. Plainly speaking, Oregon would not be where we are today without our participation in the SSCN.

Elizabeth Cox Brand, Executive Director, Oregon Student Success Center
The Centers
Student Success Centers are state-based organizations that deliver expert guidance to community colleges on how to implement large-scale student success reforms, and collectively meet their state's completion goals. They create a coherent, statewide framework for action, or a lens through which community colleges in the state evaluate, align, and integrate their work in various student success initiatives.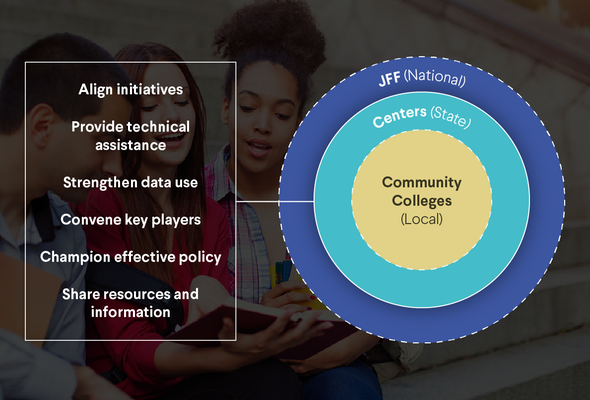 Centers help colleges adopt new student success strategies
[SSCs] have sought to support adoption of Guided Pathways by hosting institutes, workshops, and other training along with coaching from practitioners who have experience implementing Guided Pathways at their colleges. This has proven to be an effective mechanism for spreading Guided Pathways, because these entities provide support for adoption to all colleges in their systems, including small rural colleges and others that have limited resources for training and outside technical assistance.

Community College Research Center (2021) "Investing in Student Success at Community Colleges: Lessons from Research on Guided Pathways"
Our Partners
We collaborate with a number of partners in this work, including: