The SSCN: 10 Years of Leading Change at Community Colleges
With connections to nearly half of the country's community colleges and 4.5 million community college students, the Student Success Center Network is dedicated to promoting racial justice and driving equitable economic advancement by dramatically increasing the number of students earning postsecondary credentials with value in the labor market.
Teams of dedicated professionals who wake up every morning focused on a single goal: Helping their states' community colleges—and their students—succeed.
In 2012, that vision inspired a small group of state postsecondary leaders, in partnership with the Kresge Foundation, to take the first steps toward creating the Student Success Center Network, which is now marking its 10th anniversary.
Those visionaries saw the need for a central body that could coordinate the activities of all of a state's community colleges, and they decided to develop and incubate a new entity called a Student Success Center.
Postsecondary leaders in Arkansas and Michigan launched the first two Student Success Centers in 2010 and 2011, respectively. Then, Centers opened in New Jersey and Ohio. Together, they formed the Student Success Center Network (SSCN) in 2012, united in the mission of creating pathways to economic advancement through education. The Kresge Foundation saw the potential of broadening the impact of these Centers through facilitated connections and funded Jobs for the Future (JFF) to manage and grow the Network.
JFF has served as the Network manager from the beginning because we recognize that the SSCN's overarching goal aligns with our mission--transforming the American workforce and education systems to ensure that everyone has equitable opportunities for economic advancement, especially people who are members of groups that have been underrepresented in postsecondary education.
The SSCN now has Centers in 17 states. These Centers work with 48% of the country's public community colleges, which collectively enroll 4.5 million students, or 67% of U.S. community college students, including 75% of community college students of color and 64% of Pell Grant recipients who attend community colleges.
Individually, each Center works with community colleges within their state to increase student completion rates, close equity gaps, and strengthen communities. They share knowledge, expertise, and platforms for both innovation and influence. Leaders of the Centers say that, as members of the SSCN, they are amplifying their state impact to shape the transformation of postsecondary education nationally.
"If we weren't part of the Student Success Center Network, our community colleges wouldn't be engaged in the transformational change currently underway," says Elizabeth Cox Brand, executive director of Oregon Student Success Center. "The networking with peers, sharing of resources, lessons learned, contacts with national experts, and general support of the SSCN have made all the difference."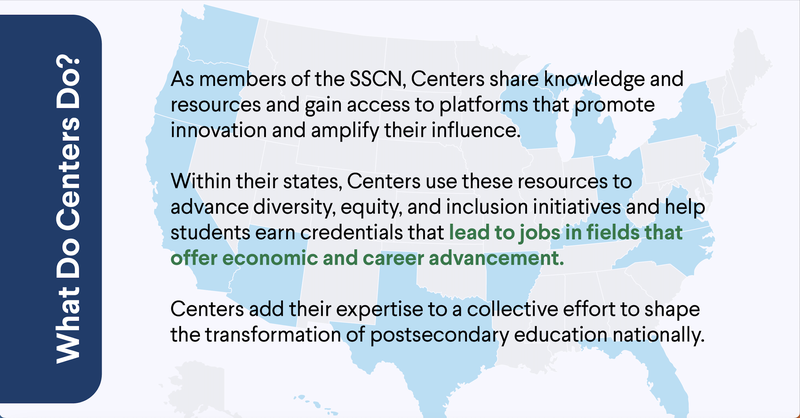 Ongoing Impact
The original partners saw Student Success Centers as leaders that centrally coordinated efforts to improve student persistence and completion rates across all of a state's community colleges. At the time, individual institutions were implementing a wide array of completion improvement strategies in isolated initiatives. As state-level entities, the Centers identified, promoted, and scaled the most effective options. They also created opportunities for schools to connect with one another so they can engage in peer learning and share ideas and resources to accelerate impact. This work continues today.
"Student Success Centers serve as transformational catalysts," says Amanda MacTaggart, director of strategic national partnerships, network engagement, and innovation at Connecticut State Colleges & Universities. "The Student Success Center Network fosters collaboration with peer institutions, connects Centers to emerging best practices, and fosters access to national experts. This approach empowers members to accelerate and scale their work to improve student success and equity."
As it completes its first decade of service, the SSCN continues to provide resources and support to state Student Success Centers. That support, in turn, puts the Centers in a position to help community and technical colleges provide learners and workers with opportunities to build in-demand skills and access career pathways that lead to economic advancement, a critical need for people who face barriers to employment and education, including many Black, Latinx, Indigenous learners, and many adult students of all backgrounds.
Where Are the Student Success Centers?
With the addition of the Kentucky Student Success Collaborative in 2021, the SSCN now has Student Success Centers in these 17 states: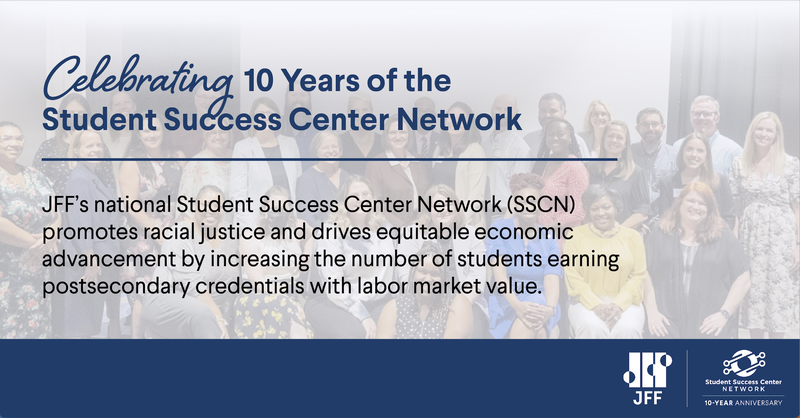 What Do Student Success Centers Do?
Student Success Centers are leading the transformation of postsecondary education across the country through their partnership with more than 500 community colleges. Here are some examples.
Centers Push for Equity
The Student Success Centers in California, New York, North Carolina, Texas, and Virginia are participating in the Racial Equity for Adult Credentials in Higher Education (REACH) Collaborative, a two-year, $8 million initiative funded by the Lumina Foundation. This initiative's stated goal is "to address the educational needs and lived experiences of adult students of color" and create pathways to high-quality nondegree credentials, which make it possible for adults to pursue better-paying job opportunities while they continue to work toward a degree.
Many Centers in the SSCN are using data to make the case for advancing equity in postsecondary education. In 2022, for example, the Centers in Connecticut, Ohio, Wisconsin, and Texas held events or released data visualization tools that featured disaggregated data to help institutions identify where students are being underserved and understand how they could make focused efforts to close gaps.
Centers Support Learner-Centered Pathways Strategies
All 17 Centers promote the development of academically rigorous learner-centered education pathways featuring coursework that's aligned with the needs of their local labor markets, while also addressing barriers to access and completion. JFF's new Guided Career Pathways framework is a valuable resource designed to support Centers in this work. Based on the principles promoted in the early Guided Pathways movement, which established a strong model for institutional redesign, the expanded Guided Career Pathways framework features elements such as these to emphasize success for adult learners:

Labor-market-informed pathways that reflect regional economic needs
Expanded supports such as on-ramps to career opportunities and flexible learning models to better serve adult students across all racial and socioeconomic lines
Integrated work and experiential learning strategies to give students opportunities to receive credit for skills and knowledge they've acquired both in and outside the classroom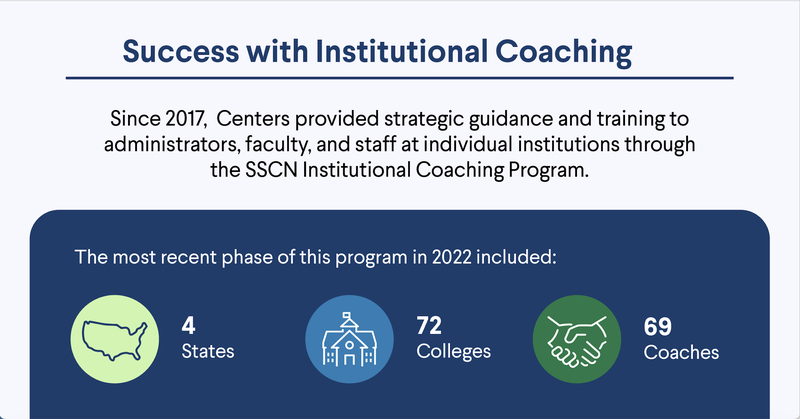 Since 2017, Centers have provided individual institutions with strategic guidance and training through the SSCN Coaching Program. In the most recent phase of SSCN coaching work, supported by Ascendium Education Group, JFF and Community College Research Initiatives (CCRI) engaged with Centers in California, Michigan, New York, and Oregon to compile evidence about approaches to institutional coaching that are most effective. Our August 2022 brief "Ten Ways Institutional Coaching Makes a Difference" summarizes what we learned.
All 17 Centers provide community colleges with professional development programs for faculty, staff, and leaders. For example, the Ohio Center hosted nearly 20 Student Success Leadership Institutes and more than 40 workshops and webinars. And the Virginia Center offers frequent training that addresses strategies to recognize student trauma.
Centers Amplify Student Voices
The Success Center for California Community Colleges worked closely with the California Community College Chancellor's Office to put students' needs and priorities at the center of the system's reform initiatives. For example, they restructured advisory committees to ensure that students not only would have a seat at the table but also would have opportunities to share their thoughts regarding key decisions and programs. Students started to engage more deeply when they saw that their feedback was valued.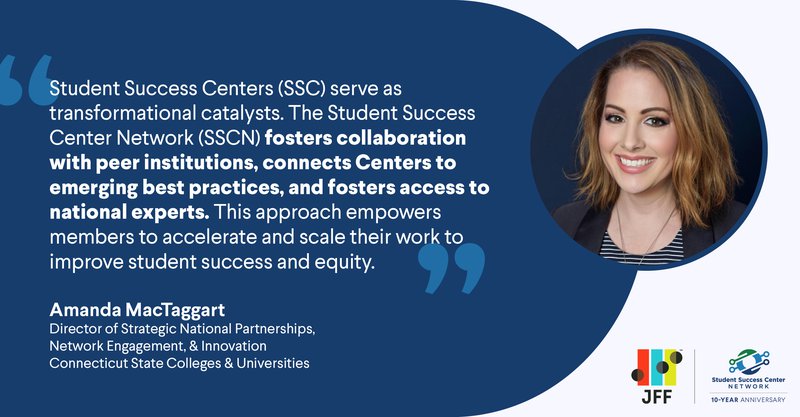 What Lies Ahead?
The Student Success Center Network is growing and evolving to increase equity and impact for more states, institutions, students, and communities. We hope that you'll join us on this journey.