Tool
JFF's Framework for a High-Quality Pre-Apprenticeship Program: Opportunity Youth
This pre-apprenticeship framework outlines strategies and promising practices for developing high-quality programs that serve opportunity youth participants.
Adapting the Framework for Opportunity Youth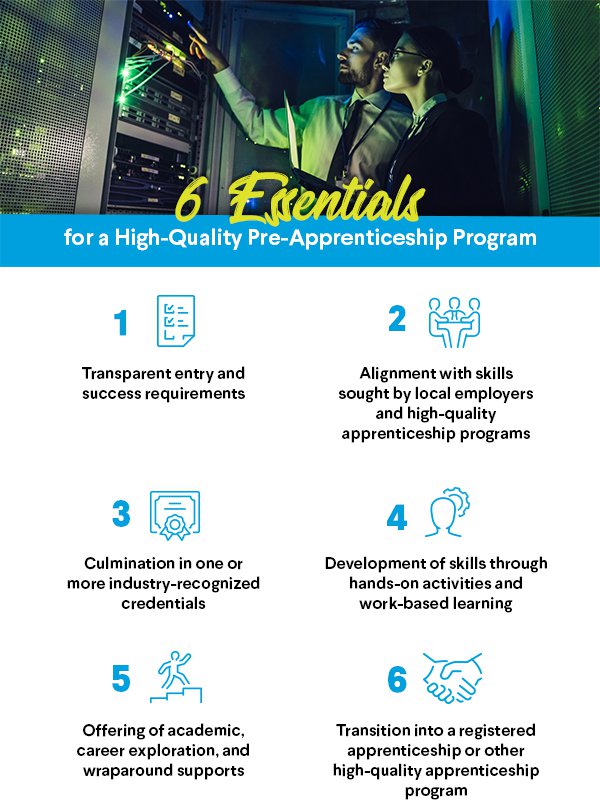 Apprenticeship can be a powerful tool for keeping young people engaged in work and education pathways while providing them with quality mentoring, services, and support. The structured earn-and-learn program is used in a broad range of high-growth industries to train workers while they receive pay and valuable classroom and on-the-job education. However, opportunity youth are often unable to take advantage of apprenticeships due to prerequisite requirements and a lack of awareness about available programs. These barriers are exacerbated in apprenticeship programs that lack proper diversity, equity, and inclusion practices. Pre-apprenticeship programs can help young people build the skills, capacities, and mindsets needed to enter and succeed in an apprenticeship while advancing equity across employers and industries.
Getting opportunity youth involved in apprenticeships can go a long way toward ensuring that they are not left behind. High-quality pre-apprenticeships will apply a strong lens of racial and social equity to all facets of their program design and training structure and will integrate best practices that meet the diverse needs of the participants and communities they serve.
Moreover, as employer demand for highly skilled workers increases as older workers retire and the number of new technologies grows, opportunity youth can fill the resulting gap in the labor market with the right training and support. Employers like State Street have even begun noting higher retention rates for youth hired through partnerships with programs like Year Up than "traditional hires." While elements of this framework can help programs support opportunity youth and expand access to careers, there is a critical need to advance racial and social equity in our national systems, including workforce development. Making this approach a core component of employer partnerships and embedding it into the provision of supportive wraparound services will help pre-apprenticeships increase access to high-quality career pathways for young people.
The purpose of this framework is to offer guidance to community-based organizations, training providers, employers, and other practitioners interested in developing a quality pre-apprenticeship program that is aligned with the specific needs of opportunity youth and that advances equity in the workforce. It adapts the quality elements of JFF's Framework for a High-Quality Pre-Apprenticeship Program and provides recommendations specific to opportunity youth. These elements include:
Transparent entry and success requirements
Alignment of skill development with local employer and apprenticeship demand
Provision of industry-recognized credentials
Development of skills through work-based learning
Inclusion of academic and career exploration, as well as wraparound supports
Connections and transitions into a Registered Apprenticeship
This resource also spotlights several high-performing pre-apprenticeship programs for opportunity youth. These spotlights offer examples for how the various components of pre-apprenticeship can be developed and highlight a range of approaches to designing trainings that provide participants with the skills, competencies, and experience needed to access and progress through career and education pathways. For a more detailed description of a high-performing pre-apprenticeship program, see a deeper case study, JFF's Making Apprenticeship Work for Opportunity Youth, which shines a light onto the District 1199c Training & Upgrading Fund's behavioral health apprenticeship pathway for opportunity youth.
Conclusion
For too long, opportunity youth have been left behind in the apprenticeship movement. This framework aims to address that gap with specific guidance to drive strong programming. The promising practices outlined in this framework can help existing pre-apprenticeship programs strengthen their programming so that opportunity youth and other low-income young adults can succeed and make successful transitions to high-quality apprenticeship programs. It can also serve as a guide for those seeking to design new pre-apprenticeship programs for opportunity youth. With the right supports and opportunities, this population can thrive in apprenticeship pathways that enable them to learn, earn a paycheck, and advance in their careers.
Acknowledgments
We would like to thank the U.S. Department of Labor for providing the funding to support this work and for its commitment to advancing diversity, equity, and inclusion in the apprenticeship and workforce systems. We would also like to thank our network of Apprenticeship Expansion and Modernization Fund (AEMF) sites, which are working to modernize and expand pathways to apprenticeship for opportunity youth.
We want to extend a special thank you to our colleagues Cheryl Feldman and Edison Freire for their review of and contribution to this framework.
Finally, we would like to thank and acknowledge the programs and training providers featured in this framework. We appreciate their thoughtful feedback and willingness to share promising practices and recommendations for this work. These sites include:
American YouthWorks
The Wisconsin Regional Training Partnership (WRTP)
The Urban Technology Project
The Corps Network
PowerCorps Philadelphia
YouthBuild Philadelphia Charter School
Institute for American Apprenticeships