Our Convening and Leadership Superpower
Horizons is a big tent; we bring together a diverse group of people from across the public, private, and nonprofit sectors. We need all voices to develop systems that serve everyone.
We bring together the best ideas from across the country, across the aisle, and across the silos of backgrounds that often separate us. We channel our resources, networks, and convening power to serve one goal: equitable economic advancement for all.
Meet Our Featured Speaker at Horizons

We are excited to announce Nikole Hannah-Jones as a featured speaker at Horizons, presented by JFF, in 2023.
Nikole Hannah-Jones is the Pulitzer Prize-winning creator of the 1619 Project, which explores the founding of the nation starting in 1619, when the first enslaved Africans arrived in the Virginia colony; her anthology, The 1619 Project: A New Origin Story, was an instant #1 New York Times bestseller. She is the recipient of a MacArthur Fellowship and is the inaugural Knight Chair in Race and Journalism at the Howard University School of Communications.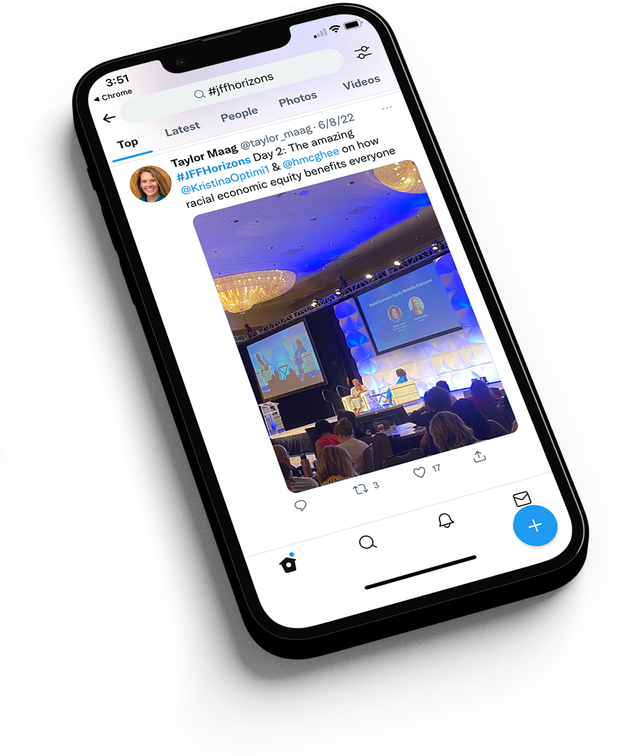 #JFFHorizons
Our conversation starts long before the national summit. Share thoughts, experiences, photos, and videos. Network and ask questions.