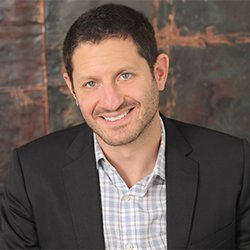 Yigal Kerszenbaum is JFF's managing director for innovative finance, a role in which he will oversee the organization's investment strategy. He was the founder and managing director of the Employment Technology Fund (ETF), which is now ETF@JFFLabs.
An expert in impact investing, Yigal's goal in managing ETF@JFFLabs is to support entrepreneurs who develop technology solutions to train and upskill low-income and lower-skill adults and connect people from underserved communities with employment opportunities.

Yigal has executed more than $120 million worth of transactions in impact investments in the United States, Latin America, Europe, Asia, and sub-Saharan Africa.

Before founding ETF, he worked at the Rockefeller Foundation, where he managed a global portfolio of 25 impact and program-related investments that was valued at more than $60 million.

Earlier in his career, Yigal was an investment professional on the private equity team at Developing World Markets, an impact investment fund manager focused on inclusive finance.

Before that, he worked at 57 Stars, a $2 billion private asset manager focused on private equity partnerships in emerging markets. He started his career as an entrepreneur, founding a language school in Córdoba, Argentina.

Yigal says he came to JFF because it is a leader in workforce development and provides a platform for change that can drive the creation of economic opportunities for millions of people. He says he envisions ETF@JFFLabs building a market-leading workforce development impact fund and points out that "JFF's brand and broad network will allow us to attract innovative entrepreneurs who are building companies that will ensure a fair chance at economic advancement for all."

Outside of work, Yigal says he is "learning how to be a dad to my beautiful, bright, and happy little girl, Noa." He also loves soccer, surfing, exploring new countries, and the Grateful Dead.