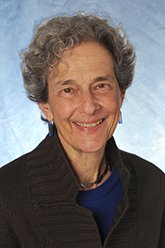 Nancy Hoffman is a senior advisor at JFF and a co-founder of the Pathways to Prosperity Network. She supports states, regions, and cities in efforts to build or improve pathways from high school to a first marketable postsecondary credential. Nancy has written and edited many books, articles, and policy briefs that bring JFF's work to a wider audience. Most recently, she co-edited Teaching Students About the World of Work: A Challenge to Postsecondary Educators with Michael Collins. The book asks, what should youth and young adults know about work in a changing economy where there are barriers based on race, ethnicity, and social class?
She also co-authored Learning for Careers: The Pathways to Prosperity Network with Bob Schwartz and wrote Schooling in the Workplace: How Six of the World's Best Vocational Education Systems Prepare Young People for Jobs and Life, which introduces a U.S. audience to the range of vocational education systems abroad. Other books she has written or edited include: Women's True Profession: Voices from the History of Teaching, Double the Numbers: Increasing Postsecondary Credentials for Underrepresented Youth, and Minding the Gap: Why Integrating High School with College Makes Sense and How to Do It.
Nancy serves on the Massachusetts Board of Higher Education, and on the boards of North Bennet Street School, which teaches traditional trades and craftsmanship, and Build Up Birmingham, an Alabama organization that offers construction training and gives young people opportunities to rehab homes they rent or own.
Before joining JFF, Nancy held faculty and administrative positions at institutions such as MIT, UMass Boston, Harvard, Brown, Temple, and Portland State. Nancy was active in the civil rights movement of the 1960s and was an early developer of the field of women's studies.

Describing herself as an outdoors person, Nancy says, "I'm also happy with a good book."

She has three adult children and four grandchildren.