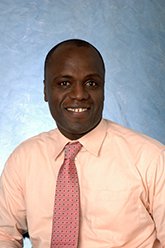 As associate director on JFF's Back on Track team, Mamadou Ndiaye helps design, document, codify, and scale Back on Track programs aimed at increasing the quality and quantity of pathways to postsecondary credential attainment and jobs for older youth who have left school without a credential or who have obtained a diploma or GED but are not "college ready." His work spans districts, states, national youth-serving networks, intermediaries and community colleges—all identified as key scale sectors for Back on Track designs.
Mamadou is currently the lead staffer providing technical assistance and coaching in Opportunity Works, a JFF/Aspen Institute Social Innovation Fund (SIF) initiative supporting a group of community collaboratives that are implementing Back on Track programming for opportunity youth.
Mamadou has more than 15 years of experience in program design, program management, and systems development in the area of alternative education for off-track/out-of-school youth and adults. As a senior program manager at CollegeBound Dorchester, a nonprofit community-based organization in Dorchester, Massachusetts, he helped design a college prep program serving students who have dropped out of Boston Public Schools.
Mamadou is also co-founder and board member of X-Cel Education Services Inc., a Boston-based nonprofit that helps adults enroll and succeed in postsecondary education.
He holds a bachelor's degree in management from Northeastern University and a master's degree from the University of Massachusetts–Boston.