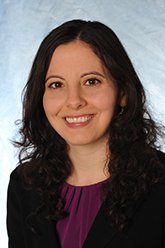 Andrea Juncos is an associate director at JFF, where she works to improve the K-12, adult learning, and postsecondary education systems for students and workers across the United States.
She manages an internal team that engages and supports JFF's network of 16 state-level Student Success Centers. In this role, she leads the design and delivery of services created in collaboration with national partners to support state and college leaders in implementing student success reforms in areas such as student advising, change management, and developmental education redesign. She also provides strategic consultation to community college system leaders on implementing and supporting student success reforms.
Andrea's skills and areas of expertise include:
Network management and engagement
Strategic planning and strategy development
Partner engagement
Service design and delivery
Team leadership
Youth mentoring
Communications and marketing
Before joining JFF, Andrea was director of communications at New York Law School, where she served as chief writer and editor for all publications. Previously, she worked for the New York City Department of Education as special assistant to the regional superintendent of Region 2 in the Bronx, and as associate editor at Catalyst, a research and consulting firm dedicated to advancing women and people of color in business. She also spent 10 years at Girls Write Now, a mentoring and college prep program for teen writers in New York City, where she mentored students, led mentee enrollment, and served as acting chair of the board of directors.
Andrea says she was drawn to JFF by its diverse team of smart, mission-driven individuals dedicated to improving lives, and by the organization's unique position and expertise working across the education and workforce pipeline.
Outside of work, Andrea pursues her love of food, music, and travel in Boston and beyond, and enjoys spending time with her husband, Philip, and new son Felipe.