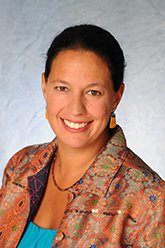 Amy Loyd is a vice president at JFF. In this role, she guides states and regions in developing and scaling effective policies, infrastructure, and practices to build sustainable systems of college and career pathways aligned with regional labor markets.

Before joining JFF, Amy led a public-private partnership network of K-12 schools providing culturally responsive education and wraparound services to Alaska Native and American Indian students and their families. She worked with the U.S. Department of Education on policy and state capacity-building and as a peer reviewer consultant to the department. Additionally, she led the startup of a prisoner reentry residential education and workforce development social enterprise and was a high school math teacher and family advocate.
Amy holds a bachelor's degree in philosophy and mathematics from St. John's College and a doctorate in education leadership from the Harvard Graduate School of Education, where she also teaches a class on using pathways to increase opportunity and equity in education.