Becoming a CNA with Goodwill was the best way for me to go into nursing.

Jailene Garcia-Baldovines
Inspired by the nurses who cared for family members who needed intensive medical treatments, Elena Poeung and Jailene Garcia-Baldovines took an early interest in nursing. They both took health care classes at their respective high schools in Long Beach, California. When their teachers told them they could become certified nursing assistants (CNA) through the local Goodwill, they saw it as an opportunity to gain hands-on experience. While still in high school, they enrolled in the CNA Training Program at Goodwill, Serving the People of Southern Los Angeles County (SOLAC). They both graduated as CNAs less than a year later.
Earning the CNA certification became a critical step on each of their career paths. "Becoming a CNA with Goodwill was the best way for me to go into nursing," Jailene said.
Students like Elena and Jailene are enrolled in CNA training programs across the country, often through high schools, colleges, or community-based organizations like Goodwill SOLAC. (Through the Citi Foundation's Youth Workforce Fund, JFF partnered with Goodwill SOLAC to support its strategic planning efforts). There are plenty of reasons to be excited about CNA programs as potential launchpads for high-wage careers in health care. But there are also reasons to be cautious, because these programs can lead to professional dead ends.
Demand Is High and Growing . . .
CNAs like Elena and Jailene are in high demand. Across the United States, there were more than 1.5 million CNA jobs in 2018, and that number is expected to grow by 9 percent over the next decade, according to the Bureau of Labor Statistics. This mirrors the overall employment trend in health care, which is expected to add more jobs than any other sector over the next 10 years.
. . . but Wages Start Low
While there are plenty of CNA jobs, they don't pay well. Even in California, one of the highest-paying states, the average full-time CNA makes just over $35,000 per year. The living wage for one adult with one child in Los Angeles County is about $30 per hour, nearly $63,000 per year. Even with two working adults, it would be challenging to support one child with average CNA wages. CNA positions can be a good starting point, but for most people they are not an end goal.
I learned strategies that I was able to apply during clinicals and I was able to work with a lot of kinds of patients.

Elena Poeung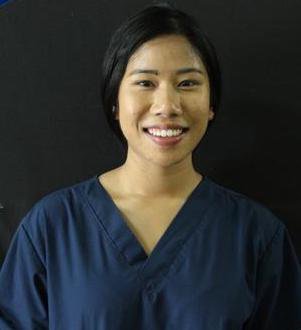 The Barrier to Entry Is Low . . .
In terms of experience or technical skills, the requirements for enrolling in a CNA program aren't very high, making it possible for people from a range of backgrounds to participate. For example, Goodwill SOLAC has just a few basic requirements, including an adult reading and math literacy test, a panel interview, and a health screening examination.
The training is intensive, but it doesn't last long; a program can be as short as 75 hours—though the length varies by state. In California, training must be at least 150 hours, with 100 hours in a clinical setting. Through classroom instruction and hands-on experience, CNAs in training learn and practice foundational knowledge and skills, like measuring blood pressure and pulse rate, and repositioning and feeding patients.
"I learned strategies that I was able to apply during clinicals, and I was able to work with a lot of different kinds of patients," Elena said. Trainees also observe other health care professionals on the job to learn about more advanced roles and responsibilities.
. . . but the Barrier to Advancement Is High
In theory, the CNA experience provides a strong foundation for a career in health care. In practice, the next steps can be unclear and difficult to access for a range of structural and practical reasons. CNA credits and experience are not always recognized, and, given the low wages, CNA professionals can find it difficult to pay for additional education.
CNA Programs as Launchpads
Now in their early 20s, Elena and Jailene are young health care professionals on the move. Elena is enrolled in a licensed vocational nursing (LVN, also known as licensed practical nursing) program and plans to specialize in pediatrics. Jailene is on her way to becoming a registered nurse (RN). Goodwill SOLAC's model helped Elena and Jailene realize the opportunities of a CNA program and avoid the pitfalls.
Three critical elements make Goodwill SOLAC's CNA program a potential launchpad for a health care career rather than a dead end.
I was ahead of the game in knowing what to do because of Goodwill.

Jailene Garcia-Baldovines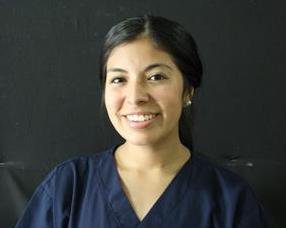 Long-Term, Personalized Support
Unlike most CNA programs, Goodwill SOLAC supports students during training and for at least five years after they graduate. A dedicated staff member provides comprehensive technical and emotional support. As Jailene reflected, "I was ahead of the game in knowing what to do because of Goodwill. It's the whole picture—they help you with your education and your emotions." Graduates can also join an alumni association.
Structured Opportunities for Advancement
Goodwill SOLAC graduates receive advising about possible vocational ladders from CNA jobs to family-supporting careers. Students earn up to 25 credits that apply toward high school graduation and toward LVN and RN programs at local colleges. This allows students to complete key college coursework, saving time and money. Goodwill SOLAC is also launching an LVN program to create an even smoother transition toward new opportunities.
Community Investment
To achieve its mission of propelling young people to economic self-sufficiency, Goodwill SOLAC's CNA training program must be free for students, all of whom have very little to no income. The organization has adopted creative funding strategies, from using revenue from its retail stores and donations from the community to seeking out grants. It also takes advantage of a strong partnership with Long Beach Unified School District.
To be sustainable, Goodwill SOLAC cannot rely solely on current partnerships and grants to offset costs. The program costs more than $5,000 per trainee, and to invest in students' success, it will have to rely on employers providing support in the form of funding and access to equipment and on-the-job experience. Investments like those can pay off for employers by building a talent pipeline that can lead to savings on recruitment and training costs. In one initiative, a health facility reported that it reduced first-year turnover and saved more than $3.2 million.
Goodwill SOLAC shows that a rigorous, thoughtful, and supportive CNA program can be a first step toward a family-supporting career in health care. JFF urges organizations, especially employers, to support programs that pair training with career guidance and support in fields like health care, where the demand for a skilled workforce is higher than the supply. This approach works for employers and for people from under-resourced communities who need jobs that can grow into well-paying careers.