Student Financial Stability
Mitigate the economic insecurities of students so they can focus on their studies. Make use of the services and resources available through social welfare policies and programs to help students overcome crises and stay in school to acquire the skills and credentials they need for work.
Recommendation 15
If students are hungry, unsure of where they will sleep, or worried about paying for basic needs, they will have difficulty studying and completing credentials. According to a recent national survey, more than 40 percent of college students are food insecure, and almost half have experienced some level of housing insecurity.
---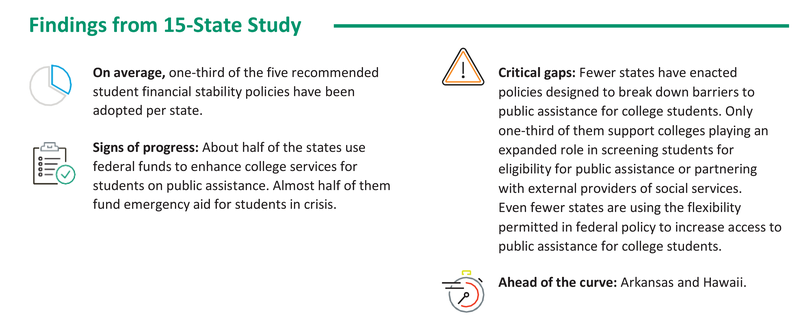 ---
JFF calls on states to adopt policies that enable community colleges to help students deal with economic insecurities. Specifically, states should offer emergency aid to help students cover unexpected life expenses. States should also help colleges develop the capacity to screen students to see if they are eligible for public assistance. States also should exercise the flexibility granted under federal policies to remove barriers to aid for students—for example, they could eliminate rules requiring students to work in order to receive aid.
Additionally, states should take advantage of federal matching programs to provide low-income students with supplemental supports, such as tuition assistance or career coaching services. And because educational institutions may not be capable of providing students with non-academic services (e.g., mental health care or assistance with landlord-tenant disputes), states should give community colleges incentives to establish partnerships with community organizations that can provide such assistance.