Marcia Ballinger, Lorain County Community College
Marcia Ballinger serves as the 5th President of Lorain County Community College. She has been awarded the prestigious inaugural Aspen Presidential Fellowship for Community College Excellence.
Dr. Ballinger is deeply engaged in the student completion movement at the state and national level serving in leadership roles for Completion by Design project funded by the Bill & Melinda Gates Foundation, as well as Achieving the Dream. She also has served as a Pathways Coach for the American Association of Community Colleges.
Dr. Ballinger is currently serving on the Ohio Articulation and Transfer Network Oversight Board, Ohio Association of Community Colleges Committee and as Co-Chair of the Ohio Guaranteed Transfer Pathways Statewide Steering Committee. She is also President of the Lorain County Community College Foundation and while serving as Vice President of the LCCC Foundation grew the organization from $12 million in assets in 2004 to over $45 million today.
Dr. Ballinger holds a Ph.D. in Education – Community College Leadership, Walden University. She is an alumnus of LCCC's University Partnership Program having earned her MBA from Kent State University. She earned a Bachelor of Arts degree in Journalism from Indiana University of Pennsylvania.
Dr. Ballinger currently serves as the Co-chair for the Policy Leadership Trust for Student Success.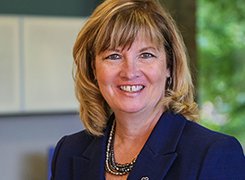 "It helps to have an external stimulus, like a new state policy or even a national initiative, to push you. Without it, you could become complacent on campus. The policy work has helped us bring together important partners to improve student success."
Michael Baston, Rockland Community College
Michael Baston is the 7th president of Rockland Community College. He joined Rockland from LaGuardia Community College, where he served as the Vice President for Student Affairs and Associate Provost. Dr. Baston also helped grow LaGuardia's grant funding to support new and creative interventions for student retention and success, with a special focus on diverse and underserved student populations.
Dr. Baston's work has been featured in the Chronicle of Higher Education, Atlantic, Diverse Education, and Community College Times amongst others. An American Association of Community Colleges Pathways coach, Dr. Baston supports college leadership teams in integrating student success initiatives to advance college completion through guided pathways. Dr. Baston was selected as a member of the inaugural class of Aspen Institute Presidential Fellows for Community College Excellence where he explored systemic issues impacting the educational access pipeline and student success.
Dr. Baston began his career as a public interest lawyer representing various educational institutions and social justice organizations. His work with academic clients led him to pursue a second career in academia as both a professor of legal studies and business and a student affairs administrator. Dr. Baston holds a BA from Iona College, a JD from Brooklyn Law School, and an EdD from St. John Fisher College.
Tammi Chun, University of Hawai'i Community Colleges
Tammi Chun is the Interim Associate Vice President for Academic Affairs for the University of Hawai'i Community Colleges, serving the entire state through seven colleges throughout the islands. In partnership with the UH baccalaureate institutions and other partners, Tammi leads statewide initiatives that enable more of Hawai'i's residents to achieve their educational and career goals. Tammi has held key positions in Hawai'i's government and nonprofit sectors including assistant superintendent for the Office of Strategy, Innovation and Performance at the State of Hawaii Department of Education; vice president for programs at Hawaii Community Foundation; policy analyst for the Office of the Governor; and executive director for Hawaii P-20 Partnerships for Education. Previously, she researched education and social policies at the RAND Corporation and the University of Pennsylvania. She earned an educational doctorate from the University of Southern California Rossier School of Education; a master's degree in public policy from Harvard University John F. Kennedy School of Government; and a bachelor's degree from Pomona College. Tammi is an Aspen Presidential Fellow, chair of the Center for Tomorrow's Leaders and a member of Aloha United Way's Community Impact Council; she previously served as an inaugural board member of the Data Quality Campaign (D.C) and the 'Aina Haina Elementary School Community Council.
Marielena DeSanctis, Community College of Denver
Dr. Marielena DeSanctis is the future President for the Community College of Denver. She currently serves as the Provost & Senior Vice-President, Academic Affairs and Student Services of Broward College. Dr. DeSanctis has more than 22 years of experience in education, including classroom teaching, curriculum development, instructional design, learning assessment, and progressive leadership roles in both K-12 and higher education. Prior to her current leadership role, she has served as High School Assistant Principal and Principal, Assistant Superintendent of Curriculum and Instruction, and Central Campus President and Vice-President of Student Affairs. Broward College serves approximately 63,000 students through three main campuses and five instructional centers in south Florida and ten SACSCOC accredited centers worldwide, six international affiliates, and eight international partner institutions.
As Provost and Senior Vice-President, Dr. DeSanctis is responsible for Broward College's campuses and centers' leadership and daily operations, including a shared campus with Florida Atlantic University and a shared center with Florida International University. Through a leadership team, she oversees all aspects of the College's academic programs and personnel, a collegiate high school and the dual-enrollment program in partnership with the school district, all student services functions and personnel, and the professional development of all Broward College employees. Also included are two shared-use libraries with the Broward County Public Library System, and one shared-use library with Florida Atlantic University, the Registrar's Office, Curriculum Services, Institutional Accessibility, Testing, and Tutoring. Additionally, under her leadership, Broward College serves F-1 visa students in South Florida and students in accredited international centers, affiliates, and partner locations.
Dr. DeSanctis is an active and passionate advocate for her local, state, and nationwide community. Dr. DeSanctis is a member of the 2019-2020 class of the Aspen Presidential Fellowship for Community College Excellence and a member of Leadership Florida Class XXXV. Before answering a call to education, Dr. DeSanctis served almost six years of experience as an engineer in the manufacturing and construction sector. Her education includes a bachelor's degree in Mechanical Engineering from Georgia Institute of Technology, a master's degree in Math Education from Nova Southeastern University, and an Ed.S. and Ph.D. in Educational Leadership from Florida Atlantic University.
Born in South Florida to a mother that emigrated from Cuba, she is fluent in Spanish. Among her accomplishments, she is most proud of her two children - Conner (26) and Allie (23). She currently resides in Palm Beach County, Florida, with her husband Lance DeSanctis, their dogs Harley, Stitch and Lexi, and parrot Cowboy.
Jackie Elliot, Central Arizona College
Dr. Elliott was selected as the ninth President of Central Arizona College where she assumed the role in July of 2016. Prior to her arrival at Central Arizona College, Dr. Elliott served as the third and first-ever female President of North Arkansas College (Northark) from 2011 – 2016. Prior to joining Northark, Dr. Elliott served as Vice President for Student Affairs at Northwest Missouri State University in Maryville, Missouri for five years. Dr. Elliott has served in various Student and Academic Affairs leadership roles at Barton College in Kansas, Creighton University in Nebraska, and Highland Community College in Kansas. Nationally, Dr. Elliott serves on the Board of Trustees for the Higher Learning Commission, Jobs for the Future Policy Leadership Trust, Executive Committee for the Alliance for Innovation and Transformation in Higher Education, and as past-president of the Council for Accreditation for Two-Year Colleges. Dr. Elliott received her doctorate in Education with a specialization in Educational Leadership and Administration from the University of Nebraska-Lincoln, her master's degree from Fort Hays State University in Kansas, and her bachelor's from Concordia University in Nebraska.
Leigh Goodson, Tulsa Community College
Leigh Goodson, PhD, serves as the fourth president and chief executive officer of Tulsa Community College. Dr. Goodson has strong ties to education, having served previously as a university faculty member, university administrator, and school board member for Tulsa Public Schools. She is passionate about student success.
Dr. Goodson serves on the board of directors for the YMCA of Greater Tulsa and the Oklahoma Innovation Institute. She is a graduate of Leadership Oklahoma class XXIII and Leadership Tulsa Class 35. She has served as chair of the Education Task Force for the Tulsa Regional Chamber One Voice initiative as well as on its Board of Directors. She has a special interest in creating a pipeline for students in STEM (science, technology, engineering, and math).
Dr. Goodson was a member of the first class of Aspen Presidential Fellowship Program, and under her leadership, Tulsa Community College was selected as one of 30 institutions nationwide to participate in the AACC Pathways Project.
Dr. Goodson earned a PhD in education research and evaluation from OSU, a master's degree in organizational communication from Fort Hays State University in Hays, Kansas, and a bachelor's degree in political science from OSU.
Michael Hansen, Michigan Community College Association
After graduating with a BA in American Political Science and a Teaching Certificate from the University of Michigan, Mr. Hansen began his professional career teaching high school social studies in the public choose. in 1988, he began working with the Michigan Senate Fiscal Agency as a non-partisan fiscal analyst in support of the Michigan Senate. While there he received his Master's Degree in Labor and industrial Relations from Michigan State University in 1992.
His 18-year career with the Agency culminated in his position as Chief Analyst, where his responsibilities included staffing the Joint Capital Outlay Subcommittee and the Appropriations Subcommittee on Community Colleges. In the spring of 2006, Mr. Hansen accepted the position of President and CEO of the Michigan Community College Association, a position he currently holds today.

David Harrison, Columbus State Community College
David Harrison, PhD, is president at Columbus State Community College. During his tenure, he has focused the college around goals for student success and attainment, workforce innovation, and civic engagement. In 2012, Columbus State was named an Achieving the Dream college, a national initiative to help more students earn college credentials with an emphasis on first-generation students, students of color, and low-income students. Additionally, in 2015, the college received Achieving the Dream's esteemed designation as a Leader College.
Dr. Harrison came to Columbus State with extensive experience building successful community partnerships. As vice provost for regional campuses at the University of Central Florida, he worked with community colleges to create the Central Florida Higher Education Consortium and the nationally recognized DirectConnect to UCF program, which guarantees the opportunity for a bachelor's degree for graduates of partner community colleges.
Prior to joining UCF, Dr. Harrison served in leadership roles at Seminole State College in Florida and Sinclair Community College in Ohio and was a consulting manager with Accenture in Pittsburgh.
He holds a PhD from Ohio State University, a master's degree in business administration from the Katz Graduate School of Business at the University of Pittsburgh, and a bachelor's degree in chemical engineering from the University of Dayton.
Jack Hershey, Ohio Association of Community Colleges
Jack Hershey is the president & CEO of the Ohio Association of Community Colleges (OACC), which represents the presidents and trustees of the state's 23 community colleges.
Hershey came to the OACC in 2014 after spending 10 years at Ohio State University, where he most recently was the university's associate vice president for state relations, a position in which he managed state government affairs for the university.
Hershey was a leader on successful collaborations by all state colleges and universities to produce a unified approach to funding for both capital and operating budgets for campuses statewide. Both models were endorsed by Governor John R. Kasich and were supported by large bipartisan majorities in the Ohio General Assembly.
Earlier in his career, Hershey was deputy director of the Office of Budget and Management under former Governor Bob Taft and was director of finance and a financial analyst in the Ohio House of Representatives under former Speaker Jo Ann Davidson.
A Cleveland-area native, Hershey holds a bachelor's degree in public policy management from the University of Akron.
Anne Kress, Northern Virginia Community College
Dr. Anne M. Kress is the sixth president of Northern Virginia Community College and started her tenure on January 6, 2020. She has more than 30 years of experience in community college teaching, administration, leadership, and community and business partnership development. She began her career in 1989 as a faculty member at Santa Fe Community College in Gainesville, Fla. She went on to serve as an associate professor; a department chair; the Title III project director; an associate vice president; and provost and vice president for Academic Affairs.
Most recently, she served for ten years as the president of Monroe Community College, the third largest community college in the State University of New York System (SUNY). Under her leadership, Monroe Community College launched a nationally recognized economic and workforce development center that has attracted over $20M in funding. She also established a comprehensive suite of student support services to address food, housing, transportation, and childcare needs.
Dr. Kress holds a doctorate in higher education administration, master's and bachelor's degrees in English, and a bachelor's degree with honors in finance from the University of Florida.
Russell Lowery-Hart, Amarillo College
Russell Lowery-Hart, PhD, current serves as president for Amarillo College, a Leader College for Achieving the Dream. His leadership focuses on improving student success through systemic and cultural change. In his career, he created several institution-wide initiatives targeting a systemic approach to poverty, curricular reform, instructional improvement, and partnership development across campus silos.
Dr. Lowery-Hart was selected into the inaugural class of the Aspen Presidential Fellowship for Community College Excellence, a rigorous executive leadership program led by the Aspen Institute and the Stanford Educational Leadership Initiative. Dr. Lowery-Hart served as the chair for the Amarillo "No Limits/No Excuses" Partners for Postsecondary Success Collective Impact—a 21-organization collaborative focused on education certificate and degree completion leading to living wage employment.
He served as the chair for the Texas Higher Education Coordinating Board Undergraduate Education Advisory Committee charged with evaluating and redesigning the state of Texas general education requirements.
Dr. Lowery-Hart previously served as vice president of academic affairs for Amarillo College. He was named the National Council of Instructional Administrators Academic Leader of the Year for 2014. He received his PhD from Ohio University, a master's degree from Texas Tech University, and a bachelor's degree from West Texas State University.
While his calling is education reform, his passion is family. His wife, Tara, and children, Christopher, Campbell, and Cadence, fill his life with beauty and joy.
Sharon Morrissey, Senior Vice Chancellor for Academic and Workforce Programs
Dr. Sharon Morrissey serves as the senior vice chancellor for academic and workforce programs in the Virginia Community College System. She is responsible for state-level coordination of credit and non-credit programs, student success initiatives, research and reporting, federal program administration, and policy review and professional development for Virginia's 23 community colleges. Morrissey also leads initiatives to increase student success outcomes across the VCCS, including transfer program realignment to support mapped pathways, stackable workforce credentials, and dual enrollment redesign. Morrissey is co-chair of the VCCS strategic planning task force, which is developing a new six-year plan to achieve equity in access, learning, and success for students from every race, ethnicity, gender, and socioeconomic group.
Prior to joining the VCCS, Morrissey served as the executive vice president for programs and chief academic officer for the North Carolina Community College System, where she initiated, developed, and administered state-level policies and strategies to improve student access, enhance program quality, and increase student success. In North Carolina, Morrissey led several system-wide student success initiatives, including developmental education redesign, structured dual enrollment pathways for high school students, and development of a policy framework to support Completion by Design.
Morrissey is an adjunct assistant professor in the Department of Education Leadership, Policy, & Human Development at North Carolina State University. In 2006, she received the Department's I.E. Ready Distinguished Graduate Award, and in 2014 she received the Distinguished Alumni Award. Morrissey also serves on several organizations' boards, including NC State University's Belk Center for Community College Leadership, Old Dominion University's Community College Leadership Program, and Jobs for the Future Policy Leadership Trust.
Morrissey previously served as president of Richmond Community College, vice president for instruction at Asheville-Buncombe Technical Community College, and vice president for academic and student services at Fayetteville Technical Community College. She began her community college career as an English instructor at Central Carolina Community College.
Cynthia Olivo, Pasadena City College
Dr. Cynthia Olivo has been a professional in higher education since 1995. For 23 years she has served in capacities including Dean, Associate Vice President & Vice President. This is her 16th year as an administrator including seven years at the university level and nine years in community college.
Dr. Olivo serves as the Vice President of Student Services at Pasadena City College (PCC), serving 30,000 diverse students including 51% Latino, 27% Asian & Pacific Islander, 6% African American, 17% White and 43% first generation college students with 65% meeting low income guidelines. Initiatives include collaborating to create at scale Pathways Program, PCC Complete Graduation Initiative, Student Equity leadership to transform college practices in the classroom, hiring, and services to students. These efforts have resulted in contributing toward PCC earning these distinctions, "Top 10 Community College in the Nation" by the Aspen Prize for Community College Excellence; #1 Veterans Resource Center in California by Military Times Magazine; #2 in Associate Degree for Transfers awarded to students in California; and she was selected for the highly competitive Aspen Presidential Fellows Program Class of 2017.
Cynthia earned her BA in Psychology and a Master of Science in Counseling from California State University San Bernardino. She earned her Ph.D. in Education with an emphasis in Urban Leadership from Claremont Graduate University in 2008. Dr. Olivo is passionate about access to college, success and retention for marginalized groups of students such as Latinos, African Americans, Undocumented, First Generation College and Low Income Students. She is the granddaughter of migrant farmworkers, raised by a single mom, first in her family to go to college and third generation Mexican-American/Chicana.
Bill Pink, Grand Rapids Community College
Dr. Bill Pink became the 10th president of Grand Rapids Community College in May 2017, and is the first African-American appointed to the post in the institution's 100-plus years.
With more than 25 years as an educator and leader at the national and local level, Dr. Pink is focused on building on GRCC's strong history of service to all students, guiding the college to be relevant and responsive to its community.
Prior to coming to GRCC, Dr. Pink served as vice president for academic affairs at Oklahoma State University.
The Abilene, Texas, native has taught and coached in Oklahoma, Nebraska, and Oregon. He was inducted into the York College Athletic Hall of Fame in 2016 for his performance as a student-athlete.
Dr. Pink is also involved in governance and policy development at regional and national levels. He was elected to the board of trustees for the Higher Learning Commission, the accreditor for colleges and universities across 19 states, and serves on the Community College Advisory Panel for The College Board. He was elected to the American Council on Education board, working with leaders from across the nation to shape public policy and help more students gain a quality education. Also, he was appointed by Gov. Gretchen Whitmer to the Michigan Economic Development Corporation executive committee and most recently was elected to the American Association of Community Colleges board.
In West Michigan, he serves on the boards of Spectrum Health West Michigan, the Heart of West Michigan United Way, West Michigan Works!, the Grand Rapids Economic Club and The Right Place.
Madeline Pumariega, Tallahassee Community College
Madeline M. Pumariega is the Executive Vice President and Provost Vice President of Academic Affairs for Tallahassee Community College. Prior to this role, Madeline was the former chancellor of the 28 colleges that make up the Florida College System, which serve more than 800,000 students. Recognized among the top in the nation, the Florida College System is committed to maintaining the highest quality programs to meet Florida's growing workforce needs and to make sure college is accessible and affordable.
Appointed as the first female, Latina chancellor in August 2015, Chancellor Pumariega has worked to build on successes of the Florida College System. Her goal is to ensure that all students have a pathway to complete their degree or professional credential that leads them to their academic goals and ultimately helps them get a job.
A product of the college system herself, Pumariega began her academic career at Miami Dade College and returned to the college where she spent 20 years growing her career culminating as president of the Wolfson campus. At Miami Dade, she is regarded for her work in developing innovative approaches to support academic progress and student success, ensuring that thousands of youth can access and complete college. Pumariega was instrumental in supporting workforce programs by leveraging key partnerships in the community.
Before becoming chancellor, Pumariega served as president of Take Stock in Children, a statewide nonprofit focused on breaking the cycle of poverty through education. Take Stock in Children has helped more than 25,000 students living in poverty successfully complete high school and move into postsecondary education and careers.
Pumariega is a member of the Florida Prepaid College Board, Higher Education Coordinating Council, Florida Council of 100, The Center for Postsecondary Success at Florida State University, City Year Miami, and an advisory board member of the Florida College Access Network. She was a Kellogg Fellow for the League for Innovation's Expanding Leadership Diversity in Community and a graduate of Leadership Florida Class 33.

Yves Saloman-Fernandez, Greenfield Community College
Dr. Yves Salomon-Fernandez is the 10th President of Greenfield Community College in Massachusetts. She previously served as President of Cumberland County College in New Jersey and Interim President of MassBay Community College in Wellesley, Massachusetts. Yves has also taught as an adjunct professor at Boston College, Northeastern University, Salem State University, and Cambridge College.
Dr. Salomon-Fernandez is a staunch advocate for reinventing higher education in the age of the Fourth Industrial Revolution. She has been recognized as a thought leader, writing and speaking on issues related to rural innovation, workforce development, and women's leadership. Yves' passion for access and equity led to her being named one of the Top 25 Women in Higher Education by Diverse Issues in Higher Education in March 2018.
Yves Salomon-Fernandez believes in service to her varied communities. She has served as a reviewer for the National Science Foundation and Johns Hopkins University Press. She sits on the national board of the American Council of Education's Women's Network Executive Council and is presently the Massachusetts Presidential Sponsor. Yves is a member of the of the Federal Reserve Bank of Boston's Community Advisory Development Council. She is also a Corporator for Greenfield Cooperative Bank. In addition, Yves is a Board Member at Mass Humanities and Mass Mentoring. She is a member of the Franklin County Chamber of Commerce and the Opioids Task Force of Franklin County and the North Quabbin Region.
A graduate of Boston Latin School, Yves received her undergraduate degree from the University of Massachusetts Boston. She holds a certificate from the University of Oxford.
Her Master's degree is from the London School of Economics and her Ph.D. from Boston College. Dr. Salomon-Fernandez is fluent in French, Haitian Creole, and Spanish. She is the proud spouse of Dr. Stephen Fernandez and mother of two adorable children.

Carli Schiffner, WA State Board for Community and Technical Colleges
Carli serves as the Deputy Executive Director of Education at the WA State Board for Community and Technical Colleges. She is a dedicated leader in higher education, with over a decade of progressive senior leadership experience, who values servant leadership, collaboration, quality improvement, focusing on the whole student, an entrepreneurial spirit, diversity, hard work and a sense of humor.
Carli has a bachelor of arts in history and political science from Gonzaga University in Spokane, WA; a master's of arts in cultural and intellectual history from Drew University in Madison, New Jersey; and a Ph.D. in American, Asian and Women's History from Washington State University in Pullman, WA.

Janet Spriggs, Forsyth Technical Community College
Dr. Janet N. Spriggs became the seventh President for Forsyth Technical Community College on January 1, 2019. Prior to joining Forsyth Tech, she served seven years in various executive leadership roles at Rowan-Cabarrus Community College and for fifteen years as an executive leader at Carteret Community College, giving her more than 24 years of service in the North Carolina Community College System.
Dr. Spriggs has the unique honor of having been named an Aspen Presidential Fellow for Community College Excellence two times. She was one of 40 leaders selected from across the nation as a 2018-2019 Aspen Rising Presidential Fellow and earlier this year, she was one of 25 new community college presidents from across the nation selected as a member of the inaugural cohort of the Aspen New Presidents Fellowship.
Dr. Spriggs earned her doctorate in higher education administration from Northeastern University in 2018. Her passion is in the power of education to change lives and the vital role community colleges play as catalysts for equity, and workforce and economic development. As a student-centered visionary, Dr. Spriggs is dedicated to fostering high quality learning, improving completion, advancing equity of success for all students, and expanding post-graduation success. In addition to her doctorate, she also holds a master's degree in computing technology from Nova Southeastern University and a bachelor's degree in computer information systems from Roger Williams University.
A native of North Carolina, Dr. Spriggs grew up in Milton, NC and is also proud to be a former community college student, having attended two North Carolina Community Colleges: Rockingham Community College and Durham Technical Community College. "I have witnessed countless life-changing moments that illustrate the power of education to transform lives," says Dr. Spriggs, "and as a low-income, first-generation student, education changed my life. As a leader, I believe leaders are more effective when they lead from within rather than from above and by influence instead of authority, and I am committed to a culture of belonging where inclusion is weaved into the fabric of who we are."
In June 2020, Dr. Spriggs was selected for a three-year term on the American Association of Community College's Student Success Commission. Additionally, Dr. Spriggs serves the community and our state as a Rotarian, a member of the Advisory Board for the Belk Center at NC State University and on the North Carolina Teaching Fellows Commission. She also serves on the boards for the Winston-Salem Alliance, Greater Winston-Salem, Inc. and the United Way of Forsyth County. Recently Dr. Spriggs was invited to serve on the JFF Policy Leadership Trust. She has been married to her husband Doug for almost 35 years and they love spending time with their five children, four grandchildren, and their two Norfolk Terriers.
Monty Sullivan, Louisiana Community and Technical College System
Monty Sullivan was selected as the fourth President of the Louisiana Community and Technical College System in February 2014. Prior to being selected president, he served as Chancellor of Delgado Community College in New Orleans. He also served as Executive Vice President for the Louisiana Community and Technical College System. Before going the LCTCS, Sullivan served as Vice Chancellor for Academic Services and Research for the Virginia Community College System.
Monty is married to Kelley Miles Sullivan, a Registered Nurse and a graduate of John Tyler Community College. The couple has four daughters.

Ajita Talwalker Menon, Calbright College
Ajita Talwalker Menon is the President and CEO for Calbright College. Her job is to lead the college to help underserved Californians gain greater economic mobility and to provide skilled talent for hiring employers. Ms. Menon has dedicated her career to supporting government agencies, higher education institutions and systems, and non-profit organizations to drive better and more equitable outcomes in higher education and workforce training. Prior to relocating to California, she served in the Obama Administration as Special Assistant to the President for Higher Education Policy at the White House Domestic Policy Council where she led efforts to expand college opportunity, affordability, innovation, and completion, ensuring more Americans could access the knowledge and skills needed to succeed in the nation's growing economy. She has also held senior roles in the federal government at the U.S. Department of Education and the U.S. House of Representatives, in addition to her more recent work as Senior Advisor to the Chancellor of the California Community Colleges. She has a bachelor's degree from the University of Wisconsin-Milwaukee and a master's degree from Harvard University's John F. Kennedy School of Government. Ms. Menon lives in San Francisco with her husband and daughter.
Randall VanWagoner, Mohawk Valley Community College
Randall VanWagoner, PhD, is the fifth president of Mohawk Valley Community College (MVCC), a position he has held since July 2007. He currently is serving his second term as chair of the New York Community Colleges Association of Presidents, a position he has held since 2015.
Dr. VanWagoner came to MVCC after serving as the chief academic officer at Metropolitan Community College in Omaha, Nebraska, and the chief student affairs officer at Red Rocks Community College in Golden, Colorado. He has been instrumental in the development of the national Strategic Horizons Network of community colleges and serves as the co-facilitator of the Network, focused on learning about disruptive innovation and vibrant organizational cultures outside of higher education.
He received his graduate degrees from the Higher Education program at the University of Michigan–Ann Arbor and his bachelor's degree in communications from Oakland University in Rochester, Michigan. He was also a two-sport athlete at Mott Community College in Flint, Michigan.
Robert Vela, San Antonio College
Robert Vela, Ed.D. currently serves as the 12th President of San Antonio College in San Antonio, Texas. One of the largest single-campus community colleges in Texas, and one of the biggest in the nation, San Antonio College is the flagship institution in the Alamo Colleges District, which is made up of five distinct colleges. Vela assumed the role of President in August 2014, after serving as the Dean of Student Affairs, Vice President of Student Affairs, and Vice President for Student and Academic Success for nearly six years. During that time, he also served as the Interim District Director for the Alamo Colleges District Center for Student Information in 2010.
With more than 20 years in higher education administration, Vela brings a wealth of experience and knowledge to the position as President. Before moving to San Antonio College, Vela held the position of Dean of Student Development at San Jacinto College - North Campus in Houston, Texas from 2005-2008. As well, he served as a Coordinator/Advisor at Coastal Bend College. Earlier in his career, he held several positions at Texas A&M University - Kingsville, including: Assistant Director of Upward Bound Math and Science, Director of Teacher Development Center, Director of TexasTEACH and Coordinator of New Teacher Recruitment. He has also served as adjunct faculty for Texas A&M University - Kingsville, Texas A&M University - San Antonio, Texas State University, University of Texas Pan American, Sam Houston State University, and the University of the Incarnate Word, among others.
Dr. Vela's personal philosophy is grounded in servant leadership, which is evident in his involvement with numerous professional organizations. He currently holds appointments on various national organizations. He serves as President of the National Community College Hispanic Council, American Association of Community Colleges Board of Directors and the Challenger Center's National Board. His other organizational involvement includes: National Council on Student Development, the Texas Public Policy Committee Representative for NASPA III, National Association of Student Personnel Administrators, American College Counseling Association, Texas Association of Chicanos in Higher Education, Hispanic Association of Colleges and Universities, National Institute for Staff & Organizational Development, American Counseling Association, National Association of Developmental Education, Texas Community College Teachers Association, Rotary Club of San Antonio, and the San Antonio Hispanic Chamber of Commerce.
His honors include the 2015 Distinguished Alumni from Texas A&M University – Kingsville, 2008 National Community College Hispanic Council Leadership Fellows Program, the National Institute for Staff and Organizational Development Excellence Award in Teaching, Leadership and Learning in 2007, and the Javelina Emotional Intelligence Program Award by the American College Personnel Association in 2003. He maintains his certifications as a Licensed Professional Counselor and a National Certified Counselor, and he holds an Ed.D. in Educational Leadership from Texas A&M University – Kingsville and Corpus Christi, M.S. in Counseling and Guidance and a B.A. in Psychology from Texas A&M University – Kingsville.
Tonjua Williams, St. Petersburg College
Tonjua Williams, PhD, is the seventh president of St. Petersburg College. A St. Petersburg native, Dr. Williams began her tenure with the college in 1986, rising through the ranks in a variety of academic and administrative roles.

Prior to becoming president, Dr. Williams was senior vice president for student services from 2013 to 2017. She has served in nearly every area of the college: provost, associate provost, director of special programs, program coordinator, academic advisor, recruiter, senior accounting clerk and adjunct faculty.
Dr. Williams earned a PhD in higher education administration from Barry University, a master's degree in counselor education from University of South Florida, and bachelor's degrees in business administration and humanities from Clearwater Christian College.
In 2016, Dr. Williams was awarded the prestigious Aspen Presidential Fellowship for Community College Excellence, making her part of the inaugural class of the Aspen Presidential Fellows. She is a graduate of Leadership Tampa Bay, Leadership St. Pete, the Chancellor's Leadership Program, and the Executive Leadership Program at the University of Florida.