About the Market Scan
Our country's economy needs workers who are ready for today's jobs but can also prepare for the future by acquiring the skills employers will be seeking in the coming decade.
And when it comes to fulfilling that need, nondegree training and education programs represent an effective alternative to four-year colleges.
Providers of alternative education and training programs have an opportunity to help employers access new pipelines of untapped talent and offer workers new pathways to rewarding careers in fields like tech, health care, manufacturing, telecommunications, cybersecurity, and green energy.
With the generous support of The Workday Foundation, JFFLabs took a deep dive into the complex and evolving alternative education and training market, focusing on high-quality solutions that have a measurable impact on workers' wage and employment prospects. The providers of these programs and platforms are crucial resources for employers, helping them to recruit, develop, and retain workers from diverse talent pools. They also make up an ecosystem of opportunity that workers can turn to throughout their careers as they navigate new pathways in an ever-evolving economy.
Learning as an Experience
To be prepared for the work of today and tomorrow, we need more than just the right skills. We need an infrastructure that supports continuous and transformative learning throughout a lifetime.
Training that prepares individuals to enter the workforce is crucial, but we also know that learning doesn't stop when someone signs an offer letter. At Workday, our employees are our number one core value, and we are deeply invested in their development and offer continuous opportunities to gain new skills. That's why we're thrilled to partner with JFF on this market scan of workforce education and training providers, with a spotlight on the innovators that can really make an impact on economic mobility through in-demand skills development.

Carrie Varoquiers, Chief Philanthropy Officer, Workday
---
88B
Estimated total spent by U.S. employers on training in 2018—including external products and services
967,700
Unique credentials in the United States, about half of which are from non-academic providers.
30
Percent growth in the coding bootcamp market in 2020.
---
High-Quality Workforce Training Providers
The way we see it, workforce education and training programs aren't meant to prepare participants to reach their final career destinations upon completing just one course or earning one certificate. Instead, they are all parts of an ongoing journey of lifelong learning during which workers continually develop new skills depending on how the economy has evolved and what stage of their careers they've entered.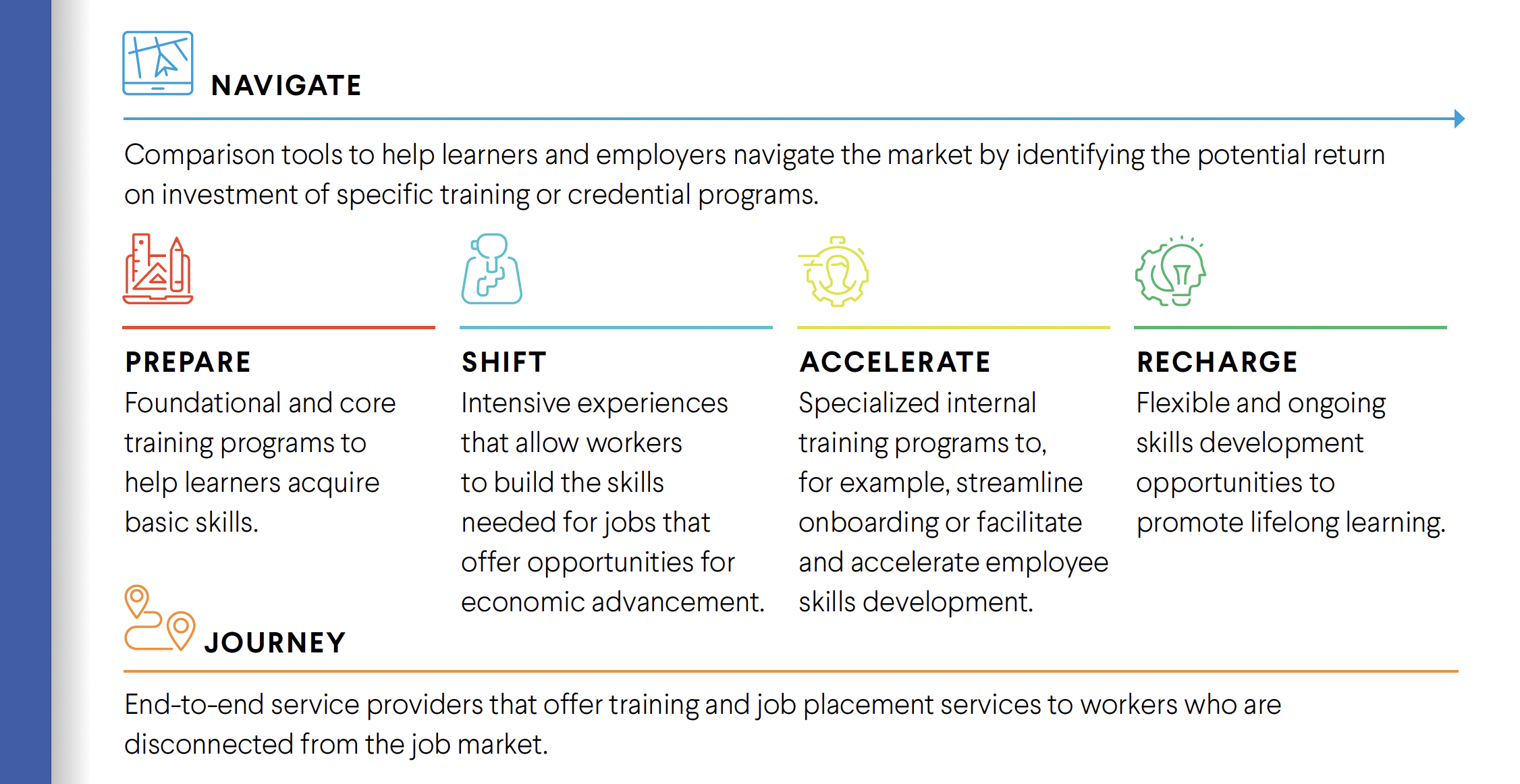 We use the words Navigate, Prepare, Shift, Accelerate, Recharge, and Journey to describe each segment of the market. They reflect the varying needs of adult learners at each stage of the career continuum. This table offers an overview of the types of programs and services available in each segment.
Our Innovators to Watch are on the leading edge of this new frontier of impact for workers.
Innovators to Watch
We chose 15 Innovators to Watch from the nearly 1,000 companies and organizations we identified in the recruiting, employment, and career planning sectors.
A select group of visionary enterprises, our Innovators to Watch are at the leading edge of market trends and they distinguish themselves from other forward-looking companies by their potential to create significant, business-aligned social impact. Many span multiple segments, introducing new product offerings seemingly every few months. Each offers a potentially transformative innovation or is led by inspiring founders and teams that we believe in.