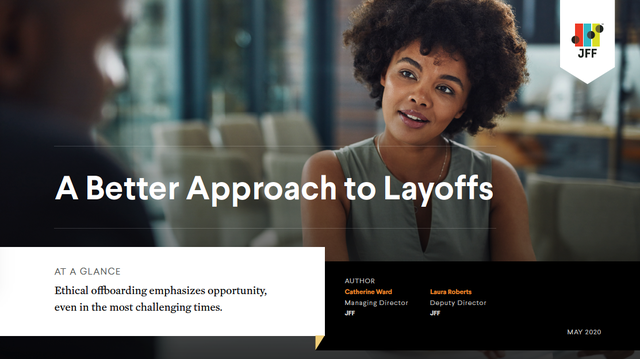 As the COVID-19 crisis creates an immediate need for companies to downsize, it is becoming even more important to pursue worker-friendly practices. Now more than ever, businesses have an opportunity to make a clear and compelling statement that they promote employee well-being as a core business tenet that persists through the best of times and the worst of times.
As companies move from a tight labor market where onboarding and retention were a primary focus to a recessionary economy where layoffs and furloughs are all too common, they should embrace what we call ethical offboarding.
Ethical offboarding strategies are approaches to downsizing that not only improve the future economic prospects of former employees, but also foster long-term employee performance, engagement, and loyalty.
Ethical Offboarding Road Map

These strategies will help companies reduce the pain of the current economic downturn, position themselves for future growth, and lessen operational, legal, and reputational risks. In the road map to ethical offboarding presented below, we summarize the business imperative supporting each strategy and recommend two or three concrete ways to take action. Each method has shown demonstrated evidence of driving successful outcomes for both employers and employees —or it has shown the potential to do so. All are practical, common-sense courses of action for employers of all sizes.
No matter how many you choose to implement, the imperative is clear: Now is the time to take a stand. Your efforts as an Impact Employer will set the stage for the future and will help usher in a quick and sustainable recovery for workers, communities, customers, and businesses.