Diversity, Equity, and Inclusion in Apprenticeship & WBL
About
Apprenticeships have a track record of success in advancing the careers of workers, but they lag on diversity and inclusion (DEI).
Women accounted for only 7.3 percent of the people who completed Registered Apprenticeships in 2017, and their median hourly wage was just $11.49, compared with $27.25 for men who completed apprenticeships that year, according to a 2018 study by the Center for American Progress.
Similarly, Black people who completed Registered Apprenticeships in 2017 were earning a median hourly wage of $14.35, compared with $26.14 for their white counterparts.
In 2019, 88% of new apprentices coming into federally registered programs were male, and 56% were white.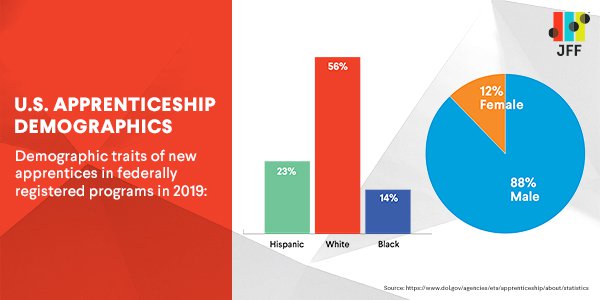 Taking steps to open up apprenticeship to more women, people of color, youth, and members of other demographic groups that have historically been underrepresented in work-based learning programs can expand access to defined career pathways and jobs that pay good wages. Redesigning apprenticeship systems so that they explicitly focus on diversity, equity, and inclusion is the only way to deliver the promise of apprenticeship to all Americans.
Improving diversity in apprenticeship—and, in turn, the entire workforce—will also benefit employers, not just workers. Companies that tap into a broader segment of the labor market can not only improve their bottom-line results, but also reap other benefits that a diverse workforce can offer, such as greater innovation.
Diversity, equity, and inclusion should be built into each stage of the design and delivery of apprenticeship and work-based learning programs. The first step is to clearly define what diversity, equity, and inclusion will look like within a particular program and then set explicit DEI recruiting goals. To reach those goals, program sponsors and employers can adjust participant selection processes to reach a wider talent pool by striving to mitigate unconscious bias in hiring practices, recruiting from diverse pipelines, and encouraging current employees who come from underrepresented populations to pursue apprenticeship opportunities.
Some candidates identified through efforts like those may benefit from preparatory experiences, such as pre-apprenticeships and readiness programs. They may also need wraparound supports that ease the burden of juggling training and other responsibilities. Employers interested in offering such services can partner with community-based organizations that understand the needs of individual apprentices. The goal is to try to boost completion rates by offering flexible and responsive training programs.
Finally, to help ensure that apprentices go on the achieve lasting success in the workplace, employers may want to continue to offer them supports after they complete their training. They could also track the advancement of former apprentices, provide them with professional development opportunities, and review payrolls and workplace environments to ensure that wages and management practices are equitable.