About Apprenticeship
A form of work-based learning, apprenticeship is a workforce training model that combines paid on-the-job learning and formal classroom or online instruction to help a worker master the knowledge, skills, and competencies needed for career success.
A centuries-old institution, apprenticeship remains relevant today and is gaining new momentum in emerging and growing industries like health care, financial services, and IT. The secret? It's a simple training and education model that can meet the specific needs of employers in a wide variety of industries. Businesses of all kinds turn to apprenticeship when they need to tackle challenges such as:
Replacing an aging but highly skilled and experienced workforce
Attracting new and more diverse talent
Upskilling current employees
Keeping pace with ongoing industry advancements
Left unresolved, challenges like those will negatively impact a business's operations, and they could even have more far-reaching repercussions: If companies are unable to implement effective work-based learning programs to address those challenges, they will have fewer job opportunities for workers, and the resulting lack of career advancement options for workers will curb economic growth at all levels. Apprenticeship is the answer. It's a long-standing and proven solution that addresses workforce issues of all kinds while delivering an incredible return on investment.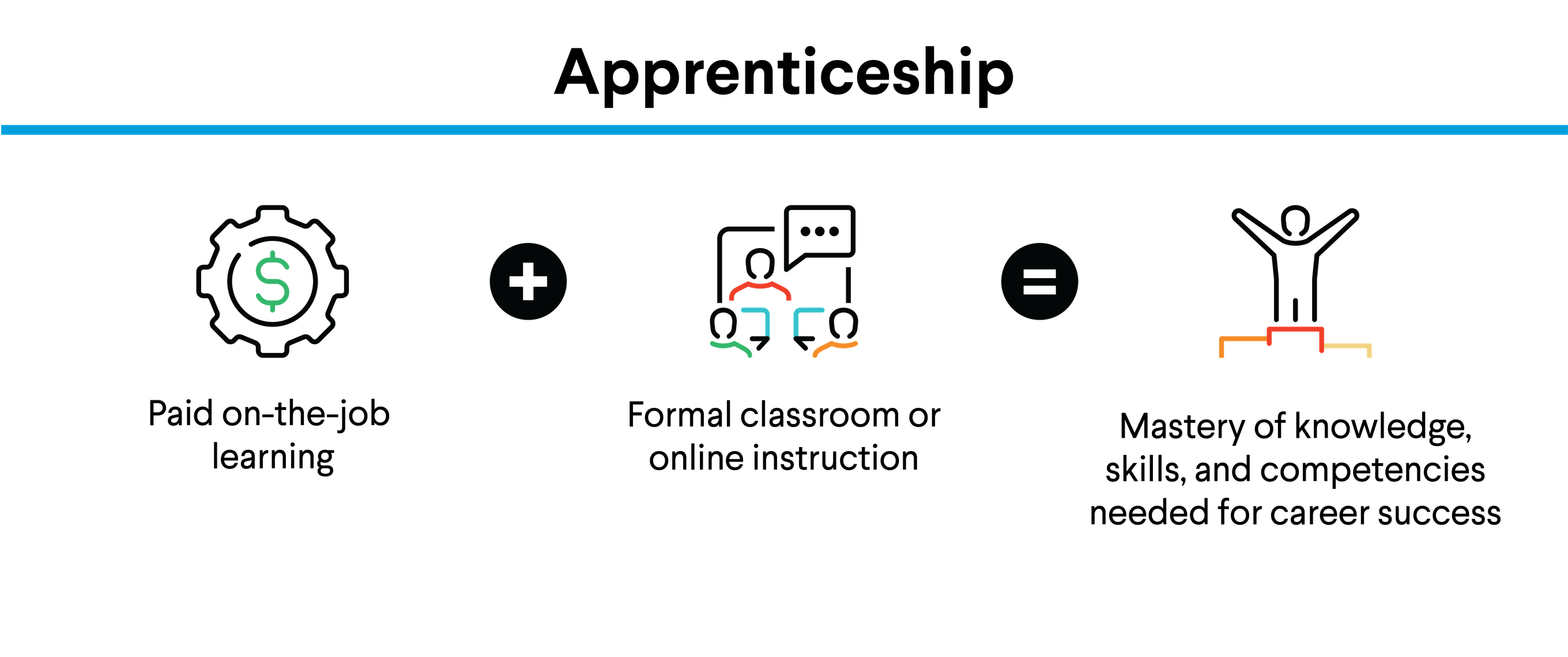 Power of Partnership
At the heart of successful apprenticeship programs are robust public-private partnerships. Throughout a program, apprentices engage with an employer to perform on-the-job tasks. They also receive relevant academic and technical instruction through an education provider, often a local two- or four-year college, a labor organization, or another training partner.
Behind the scenes, industry associations, state and local workforce development agencies, workforce investment boards, community groups, and economic development organizations are creating the conditions for apprenticeship programs to thrive and succeed.
About Registered Apprenticeship
Registered Apprenticeship (RA) programs take the basic apprenticeship model of paid on-the-job training and educational instruction and provide additional rigor, standards, and quality.
Specifically, RA programs typically include about 2,000 hours of on-the-job learning and 144 hours of job-related technical instruction, and they result in participants earning an industry-recognized credential. They also must meet quality standards set by the U.S. Department of Labor or federally-recognized state apprenticeship agencies around five core components:
Employer involvement. An employer must formally hire the apprentices and train them at its workplace, using a curriculum and standards customized to its work processes.

Structured on-the-job learning. The apprentices must have opportunities to learn by doing in real-world work environments, with support from supervisors or other workplace mentors.

Related instruction. The program must include academic coursework to complement the applied work experience. Instruction typically takes place in a classroom, but programs are increasingly offering online classes.

Rewards for skills gains. Participants in Registered Apprenticeships must be paid for the work they do from day one. And their pay should increase as they develop new skills and become more adept at their jobs. The more they learn, the more they earn.

National occupational credential. Registered Apprenticeships should lead to a nationally recognized credential or certificate for everyone who successfully completes the program.
RA programs also require a sponsor—the lead party in the planning, partnership management, and delivery of an apprenticeship program. The sponsor can be an individual employer, a joint employer and labor organization, an employer association, or another type of intermediary.