Best Bet Profile Development
JFF does needs-based regional analysis and develops Best Bet profiles for communities, as well as, trainings to staff on how to use the profiles with young people.
JFF defines Best Bets as postsecondary programs of study that have all of the following features:
They are accessible to students
They meet students' interests
They pay off quickly in a credential with value in the labor market 
They have evidence of retention and placement in well-paying jobs with the potential for advancement
To find Best Bets in a certain region, JFF triangulates information across three key areas: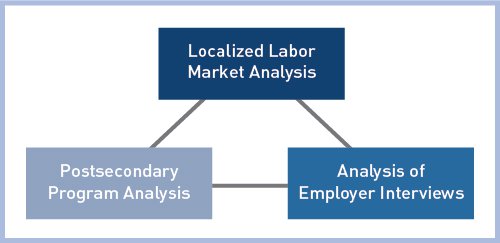 First, we analyze traditional and real-time labor market data and interviewed organizations with valuable regional expertise to identify potential Best Bet occupations.

Second, we identify training programs within and outside of postsecondary institutions in the region; interviewed program directors/coordinators; and selected programs that are accessible to and supportive of our student population, and that lead to credentials with labor market value.
Third, we interview regional employers who hire graduates of these training programs and/or who hire for this kind of work to verify demand in the region and to learn about typical screening requirements, skills they seek, entry pay, advancement opportunities, etc.