4. Development of Skills Through Hands-On Activities and Work-Based Learning
Work-based learning is a critical component of any successful training program, including pre-apprenticeship. It supports job attainment and career advancement by providing participants with opportunities for career exploration, engagement with employers, and exposure to career pathways. It has been shown to lead to stronger employee engagement, higher levels of workplace satisfaction, and increased diversity and inclusion. For opportunity youth, work-based learning is especially important because it helps them gain the work experience frequently required by employers while also helping them contextualize and connect their classroom learning and on-the-job training. This approach, especially when designed with input and ownership from youth, can help young people better understand how the skills and competencies they are building translate to a range of career pathways and advanced training opportunities across occupations, industries, and sectors.
It is important to note the value of providing compensation to youth participants as part of work-based learning and the pre-apprenticeship program in general. Monetary compensation for the work completed by youth participants can help remove the financial barriers to training completion they may face and demonstrates the program's investment in their continued success.
Hands-On Activities
Programs should embed into the curriculum hands-on activities that are relevant to the target occupation, including work-based or on-the-job learning.
Work-based learning activities should mirror the real-world work required for an occupation. They should be aligned with the program's overall curriculum, support diverse and transferable skill development, and be informed by employers. Effective programs will help participants identify target skills and understand how gains will be validated.
To strengthen the impact of work-based learning for opportunity youth specifically, JFF recommends that, when and where possible, training providers engage with opportunity youth to design these activities. This not only ensures that their voice is incorporated into program design but also facilitates their engagement with employers, which can help build their social capital and increase their connections to employment after training. Program staff should talk with participants about their interests and their goals to ensure that activities not only meet employer needs but also resonate with participants. Programs should also consider establishing youth advisory councils or work-based learning work groups with employers and youth to create opportunities for participants to provide regular feedback on design, facilitation, and structure.
Measuring Skills
The best pre-apprenticeship programs structure hands-on activities to make clear what skills are gained, how they are validated, and how they can be applied in a future career.
To strengthen the impact of work-based learning for opportunity youth, programs should incorporate opportunities for reflection and career exposure into activities. This will help participants understand the skills, strengths, and competencies they are building through work-based learning and how they are connected to their long-term career and education goals. This approach facilitates a deeper understanding of what is needed to access a career pathway and shows participants how the skills they are building can support their ability to pivot to different occupations in other industries. Most importantly this approach helps participants understand the value and assets they can bring to the workforce.
Effective strategies for embedding reflection activities into work-based learning include:
Creating portfolios that track skill development and credential attainment. JFF recommends that programs empower young people to manage their own portfolios to help them develop ownership and agency.
Peer sharing through small group discussions or presentations. Creating spaces for peers to learn from one another is critical for all participants but especially for opportunity youth. Sharing perspectives and opinions, leading group discussions, and presenting information not only helps young people think critically about their skill building but also supports their continued learning and development of employability skills.
Leveraging a range of modalities for reflection. By offering a range of modalities for reflection, including writing, video, and audio, programs can ensure that they are meeting the diverse range of learning styles of their participants.
Enabling engagement between participants and employer partners. Building in intentional opportunities for young people to connect with employers has many benefits. It helps participants connect their skill gains to specific occupations while also building their social capital. Programs should design these spaces to include conversations led by young people about what advancement looks like for them, based on their long-term goals.
Using existing career exploration tools provided by O*Net and Career OneStop. These interactive platforms offer participants a more tactile and personally reflective opportunity to think about work-based learning.
Experiential Learning
Programs should structure hands-on activities in a classroom, work site, or lab to be experiential, problem-based, and designed with input from employers and apprenticeship sponsors.
Quality work-based learning activities are structured and adaptable for different learning environments. They place an emphasis on problem-based learning and include input and continuous feedback from employers and apprenticeship sponsors. Without this input, programs run the risk of designing activities that do not properly prepare participants for career pathways beyond their pre-apprenticeship training and do not provide them with the proper career exploration and exposure.
JFF recommends that pre-apprenticeship programs bring employers into the process as designers, facilitators, and investors so that participants are prepared for the requirements of various occupations. This collaboration can help strengthen commitments to directly hire opportunity youth once they've completed their training and increase funding for WBL activities. It can also help employers better understand the value that youth bring to the workforce and the practices needed to create safe, positive, and supportive work environments. Engagement with employers in work-based learning helps opportunity youth participants build their understanding of what working in a particular occupation day to day might look like by providing an opportunity for them to learn from employers directly. It can also support the development of positive relationships with adults and expand their professional networks.
Work-Based Learning
Pre-apprenticeship programs need to prioritize opportunities for work-based learning in which the participant completes meaningful job tasks in a workplace.
It is essential that work-based learning activities meaningfully replicate the job tasks in real-world work environments so that opportunity youth develop an understanding of a range of jobs and occupational pathways. This supports the success of opportunity youth by providing them with the skills and competencies required beyond the technical skills and credentials required for a job.
To maximize value and impact for opportunity youth, pre-apprenticeship programs should set expectations for participation in work-based learning at the outset. This includes clearly outlining time commitments, employer expectations, and job duties. Participants should also have ample opportunities to check in with program staff and employers to help them assess their progress and offer feedback on their experiences.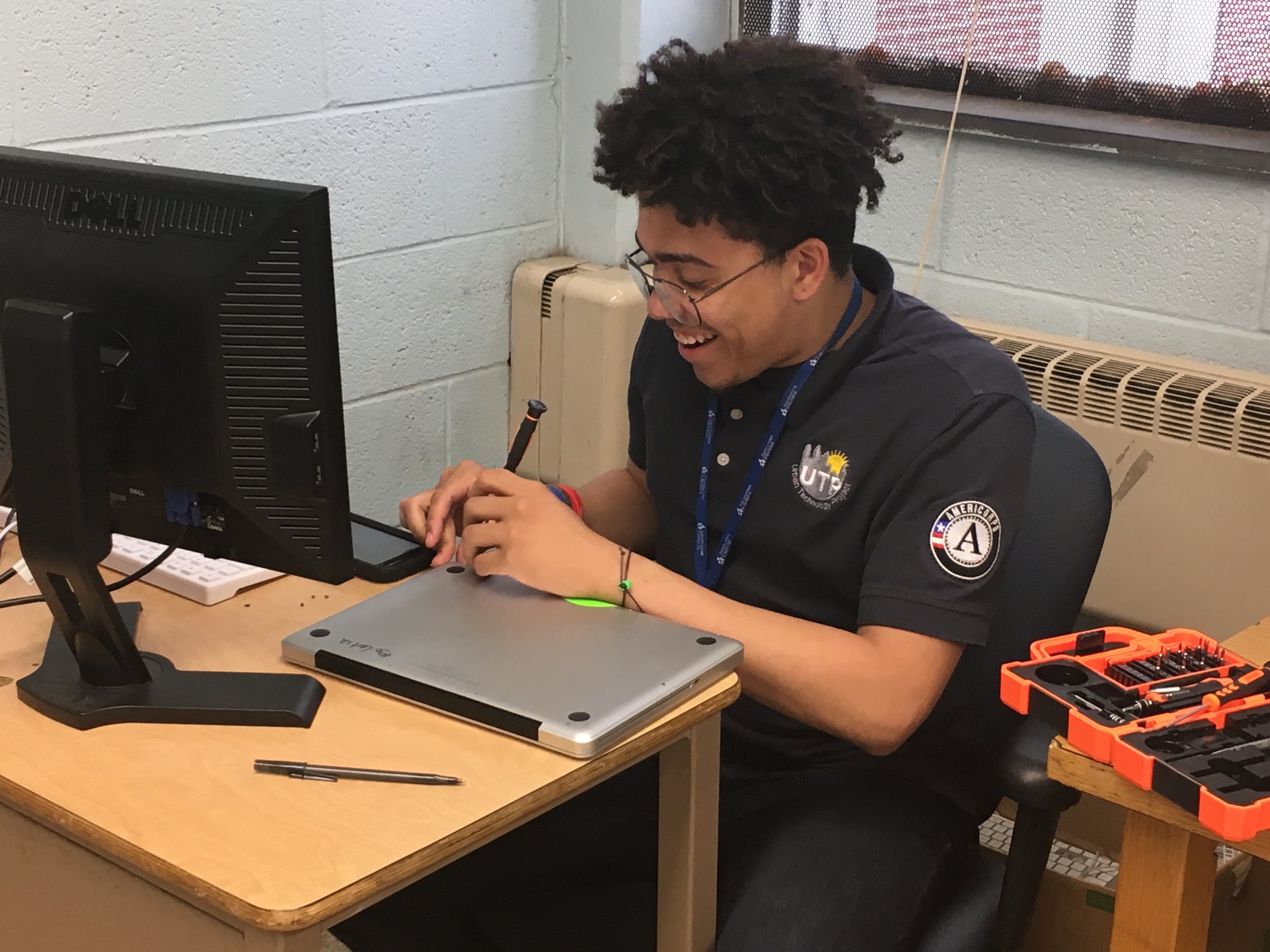 PowerCorpsPHL
Philadelphia
READ MORE...
PowerCorpsPHL
Philadelphia
The Corps Network (TCN) is the member association for the nation's 130-plus Service and Conservation Corps. TCN engages more than 25,000 young people, many of whom are opportunity youth, in service designed to prepare our next generation of environmental stewards and community leaders. The Corps model combines hands-on technical skills training, classroom-based education and training, credential attainment, and workforce-readiness skills training to create a robust pre-apprenticeship experience for a wide range of employment opportunities in environmental stewardship.
PowerCorpsPHL (PCPHL) is a member of TCN that exemplifies quality work-based learning. It designs programs to support participant success and uses a range of approaches to deliver WBL. That includes job shadows, mentorships, and individual and group reflection activities. PCPHL's approach to WBL prepares participants for the realities of workforce culture through scenario-based planning and trauma-informed care. This aspect of its programming helps participants navigate situations that may be influenced by their race, ethnicity, or socioeconomic background and emerge with greater resiliency.
PCPHL prioritizes the inclusion of participant voice when designing WBL activities and uses an evaluation tool to gather participant feedback and assess the quality and impact of activities. Staff and WBL supervisors then engage participants in guided conversations to learn from their experiences and identify opportunities to integrate feedback into future WBL design. The program collaborates with employers to establish performance metrics to help participants track their progress and find success, map classroom learning onto WBL activities, vet activities against the reality of work sites, and ensure that activities are designed in alignment with occupational safety standards. Finally, PCPHL provides stipends to participants for their WBL through their enrollment in AmeriCorps and through a range of financial partnerships. It also builds wraparound supports and services into the WBL to help keep young people engaged and work with their employer partners to ensure that they are providing similar supports as well.