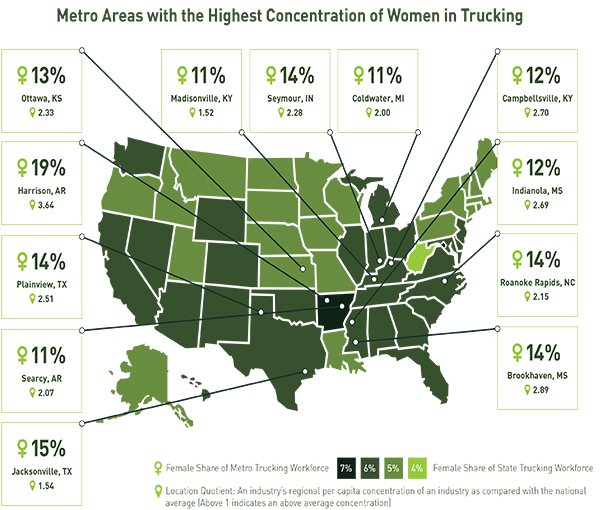 It stands to reason that big cities with large trucking industries, like Chicago and New York, would offer many opportunities for women. But why are Harrison, Brookhaven, and 10 other midsized metropolitan areas employing so many female truckers?  The high concentration of trucking jobs and strong wages suggests that trucking is an important industry with a real demand for workers in these communities. We suspect that the strong demand for workers creates more opportunities for women, as employers work to recruit and retain truckers from a broader labor pool that includes groups not traditionally represented in trucking. The payoff? Women have served as a vital way to expand the workforce and allow these metropolitan regions to compete.
Women can help the trucking industry nationwide meet its demand for workers in both large and small metropolitan areas. During 2016, there were nearly 1.5 million job postings for truck drivers across the nation. And turnover in the trucking industry is stubbornly high, hovering around 80 percent.
To help address these challenges, JFF spent the past two years working with 10 sites across the country to recruit, train, and place women into the transportation, distribution, and logistics (TDL) industry. With support from the Walmart Foundation, JFF and our partner sites have served 1,005 women, over 20 percent of our total TDL training participants. Across the sites we have seen innovative approaches to expanding access to TDL jobs for women, including exciting new strategies pioneered in Mississippi, Iowa, and New Jersey.  We hope that similar efforts can continue to support not only women interested in TDL, but also a trucking industry that needs to attract a more diverse and robust workforce.
1All data in this blog was extracted by S. Lamback from Emsi Analyst, 2017.1 data set, unless otherwise noted.