What States Can Learn From Virginia's FastForward Into the Future of Work
How do we expand access to potentially life-changing credential programs while maintaining quality and protecting taxpayer dollars? A novel program in Virginia might be the answer.
Nate Humphrey isn't just physically strong—he's strong willed. At 37 years old, Nate is one of many Southside Virginia Community College (SVCC) students who have benefited from the transformational FastForward—a new program in Virginia that offers fast and fiscally responsible pathways to employment. As a soldier, Nate served seven grueling combat deployments, including time in Iraq and Afghanistan. After coming home, he needed a quick route to employment and knew he had to re-skill to start a new career path.
As increases in automation and technological advances alter the economy and workforce landscape, there will be more and more people like Nate who need quicker routes to credentials in order to thrive financially and meet employers' skill demands. Higher education in the US must respond to this shift by adopting a more flexible postsecondary system while ensuring good outcomes for students.
Expanding access to short-term credentials, which can help Americans get back to work quickly, is one promising direction. But such programs are ineligible for federal student aid, which can make even low-cost credentials too expensive for students. Some in the higher education community rightly worry about expanding Pell Grant coverage for these programs in the absence of a formal vetting or quality control system that would determine the value and relevance of shorter-term credentials. How do we achieve a balance between expanding access to potentially life-changing, short-term credential programs while also maintaining quality and protecting taxpayer dollars? Virginia's FastForward program might provide the blueprint for a solution.
More than 50 percent of Virginia's participants have seen significant wage increases as the result of completing the FastForward program.
The FastForward program provides an affordable and innovative pay-for-success approach for students and workers who participate in an eligible, state-funded, short-term training program. Here's how it works: A Virginia resident signs up for one of the short-term training opportunities offered under the program—all of which are established as in demand by Virginia's Board for Workforce Development, supported by local employers and approved by the State Board for Community Colleges. Upon enrollment, the student pays one-third of the tuition costs. The remaining two-thirds are paid for by the commonwealth of Virginia upon the student's successful completion of the program and certification. If the student does not complete the program, the student will be required to pay for the second third of the tuition cost, and the college will be required to pay the last third.
This "skin in the game" approach is an incentive to students to complete the program while also motivating colleges to provide students with the proper guidance and support services necessary for success. Because FastForward programs are ineligible for federal financial aid, the commonwealth also offers state financial assistance to applicants who are unable to pay their third.

Despite launching just two years ago, the FastForward program is already seeing promising results. Currently, 95 percent of the students enrolled have completed their training, 65 percent have earned their related credentials, and a majority of FastForward students have seen wage increases of 20 percent to 50 percent or more. These early successes have led to increased demand for the program, which puts pressure on the state to fund the initiative. However, if the return on investment holds, FastForward will be a wise venture.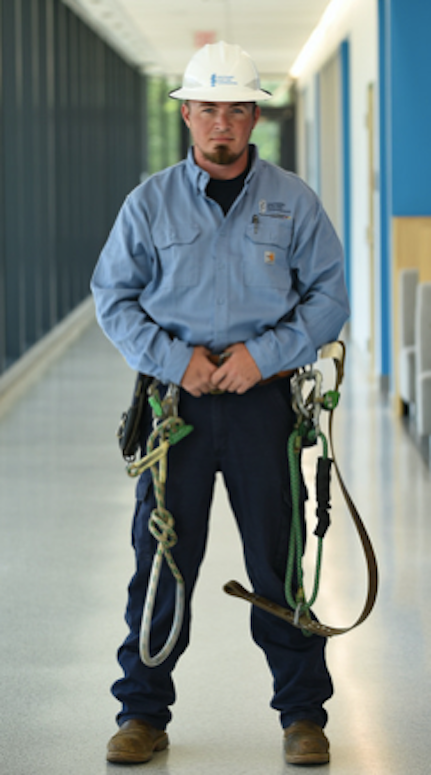 The FastForward program is an innovative example of how higher education and workforce systems can combine to better serve workers, employers, and regional economies. The short-term nature of the training allows students and workers, many of whom are adults, a quicker route to a W2. The pay-for-success model appears to work as a critical quality control mechanism for determining which credentials to invest in. As we further examine Virginia's FastForward and other promising state and local initiatives, we must be open to the testing and eventual adoption of nontraditional education and workforce development structures, providers, and strategies that show evidence of helping Americans achieve the skills and credentials needed in the new economy. While quality is key, Americans also deserve more flexible, targeted, and accelerated learning options so that individuals from all backgrounds have the opportunity to achieve family-supporting careers.
So, what happened to Nate? He entered the Power Line Worker program hosted by SVCC and only had to pay for his boots and belt. Less than a month after completing the lineman training program in December, Nate started working full time for the Southside Electric Cooperative, immediately increasing his earnings without putting thousands of dollars on the line. He reports that he'd recommend the program to any of his fellow veterans and anyone looking to get on a new career path quickly—without debt.

Nate Humphrey served in the U.S. Army's 75th Ranger Regiment, the 82nd Airborne Division, and the 25th Infantry Division, and was medically retired from Joint Forces Special Operations, TRADOC. He served in Kosovo, Kuwait, Iraq, and Afghanistan and took part in seven combat deployments.