Ensuring that people are able to successfully reenter communities and the workforce after spending time in prison is an important priority for the country today.
America has a large prison population, and that means we have a lot of people who are returning from incarceration and, unfortunately, high rates of recidivism—an estimated 79 percent of former prisoners are re-arrested within six years of their release, according to the U.S. Department of Justice.
Clearly, the journey back home is difficult—especially for people who don't have the skills or supports they need to get good jobs and take steps toward a career path.
That is evident in the stories of people who faced the challenge of reentry on their own. People like Tasheena, a food service professional from Denver, Colorado.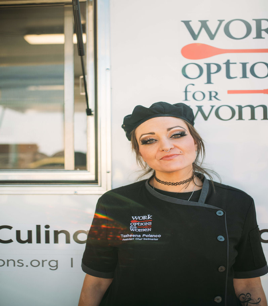 Facing an Uncertain Future
Tasheena, or Tash, had struggled with addiction since she was a teenager and was sentenced to five years in prison for a drug-related crime at the age of 28.
While serving her sentence, Tash thought about her future. How would she support herself financially and emotionally outside of prison? Could she pursue a career with only a high school degree? With questions like those consuming her thoughts, she realized she was scared to be released.
Tash's concerns weren't unfounded. After completing her sentence, she reentered the Denver community and got a job as a server, but she had trouble navigating the new chapter of her life and was sentenced to serve time in a county jail eight months later.
Tash shared her story with JFF and members of the Congressional Staff Network on Economic Advancement when we visited Denver in August 2019 to learn about regional efforts to build a talented workforce and alleviate poverty through education and training initiatives. Our visit to Denver and an earlier visit to Memphis, where a man named Rob Brown shared his own story of reentry, both highlighted the fact that a job alone does not guarantee reentry success.
Tash's and Rob's stories illustrate that people who are reentering their communities need relevant skill development opportunities as well as access to supports such as mental health, child care, and transportation services.
For her part, Tash grew more determined and less afraid during her stay in the county jail, which lasted two months.
When she was released, she moved into a halfway house. That environment offered her structure and security, but it wasn't without barriers. Like many halfway houses, staff members decide whether residents are ready to work. Residents often have to go through drug testing, take classes, or participate in addiction treatment programs before they can get jobs. Tash did what she had to do during the first couple of months, but all the while rent bills from the halfway house stacked up.
I was paddling upstream, trying to stay afloat, thinking to myself, 'Prison is better than this.'

Tasheena, assistant chef instructor, Work Opportunities for Women, Denver, Colorado
Opportunity Knocks
She began to lose hope again.
"I was paddling upstream, trying to stay afloat, thinking to myself, 'Prison is better than this,'" Tash recalled.
Then she discovered Work Options for Women (WOW), a Denver organization that trains people to work in the food service industry. Since 1997, WOW has trained and found jobs for more than 3,000 people in the Denver metro area. The organization helps students develop both culinary skills and job-readiness skills, and it provides graduates with ongoing support to help them keep their jobs and progress in their careers. WOW also connects with local employers to ensure that they understand the organization's mission and trust that individuals they place are well-trained and reliable.
WOW hosted an orientation at Tash's halfway house to introduce residents to its Mobile Culinary Classroom, a four-week culinary arts job training program. Tash was interested. In addition to learning technical skills, Mobile Culinary Classroom students get paid and receive holistic supports such as cognitive behavioral therapy and robust case management, including career navigation services to help students find good employment.
It's time for new approaches to putting everyone on a track to economic mobility.
Doing Well and Giving Back
Tash entered the program and completed it in the standard four weeks. As soon as she finished, she landed a job at a restaurant downtown. A few months later, WOW called to tell her about an opening for a paid intern in the Mobile Culinary Classroom. She applied, got the position, and was promoted to assistant chef instructor after a short time as an intern. A year later, Tash had no debt and had $5,000 in savings. She had also made it a priority to give back to people in her community with similar backgrounds.
JFF supports education and training programs like the Mobile Culinary Classroom that prepare people for in-demand careers while providing wraparound services. JFF also recognizes that the length of a program is not always an indicator of quality. Some learners can benefit from shorter-term options where they can quickly attain the skills needed to get jobs, earn living wages, and progress in careers. Educational programs like those, combined with essential supports and opportunities for further skill development, are needed for our nation's untapped workforce to advance economically.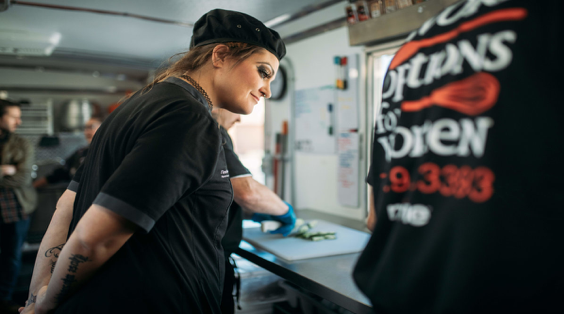 No One Can Do It Alone
Although Tash's and Rob's backgrounds and reentry experiences are different, they both highlight the need for student-centered approaches that help people who are facing barriers reach their full potential.
But people like Tash and Rob and organizations like WOW can't do it alone. The country needs federal and state policies that better support the needs of today's students and workers, including people facing significant barriers to employment—like those who are navigating the reentry process.
Policymakers should build upon models that have been shown to help people attain the skills and credentials that are needed for in-demand jobs—even if those models diverge from traditional structures and methods of delivery. They must recognize that it's time for new approaches to putting everyone on a track to economic mobility.