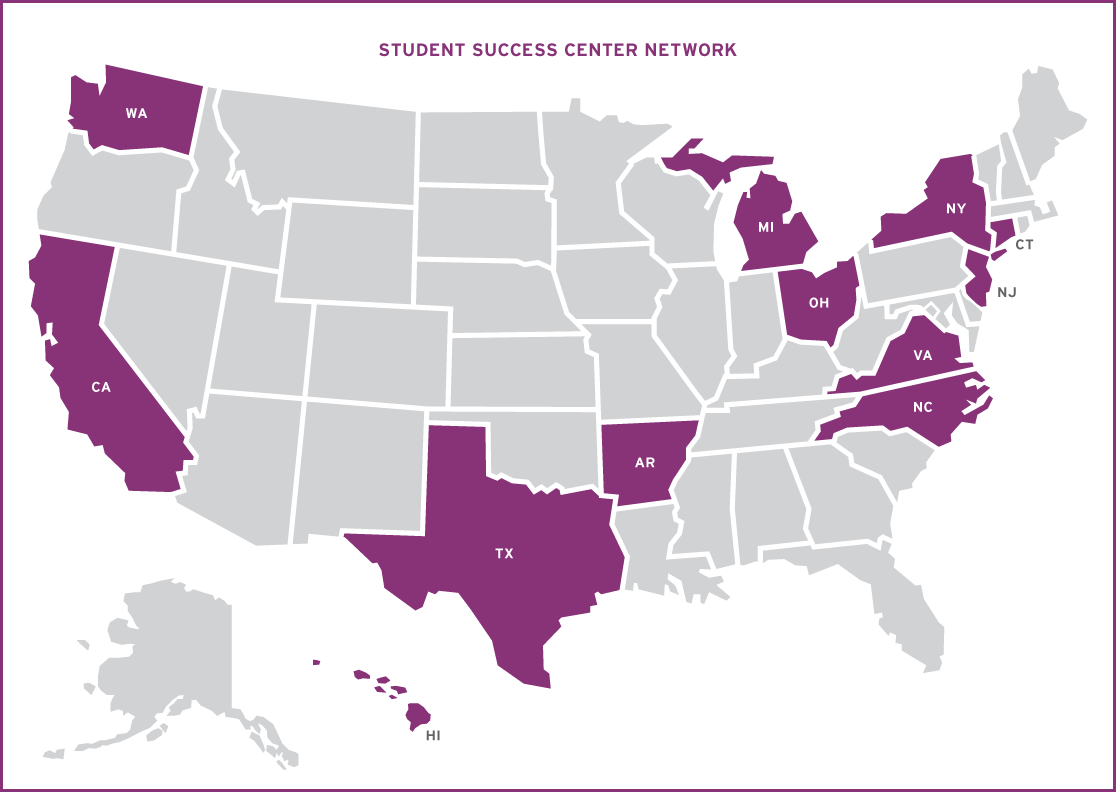 On January 26 and 27, 2016, Jobs for the Future hosted our winter state policy meeting in San Diego, where we convened an incredibly talented, diverse, and committed group of state-, system-, and institutional-level leaders to support their efforts to develop policy conditions that allow community colleges to implement new strategies to dramatically increase student completion. Members of JFF's Postsecondary State Policy Network have met semi-annually for the past decade to learn and apply the latest evidence from research, practice, and policy developments to their respective policy and capacity building efforts. This latest meeting marked an inflection point in the arc of the network's development.
At our winter meeting, we welcomed five new Student Success Centers (Centers) into the network, growing the number of states with Centers to 12. The Centers usher in an unprecedented infrastructure to disseminate promising practices and accelerate institutional efforts to spread the lessons of Completion by Design and scale other promising reforms such as guided pathways. This latest development reflects the evolution and growth of the network's approach to create the policy conditions and support for institutional reform.
The emphasis and approach of JFF's Postsecondary State Policy Network have evolved to include new evidence on completion as it becomes available. Our current work reflects the lessons we have learned from completion initiatives in which we were the national technical assistance partner for policy. In our early work with the Achieving the Dream Initiative (2004-2009), for example, we worked with a group of states and national partners to develop consensus on the most strategic policy levers state- and system-level policy makers have at their disposal to accelerate the shift from a focus on access to a focus on success.
In the Developmental Education Initiative (2009-2012), we built on what we learned in Achieving the Dream to go a step further than identifying policy levers to collaborating with participating states and national partners to specify how the previously identified policy levers could be structured to interact in ways that increase completion. We co-constructed a strategy and a framework that focused on dramatically improving outcomes for students testing into developmental education.
We stood on what we learned in Achieving the Dream and the Developmental Education Initiative to identity the policy conditions that need to be in place to create and scale highly structured credential pathways in our role as the policy lead for Completion by Design (2012-present). We described the policy levers and conditions in a publication tilted Policy Meets Pathways, which draws on the most recent evidence on completion and identifies policies that need to be in place—and policies that need to be removed—across the continuum of a student's experience from connection to college all the way through to completion.
While these and other college completion initiatives added to the knowledge base on programs, practices, and policies that contribute to student completion, the rapid growth of such initiatives, each with their own set of requirements, made for an incoherent environment for institutions and states trying to implement reforms. One state in our network identified over 30 different completion initiatives in which one or more of the colleges within their state were participating. Another state partner humorously expressed dismay at the number of initiatives that have to be negotiated, saying that as a state, they had to "Shift Gears to Accelerate Opportunity to Break Through, to Achieve the Dream!" Both examples illustrated a critical need for coherence and alignment so that completion initiatives touching down in a state pull in the same direction.
In 2012, the network developed further by partnering with The Kresge Foundation and a small number of pioneering states to develop and incubate a new entity called a Student Success Center, designed to help states and institutions make sense of the multiplicity of completion initiatives operating within their respective environments and manage "initiative fatigue." Students Success Centers organize a state's community colleges around common action to accelerate their efforts to improve persistence and completion. Their perch at the state level and their connections to all of the community colleges within their respective states make them especially well positioned to disseminate and scale evidence-based completion reforms.
Originally starting with three, Student Success Centers now operate in 12 states in which 47 percent of community colleges are located. More than half of fall 2013 enrollments, sixty-seven percent of minority students, and over half of Pell grant recipients are in these states. Given their large footprint, the Centers have the potential to serve as an important vehicle not only for disseminating lessons from Completion by Design and other promising guided pathways reforms, but also for providing access to peers implementing these cutting-edge reforms, and access to the expertise and additional capacity of national technical assistance providers.
The themes that came out of convening all 12 of the Centers for the first time at the winter meeting point to a more concerted emphasis on scale. The Centers are positioning themselves to help the colleges in their respective states get smarter and more efficient in implementing evidence-based completion reforms. Importantly, the Centers will provide infrastructure to support institutional reform efforts. In addition to raising awareness about promising completion reforms for the colleges in their respective states, the Centers plan to serve as a central access point for up-to-date research and evidence on completion reforms, and they will provide access to high-quality technical assistance to help the colleges in their states implement evidence-based completion reforms. Significantly, the Center directors acknowledged that no single sector is up to the challenge to increase student completion and that they intend to increasingly engage K-12 and workforce partners.
The Centers sit in a key position of leverage, serving as a nexus between state policy and institutional practice. They are poised to turn their systems-level vantage point into new knowledge and capacity that can accelerate institutional and state policy reform. They are designed to scale.
For more information about Student Success Centers, please visit www.jff.org/studentsuccesscenters.