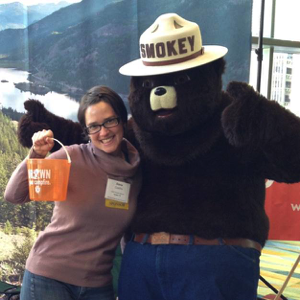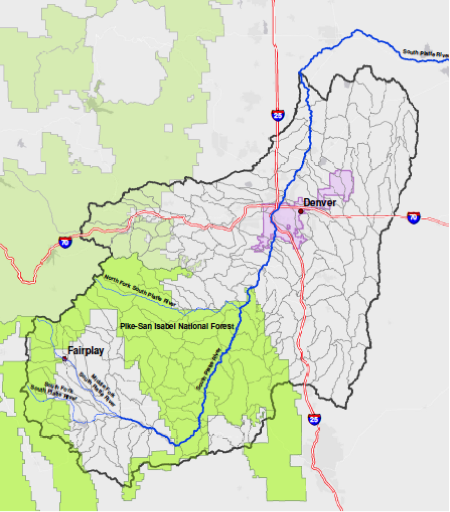 Today, the South Platte Urban Waters Partnership (UWP) is one such collaboration keeping its eye on the river and working to promote water quality, protection, and awareness. The UWP is a collection of local non-profit organizations, private citizens and businesses, city and state agencies, and federal agencies from environmental, design, development, and public health sectors. It is one of 19 pilot locations of the Urban Waters Federal Partnership, a national initiative focused on restoring and reconnecting people with their watersheds. These partnerships are place-based and actively engage non-traditional partners in community forestry, watershed restoration, public health, and economic development projects.
Working across a watershed of about 6,600 square miles, the South Platte UWP considers issues and projects in the forested headwaters of the river southwest of Denver as well as its downtown and eastern plains reaches. This landscape scale approach presents a challenge in connecting people and organizations across a large geographic area and different missions (wildland fire mitigation, urban forestry, trash cleanup, stormwater management, etc.) as well as opportunities to craft and implement projects that have large scale and lasting impacts.
Two current projects looking to bridge these issues are: 1) the Denver Metro Water Quality Assessment, a user-friendly and web-accessible analysis of water quality data from multiple partners being developed in collaboration with the Colorado Data Sharing Network; and 2) the Colorado Natural Capital project, a watershed-wide analysis of natural resource values and threats that can be used by partners to craft and prioritize on-the-ground projects. The partnership is also developing a collection of project sites across the watershed and green infrastructure installations within the City of Denver that aim to improve both recreation and ecology through the use of green infrastructure such as urban parks and trails.
Ultimately, success will look like a river that is accessible, understood, respected, and celebrated as part of everyday life. The South Platte UWP will function as a backbone organization, providing the facilitation, project and data management, and "glue" needed to keep up collaboration among a diversity of organizations and empower local leaders.