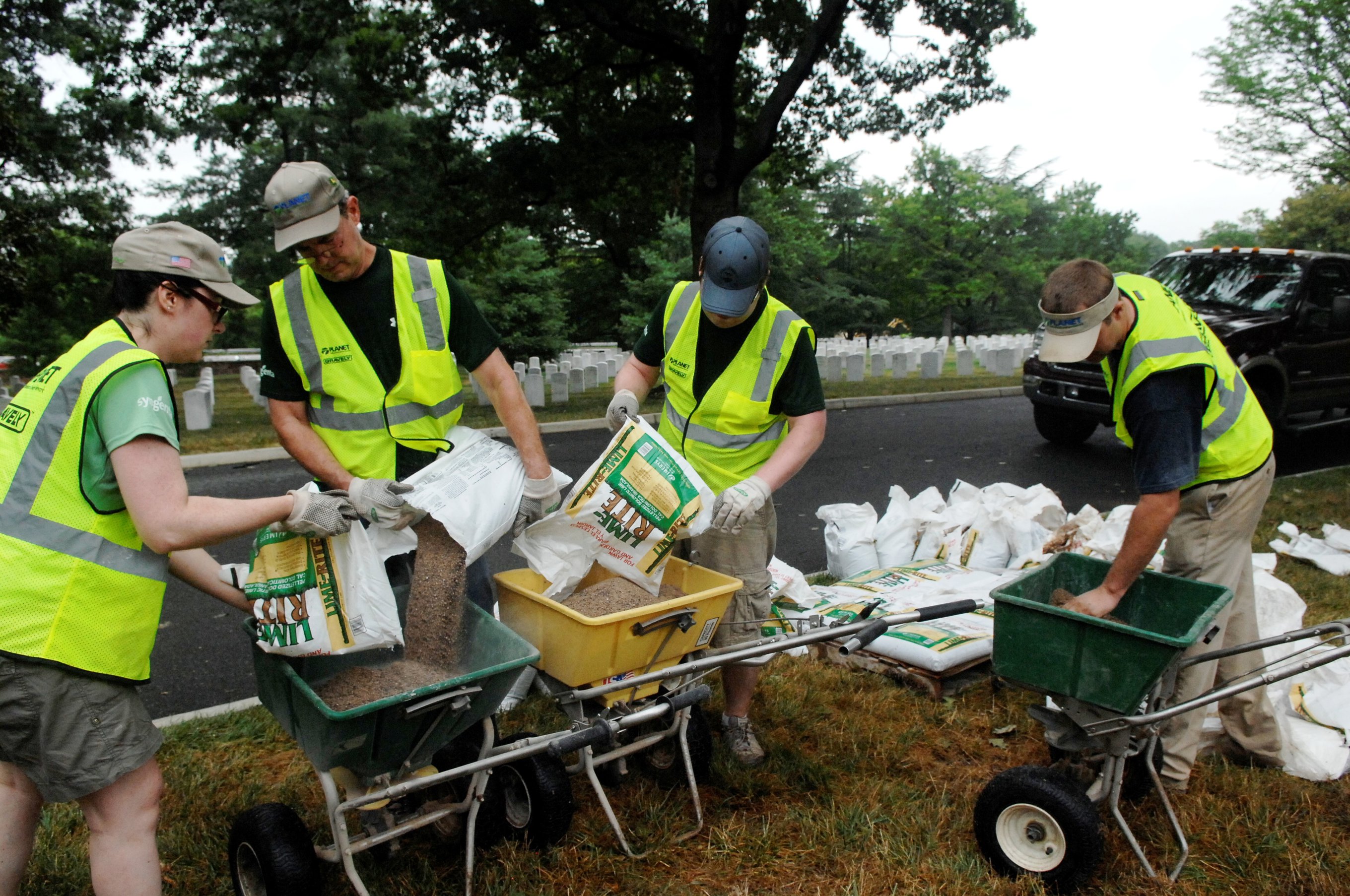 Picture courtesy of Wikicommons.
Becker, whose formal education is in Fine Art, first became involved in the landscape industry through a summer job installing sprinklers during college, which according to him is a common way for young people to enter into the industry. Today, Becker is the president and CEO of Estate Gardeners Inc., an award-wining landscape design and installation company that he co-owns with his wife.
Estate Gardners Inc. typically works on residential projects such as patio and lawn repair, design, and installation, as well as upkeep and maintenance. Tasks for such projects typically include landscaping, planting flowerbeds, installing water features, and conducting routine maintenance (e.g., weeding, pruning, and fertilizing) to ensure that everything looks and functions the way it should.
Landscape professionals can be self-employed or work for a landscaping agency, typically on a contract basis. For those with entrepreneurial desires like Becker's, there are also opportunities for landscape professionals to launch their own business.
How do I Become a Landscape Professional?
Becker is certified as a Landscape Industry Certified Manager by the National Association of Landscape Professionals (NALP). While this particular certification is geared toward those who own or manage landscape businesses, NALP also offers other certifications for landscape professionals, including:
●      Landscape Industry Certified Lawn Care Technician
●      Landscape Industry Certified Lawn Care Technician-National
●      Landscape Industry Certified Lawn Care Manager
●      Landscape Industry Certified Horticultural Technician
●      Landscape Industry Certified Interior Technician
●      Landscape Industry Certified Technician - Exterior
Each of the different certification programs has a different test structure and associated fee. You can find a list of test locations and dates here.
Becker pointed out that these programs are not meant to teach the skills required for each of these professions, but to measure the ability and knowledge of the test taker. Obtaining the certification adds significant credibility and marketing potential to those looking to either obtain a job in the landscaping industry or to advance into a position with more responsibility.
"If you can learn the material and pass the test, you are definitely very valuable in the industry," Becker said. "There are people who will be seeking you out to work for them."
Becker also noted that as a business owner in the industry, he would be highly likely to hire someone who had obtained any one of these credentials.
The NALP requires Landscape Industry Certified individuals to obtain 24 continuing education credits to recertify themselves every two years. The requirements for continuing education include 16 credits worth of education and 8 credits worth of service, which can include teaching, judging exams, serving on a board or committee, or presenting at conferences. There is also a $100 recertification fee.
When asked about the other skills he looks for in potential employees, Becker noted three things: reliability, a good work ethic, and a driver's license. He doesn't require any prior experience working in landscaping. "It really is a learn-on-the-job, hands-on type career, and the more curious you are, the quicker you can learn," he said, mentioning that his company has entry-level positions and opportunity for advancement. Becker also mentioned that the biggest issue he faces today is a lack of motivated labor. With the tight labor market in the Omaha area, he has difficulty finding qualified workers. According to him, "There is a major shortage of competent people who want to do this work," so he is always on the lookout for those willing to work hard and get the job done.
Employment Information for Landscape Professionals:
Job Growth: Nationally, landscaping careers are expected to grow at a faster-than-average rate.2
Earnings: The median wage for a landscaper is $24,290 per year ($11.68 per hour); however, managers and business owners are likely to make significantly more.
Education: Seventy-eight percent of landscapers have a high school diploma or equivalent or less, and 16 percent hold a post-secondary certificate, which means they completed training or education after high school.
Other Resources:
●      Landscape Contractors' Association (also offers certification)