When Heidi Cruz enrolled in the Dental Assisting program at Elgin Community College in Illinois, she worried about her ability to succeed. As an adult learner who hadn't finished high school, she wasn't sure she had the basic skills she needed to complete her education. 
"I didn't think that I could even do essays … the instructor would ask me to do," she said.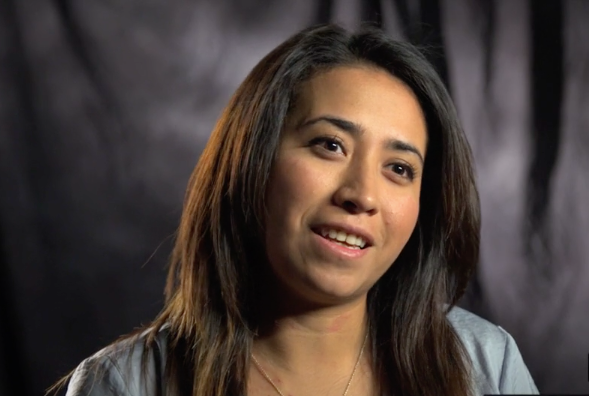 By enrolling in a program at Elgin that helps students earn their High School Equivalency while taking college coursework, Heidi received support and training to earn a market-valued credential and experience – and for many students including Heidi, sometimes for the first time in their lives, economic mobility and living wages.  
With the support of Accelerating Opportunity (AO), a national initiative managed by JFF, Heidi faces a future knowing she is equipped to succeed in an increasingly changing labor market. Watch Heidi and others talk about their experience in this video: 
No Credential, No Job 
Trying to find a job without a high school diploma is hard. Adults without a diploma are twice as likely as their college-educated peers to be out of work, according to a study by the Georgetown University Center on Education and the Workforce. More than 9 of every 10 new jobs go to college-educated candidates.  

For the non-credentialed who find work, continuous employment is fragile. Many available jobs that don't require a high school diploma could change due to market fluxes and automation. Others are contractual or have other working arrangements that put family-supporting wages and benefits out of reach. Millions of adults who want to work but lack a credential or degree may never experience the U.S. as a land of opportunity. 
How far reaching is this issue? Thirty million adults in the U.S., or one in six, have low reading and math levels.  
AO was started in 2011 and modeled from the highly lauded I-BEST program in Washington State. A consortium of foundations invested in AO to directly address the millions of people across the country who would likely never have a shot at college and the credentials needed for economic advancement. The vision was to create a national movement to increase the number of adults with postsecondary education or useful credentials by combining career and technical training with education coursework. The program would also "accelerate" the time leading to jobs by having these adult students learning and training at the same time. 
On the Road to Success 
Does AO work? The short answer is yes. An Urban Institute evaluation of the initiative's first three years in four states—Illinois, Kansas, Kentucky, and Louisiana—showed that enrolled students in these states gained nearly 7,000 credentials (totaling 79,000 credits), and 97 percent of students said involvement with AO met or exceeded their expectations. AO increased the likelihood of students' earning a college credential, relative to a matched comparison group. In most cases, AO students earned more credentials while taking fewer credits, suggesting more efficient course-taking and accelerated learning among participants.   
Evaluation results also showed labor market gains among students recruited from adult education programs in Kentucky and career and technical education programs in Kansas. A cost-benefit study showed positive net student benefits in three of the four states and positive social benefits in one state. 
 This model has catalyzed the focus of participating states on the needs of adult learners. It works because it creates economic gains for students and their families and contributes to state economies.  
"It's simply not about a credential," said Monty Sullivan, president of the 13-member Louisiana Community and Technical College System, about AO's impact. "It's about a pathway that will include multiple credentials . . . job opportunities . . . earnings that are sustained, and a difference in lifestyle." 
It's simply not about a credential. It's about a pathway that will include multiple credentials.

Monty Sullivan, president of the Louisiana Community and Technical College System
Within the Louisiana system, which serves about 130,000 students, Sullivan found that educators changed their thinking in three areas: who was being served, what kind of programming was being provided, and how that instruction was taking place. AO reaffirmed educators' responsibility to both adult learners and the workforce in general. It also shined a light on the important difference that completing a degree can have on an adult student's potential earnings and their quality of life. Monty Sullivan and AO project Director Barbara Endel talk about how AO transformed Louisiana's community and technical college system in NPR's Teaching Matters podcast. 
 In Illinois, welding was the first pathway that Elgin Community College, located about 40 miles northwest of Chicago, selected. "We chose that because of the fact that there was a high labor market demand in our local area . . . but also because anecdotally, we knew from some of the students in our English as a Second Language program that they had an interest in welding,"  said Peggy Heinrich, Elgin's vice president of Teaching, Learning, and Student Development.
AO has had more than 10,000 participants since its launch—and its work is far from over.
Elgin's first programs had stackable certificates and, more importantly, led to realistic jobs upon completion. 
AO has had more than 10,000 student participants since its launch—and its work is far from over. Those involved in the initiative want to spread its impact across the country and bring positive change to the lives of adult learners nationwide. One such effort, Accelerating CTE, is adapting the AO model to the broader population of CTE students.  A new brief looks at early evidence on how team teaching and supplemental instruction improve the classroom experience for CTE students and instructors. The evidence, hopefully, will speak for itself. 

 "This model is life changing," Sullivan said. "It is organizational changing. It is district changing, it's state changing, and I believe it has the potential to change this nation."