Green Infrastructure Done Well: Making Communities More Livable and Economically Vibrant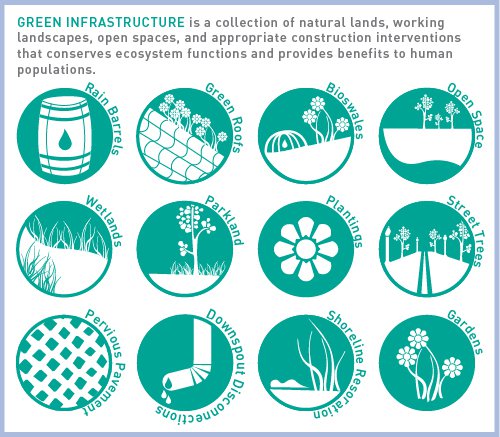 By Robert Goo, environmental protection specialist, Office of Water, US Environmental Protection Agency. This blog is part of a series, created through JFF's NatureWORKS project.

Cities around the US are now utilizing green infrastructure and low-impact development (GI*) approaches to enhance their communities and more effectively manage their water resources. Green infrastructure and low-impact development designs use plants and soils and take advantage of natural processes such as infiltration and evaporation to cleanse and manage runoff.
In my role at the Environmental Protection Agency (EPA), I have seen a groundswell of municipal activity that is helping to transform our landscapes and make our communities more livable, economically vibrant, environmentally sustainable, and resilient to climate change. Although many communities have fully embraced the use of GI approaches and practices, numerous cities—motivated by the potential for reduced infrastructure costs, better environmental outcomes, or social and economic reasons such as job creation and community development—are just beginning to consider why and how they might begin the process of integrating GI practices into their programs.
Some of my observations, which may be helpful to communities that already utilize GI, those contemplating the use of GI, and those that may be planning their first projects, include:
Green infrastructure is not a panacea, and in many cases GI practices must be used in conjunction with conventional infrastructure such as pipes and channels.
Water resource management is just one of many benefits that GI can provide, and the full suite of potential benefits should be evaluated when considering the use of GI practices. For example, GI practices can be used to make our streets safer, beautify thoroughfares, and stimulate investments.
Community engagement is critical to gain acceptance for GI designs.
Partnerships increase the probability of success—whether they include nongovernmental, interdepartmental, and/or interagency organizations, i.e., parks and recreation departments, departments of transportation, and departments of natural resources.
Artful design is a plus. Successful GI projects often have a public education benefit and make a visible difference to the aesthetics of a community.
Operation and management of the GI practices must be considered during the selection process, a maintenance plan and budget must be established before construction begins, and someone needs to be assigned responsibility for maintaining the practices.
In general, the simpler the project design, the better the system performs and the less maintenance it requires over its lifespan.
Budget contingency funds to alter designs or provide for extra maintenance are necessary. Green infrastructure systems are typically living systems, and designs evolve based on local conditions, the skill of the program staff, unforeseen events, and evaluation of maintenance practices.
Geotechnical site assessments, such as soil tests and groundwater assessments, are critical to success.
GI projects—like any infrastructure project—have a lifespan. The need for upkeep and improvements should be factored into the program's goals, operation, and maintenance plans.
Successful GI programs incorporate monitoring and evaluation components to assess how practices perform individually and collectively over time so designs can be modified, practices can be eliminated from use and operation, and maintenance regimes can be adjusted based on performance.
Green infrastructure practices are not necessarily cheaper than grey infrastructure such as pipes and engineered treatment systems. Costs will depend on the level of expertise in the community; whether the design is part of a new project, a redevelopment project, or a retrofit project; and the availability of materials such as permeable pavements and rain gardens or green roof plants. In general, as the volume of GI projects increases, costs for project design and some materials may decrease.
Pick first projects carefully. Capital improvement and right-of-way projects are good ways to start incorporating GI practices into the landscape. To promote public acceptance, select demonstration projects that are in highly visible locations.
In addition to creating a better environment for the community, the development of GI programs offers opportunities for communities to develop jobs and skillsets for a diverse group of skilled and less skilled practitioners to design, construct, maintain, and evaluate GI programs and practices. For example, skilled engineers, landscape architects, horticulturists, planners, and landscape maintenance staff are needed to design, construct, and maintain GI systems. Municipalities can partner with their local educational institutions to develop programs that will certify graduates in the needed skills. In addition, trained communication specialists or "ambassadors" who can engage the public about the benefits of GI are critical. Communities can develop partnerships with nonprofits, organizations, and community service programs such as AmeriCorps to develop the skills needed to both raise public awareness about the benefits of GI and ensure that individuals can acquire job-related technical skills. The development of training and certification programs at the state and local levels can also increase the marketability of applicants seeking jobs in this field and help ensure that GI programs are successful.
*GI refers to both green Infrastructure and low-impact development, as the terms are analogous.
More detailed information on GI/LID practices and systems can be found on the following EPA web pages:
GI performance: This page provides links to EPA's research on GI performance as well as other relevant scientific literature.
GI research: This page allows you to view GI projects either by region or nationally.
Policy guides: These sheets are intended for local decision makers; they highlight the benefits of GI and address common misconceptions and concerns about using these practices.