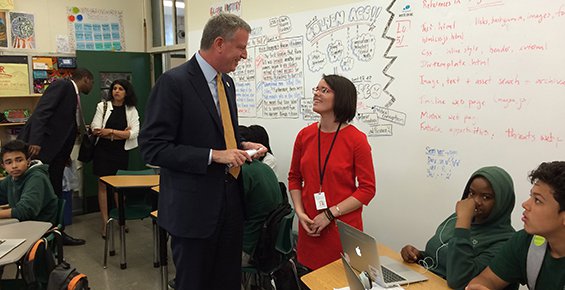 New York City Mayor Bill de Blasio visits the classroom of global teacher Stephina Fisher at Bronx Academy for Software Engineering, spring 2014 (Photo courtesy of BASE)
"What's so exciting for us," says Scott Massey, assistant principal at BASE, "is that Stephina's classroom is not only student centered, but it's really about bringing students in as collaborators in every aspect of the learning, designing, learning activities, designing curricula, designing assessments. [She is] sitting with students to create the learning experiences with them as partners."
These examples involve students from around New York City, but they share the delighted sense of discovery, autonomy and capability, and the energy—and they both begin to illustrate the power of unleashing content and giving students a sense of genuine, meaningful ownership of their own learning. When implementing student-centered innovations, the presence of energetic delight in students and teachers can be a good indicator that rich, multidimensional learning is happening.
Further reading on student-centered approaches and student ownership of learning:
Digital Ready is managed by the NYC Department of Education's Office of Postsecondary Readiness, with generous support from the NYC Mayor's Office of Media and Entertainment.