5 Key Takeaways from The Past and the Promise: Today's Competency Education Movement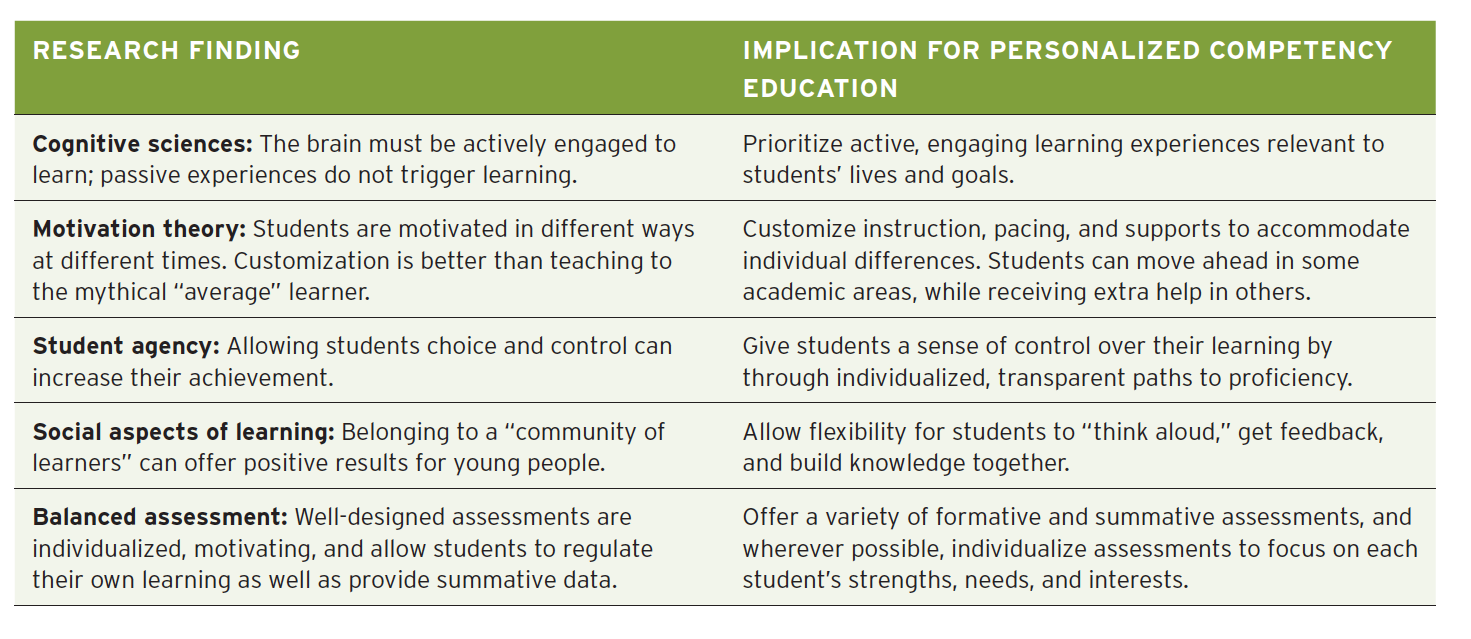 3. 42 states in the past decade have granted public schools the flexibility to incorporate and explore competency-based policies, and a few states have moved beyond experimentation. Proponents are implementing a range of programs, from competency-based options within a school to districtwide efforts. For example:
Oregon allows students to earn proficiency-based credits.
New Hampshire has launched a statewide competency-based system that requires high schools to award credit based on mastery of material rather than seat time and passing grades.
Maine will require districts to offer a diploma based on demonstration of proficiency by 2018.
Various states are also making real headway in designing and piloting performance-based assessments that provide valid and reliable information about students' competencies outside of just reading and math, such as the ability to monitor one's own learning, persist at challenging tasks, solve complex problems, set realistic goals, and communicate effectively in many kinds of settings.
4. Related past efforts, such as mastery learning, were effective but faced political, implementation, and public will challenges. Although competency education must confront many of the same issues, several important factors distinguish today's efforts, such as:
Recent advances in technology present options to both expand instructional possibilities and ease administrative difficulties.
We know much more about assessment and how to measure factors that maximize students' likelihood of making a successful transition to college and performing well in college courses.
5. Renewed interest in competency education relates to a variety of factors, including:
The expanding global economy, which requires we challenge hundred-year-old structures to improve outcomes for all students to keep our nation competitive
The uniting of the standards movement and personalization—approaches to education reform that were previously at odds
Advances in technology that enable the level of learning customization, varied and engaging experiences and lessons, and ability to assess and track the numbers of students necessary to realize personalized competency education at scale
Read the first paper from the Competency Education Research Series, The Past and the Promise: Today's Competency Education Movement.

Read the second paper from the Competency Education Research Series, Equity in Competency Education: Realizing the Potential, Overcoming the Obstacles, a closer look at implications for equity considerations in competency education.