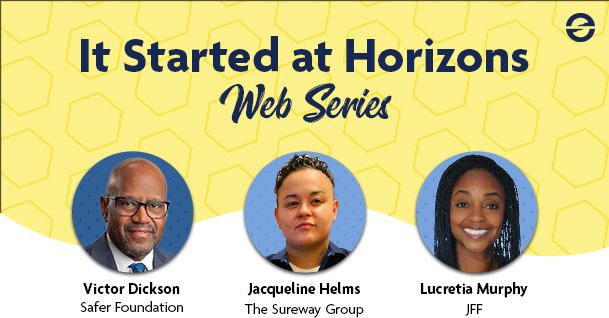 From Incarceration to Careers: Supporting Reentry Success for Formerly Incarcerated Adults
Tuesday, January 26 | 1:00 - 2:00 PM ET | Streaming Live on YouTube
About the series
Building on the Horizons experience, we've launched a free monthly webinar series called "It Started at Horizons." For each episode, we'll be inviting diverse leaders in education and workforce development to join JFF experts for conversations about topics such as the future of work and learning, the challenge of responding to the COVID-19 crisis, and the need to increase racial equity and improve access to economic opportunity.
Previous Episodes
Episode 5: Looking Ahead: Policies for the Biden Administration to Advance an Equitable Economic Recovery
As the country establishes a path to recovery from the twin health and economic crises brought on by COVID-19, the Biden administration and the new Congress have an unprecedented opportunity to fix systems and policies that were broken long before the pandemic upended society.
In this episode of "It Started at Horizons", we will explore steps that federal policymakers could take to foster an equitable recovery in a conversation with Kim Hunter Reed, Louisiana's commissioner of higher education, and Lee Wheeler-Berliner, managing director of Colorado's Workforce Development Council.
JFF Associate Vice President Lexi Barrett will also be on hand to discuss policy recommendations that JFF put forth in its memo to the Biden administration, "How to Achieve an Equitable Economic Recovery for America."
This hour-long discussion will feature examples of innovative policies that have led to progress across the country. Be sure to register today, so you can join fellow workforce, education, and economic development professionals for this in-depth and thought-provoking conversation.
Episode 4: Leveraging Data for Equity in a COVID-19 Economy - Next-Generation LMI
Leaders in education and workforce development rely on the highest-quality labor market information (LMI) to inform how they design college and career pathways. Now, COVID-related unemployment has upended the economy, and leaders must quickly adapt. In this episode of "It Started at Horizons," Sara Lamback and Julia di Bonaventura of JFF, Isa Ellis of the Bill & Melinda Gates Foundation, and Joel Simon of Burning Glass Technologies will discuss new approaches to using LMI to ensure equity in the development of college and career pathways. They will explore advice for job seekers, especially young people who are still in school, planning for college, or getting ready to graduate, and will highlight organizations that are leveraging LMI in innovative ways. This episode is also part of JFF's Building Equitable Pathways Webinar Series.
Episode 3: Race and Education: Past, Present, and Future
The COVID-19 crisis has highlighted racial inequities that have long pervaded our education and workforce systems. On November 18, JFF Vice President Michael Collins will discuss these trends in a one-on-one conversation with John Simpkins, a constitutional scholar and president of MDC.
Building on decades of work advancing educational and economic outcomes for Black Americans, Michael and John will explore leading research and strategies for improving racial equity in education. Drawing on lessons learned from John's regional work in the South, they will lay out policies and practices for combatting racial inequities in education, delving into how we got here and how we can move forward.
Episode 2: "Career Navigation in a Changing Economy"
Career navigation has always been a lifelong process. But now, with the labor market in flux due to the COVID-19 crisis, it's more important than ever for people to be able to identify and assess employment and training options in order to make informed decisions about which pathways to choose.
As they follow career trajectories defined by variety and near-constant change, learners and workers will weave in and out of education and work throughout their lives. Navigating that path requires skills, resources, and support networks, as well as comprehensive, integrated career guidance systems.
Join JFF's Clare Bertrand, director of Best Bet Services, and Alex Swartsel, deputy director of acceleration at JFFLabs, as they connect with Chris Motley, founder and CEO of Mentor Spaces, and Nitzan Pelman, CEO of Climb Hire, for an engaging conversation about career navigation across the education-to-work ecosystem, from K-12 to college and the workforce.
Episode 1: "Advancing Equity in Postsecondary Education: How California Community Colleges Are Leading the Way"
Our series kicks off with a "fireside chat" featuring California Community Colleges Chancellor Eloy Ortiz Oakley and Executive Vice Chancellor Marty Alvarado. In our first episode, Chancellor Oakley and Vice Chancellor Alvarado discuss how they are meeting this unprecedented moment of historically high-unemployment, racial injustice, and economic fallout from COVID-19 with a bold plan to close racial equity gaps, improve outcomes, and foster systemic change in the nation's largest community college system.
Don't forget to save the date for next year's Horizons: June 15-16, 2021, when we'll be back in New Orleans!