Horizons 2020 Highlights
Thousands of leaders converged at Horizons in 2020 to confront the profound issues facing our nation and design an equitable economic recovery for all.


We unpacked the persistent racial and economic inequities that the pandemic, recession, and widespread protests against systemic racism have laid bare. And we committed to collaborate in new ways to build a future that works for everyone.

Each day focused on one of JFF's four pillars of transformation: Design, Scale, Influence, and Invest. Catch the energy and urgency below. And we'll see you online at JFF's Horizons in June 2021!
Day 1: Design
Speakers underscored that building an equitable recovery will require sustained and intentional action to confront the persistent racial and economic inequities that recent events have put in sharp relief.
I hope [this moment] leads everyone to ask...whether they've been doing enough to question the status quo and the ways we allow it to perpetuate itself.

Jim Shelton, Blue Meridian Partners
See recaps of all four days of Horizons, plus videos of breakout sessions and other content from our digital library.
What actions are we going to take as individuals, as organizations collectively, and make tomorrow better than yesterday? It's so important that we lead together.

—Maria Flynn, JFF CEO and president
While there are immediate injustices to address right now...there are also these long-term, slower-burning injustices around education, housing, and we just need to stay with those longer-term injustices as well.

Richard Reeves, Brookings Institution Senior Fellow and JFF Board Member
Day 2: Scale
Scale + Personalization = Success
Leaders of pioneering online universities discussed how they help underserved students succeed by personalizing their learning experiences using student data and customized supports.
Sometimes people confuse growth and scale. Growth can get ahead of you and really bite you if you're not careful. . . . At scale, I think, you have to harness your systems and processes and data.

Paul LeBlanc, President, Southern New Hampshire University
When we think about the racial inequity gaps—whether they're triggered by the pandemic or the technological advancements—we have to think about...who is positioned for the economy that re-emerges over the next couple of years.

Ajita Menon, Interim President and CEO, Calbright College
Podcast
Voices From a Future in Flux | Episode 1
From the Hive

I'm a big subscriber of owning your own 10 square feet...I can't hold the whole world accountable—no one can—but if we can all hold our own 10 square feet accountable, our own actions and the people closest to us, I think we can move different initiatives forward.

Brad Keselowski, NASCAR Driver, Founder and Owner of Keselowski Advanced Manufacturing
Day 3: Influence
Corporate leaders pledged to do better by their workers in these difficult times. Workers said they must.
We are experiencing the equivalent of 10 years' worth of change in 10 weeks...What this pandemic did was it accelerated the trends that we were already seeing...Now every company wants to automate more of its work faster.

Andrew Yang, Founder, Humanity Forward
The whole country is awakening to just how many workers we have taken for granted and undervalued. We basically have a once-in-many-generations opportunity to address the fact that we have undervalued so many working people, and to make low wage jobs, good jobs, and to remake our safety net to actually protect them.

Ai-jen Poo, Domestic Workers Alliance
From the Hive


This is a time where we have to choose as a nation if we're going back to the status quo that was not good for the overwhelming majority of working families, or are we going to use this opportunity to create real structural change?

Sarita Gupta, Director, Future of Work(ers), Ford Foundation
Day 4: Invest
Horizons pushed our thinking in critical ways, including by focusing on the role of philanthropy in economic equity and racial justice.
We have to couple equity with justice. And justice means getting at the root and the core of the problem by doing our part to dismantle the systems that have allowed the inequities to persist.

Danette Howard, Senior Vice President and Chief Strategy Officer, Lumina Foundation
We forget the economy is made by us, the rules that define the economy are made by people, and they should serve the people. And so when they are not serving a significant part of the population, we need to find ways to change the rules. And we need to think about how we do that now, for the jobs that we are calling essential jobs.

Charles Fields, Vice President of Program Implementation, The James Irvine Foundation
Podcast
Voices From a Future in Flux | Episode 2
From the Hive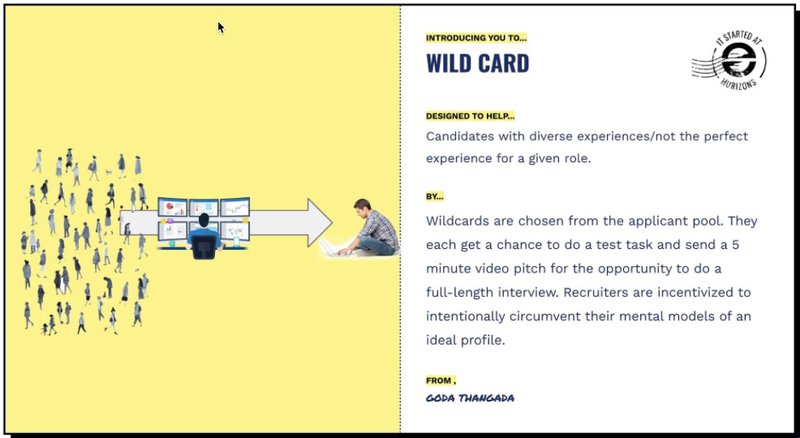 If students are not getting a good ROI, the system doesn't work. And so it all needs to be based on that as an end goal. And there's plenty of opportunity to build a much more equitable educational system if we get it right and start with the student.

Jacob Haar, Managing Partner, Community Investment Management