Our Convening and Leadership Superpower
Horizons is a big tent; we bring together a diverse group of people from across the public, private, and nonprofit sectors. We need all voices to develop systems that serve everyone.
We bring together the best ideas from across the country, across the aisle, and across the silos of backgrounds that often separate us. We channel our resources, networks, and convening power to serve one goal: equitable economic advancement for all.
Meet Our Featured Speakers at Horizons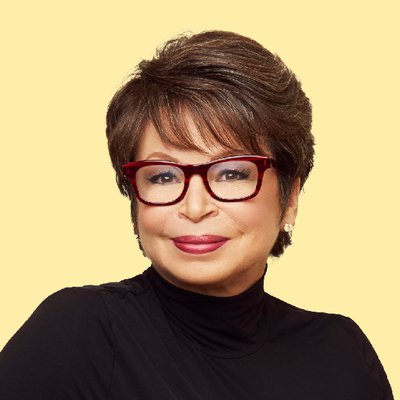 Valerie Jarrett
Chief Executive Officer, the Barack Obama Foundation
READ MORE...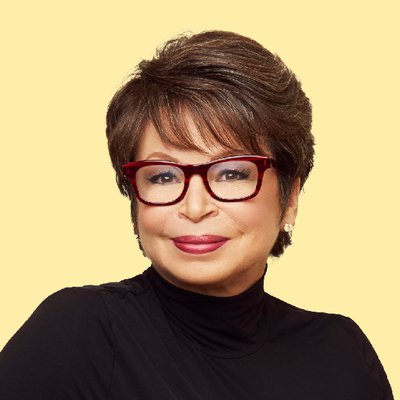 Valerie Jarrett
Chief Executive Officer, the Barack Obama Foundation
Valerie Jarrett is Chief Executive Officer and a member of the board of directors of the Barack Obama Foundation. She is also a Senior Distinguished Fellow at The University of Chicago Law School. She is the author of the New York Times bestselling book Finding My Voice: My Journey to the West Wing and the Path Forward, published in April 2019.
She serves as Board Chairman of Civic Nation and Co-Chair of The United State of Women. Jarrett serves on the boards of Walgreens Boot Alliance, Inc., Ralph Lauren Corporation, Lyft, Inc., Sweetgreen, Ariel Investments, The University of Chicago, Sesame Street Workshop and the Economic Club of Chicago. Jarrett also serves on the Goldman Sachs One Million Black Women Advisory Board.
Ms. Jarrett was the Senior Advisor to President Barack Obama from 2009-2017 making her the longest serving senior advisor in history. She oversaw the Offices of Public Engagement and Intergovernmental Affairs and Chaired the White House Council on Women and Girls. Ms. Jarrett worked throughout her tenure at the White House to mobilize elected officials, business and community leaders, and diverse groups of advocates. She led the Obama Administration's efforts to expand and strengthen access to the middle class, and boost American businesses and our economy. She championed the creation of equality and opportunity for all Americans, and economically and politically empowering women in the United States and around the world. She oversaw the Administration's advocacy for workplace policies that empower working families, including equal pay, raising the minimum wage, paid leave, paid sick days, workplace flexibility, and affordable childcare, and led the campaigns to reform our criminal justice system, end sexual assault, and reduce gun violence.
Ms. Jarrett has a background in both the public and private sectors. She previously served as the Chief Executive Officer of The Habitat Company in Chicago, the Commissioner of Planning and Development for the city of Chicago, Deputy Chief of Staff for Chicago Mayor Richard M. Daley and practiced law for ten years in the private and public sector. She also served as the director of numerous corporate and not-for-profit boards including leadership positions as Chairman of the Board of the Chicago Stock Exchange, Chairman of the University of Chicago Medical Center Board of Trustees, Vice Chairman of the University of Chicago Board of Trustees, Director of the Federal Reserve Bank of Chicago and Chair of Chicago Transit Board.
Ms. Jarrett has also received numerous awards and honorary degrees, including TIME's "100 Most Influential People" Award.
Jarrett received her B.A. from Stanford University in1978 and her J.D. from University of Michigan Law School in 1981.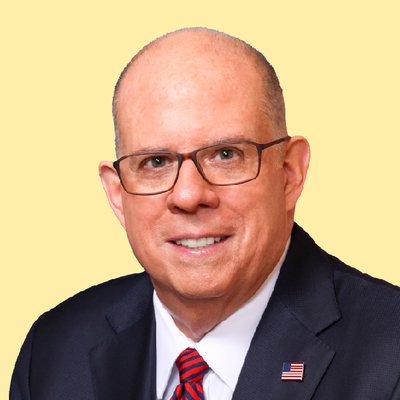 Larry Hogan
Former Governor, Maryland
READ MORE...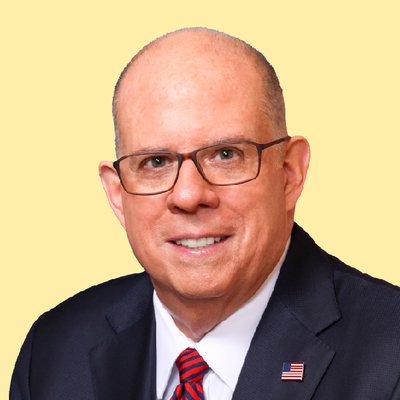 Larry Hogan
Former Governor, Maryland
Larry Hogan is not a career politician. As a lifelong Marylander and small business owner who was fed up with sky-high taxes, politics as usual, and decades of one-party rule, he started Change Maryland, the largest non-partisan grassroots citizen organization in state history.
In 2014, out-numbered in party registration by more than 2-1, and outspent by more than 5-1, Larry Hogan pulled off the biggest upset in America on election night, becoming only the second Republican Governor elected in Maryland in 50 years.
Once in office, Governor Hogan quickly became an example of leadership for the nation, accomplishing what many believed was no longer possible: bipartisan, common sense solutions.
As Governor, Larry Hogan cut taxes for eight years in a row by $4.7 billion, including the largest tax cuts in state history. Overall, after inheriting a $5.1 billion structural budget deficit, the governor left office with a record $5.5 billion in reserves—a more than $10 billion swing. Under his leadership, Maryland produced the greatest economic turnaround in America, going from 49th out of 50 states to number six. He restored peace and order to Baltimore City during the riots of 2015, reduced the cost of health care premiums by over 30%, made historic investments in education, transportation infrastructure, and protecting the environment, and was the only Republican Governor in the country to overturn a Democratic gerrymandered map. He even achieved all this while overcoming a personal battle against cancer.
After four years of economic success and bipartisan progress in one of the bluest states in America, Governor Hogan was overwhelmingly re-elected to a second term in 2018, making him only the second Republican to do so in the entire history of the state.
When COVID struck the United States in 2020, Governor Hogan led the nation's governors through this crisis as Chairman of the National Governors Association. In Maryland, the governor's decisive and balanced leadership helped save countless lives and livelihoods.
Regardless of party affiliation, Marylanders agree: Governor Hogan delivered results for his state. As Governor Hogan left office, polling consistently showed an overwhelming majority of all Republicans, Democrats and Independents—nearly 80% of all Marylanders—approve of the job he did, the highest of any governor in Maryland history and one of the highest of any governor in the nation.
Karin Kimbrough
Chief Economist, LinkedIn Corporation
READ MORE...
Karin Kimbrough
Chief Economist, LinkedIn Corporation
Karin Kimbrough is the chief economist at LinkedIn Corp. Prior to joining the LinkedIn Corporation in 2020, she served as the Assistant Treasurer for Google and the Managing Director and Head of Macroeconomic Policy at Bank of America Merrill Lynch. In addition, Kimbrough worked at the Federal Reserve Bank of New York as a Vice President and Director for the Financial Stability Monitoring Function in the Markets Group from 2005-2014. She serves on the board of directors for Fannie Mae, is an advisor to 3x5 Partners, and serves on the Federal Reserve Bank of Chicago's Academic Advisory Council and the Economic Advisory Panel of the New York Fed. She holds a bachelor's degree from Stanford University, a master's from Harvard and a PhD from the University of Oxford.
Richard Reeves
Senior Fellow in Economic Studies, Brookings Institution
READ MORE...
Richard Reeves
Senior Fellow in Economic Studies, Brookings Institution
Richard V. Reeves is a senior fellow in Economic Studies, where he holds the John C. and Nancy D. Whitehead Chair and leads the Boys and Men Project. His research focuses on boys and men, inequality, and social mobility.
Richard's publications for Brookings include his latest book Of Boys and Men: Why the Modern Male Is Struggling, Why It Matters, and What to Do about It (2022) and 2017's Dream Hoarders: How the American Upper Middle Class Is Leaving Everyone Else in the Dust, Why That Is a Problem, and What to Do about It. He is a contributor to The Atlantic, National Affairs, Democracy Journal, the Wall Street Journal and the New York Times. Richard is also the author of John Stuart Mill – Victorian Firebrand, an intellectual biography of the British liberal philosopher and politician.
Richard sits on the Board of Jobs for the Future, and is an adviser to the American Family Survey, and to the Equity Center at the University of Virginia. He has previously served as a consultant to the Opportunity Insights team led by Prof Raj Chetty at Harvard University (2018), and as a member of the Government of Canada's Ministerial Advisory Committee on Poverty (2017-2018).
Richard's previous roles include: director of Demos, the London-based political think-tank; director of futures at the Work Foundation; principal policy advisor to the Minister for Welfare Reform; social affairs editor of the The Observer; research fellow at the Institute for Public Policy Research; economics correspondent for The Guardian; and a researcher at the Institute of Psychiatry, University of London. He is also a former European Business Speaker of the Year.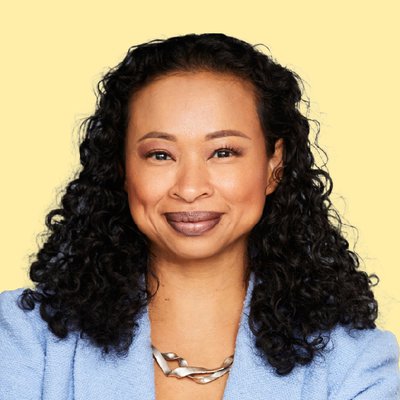 Dalila Wilson-Scott
Executive Vice President and Chief Diversity Officer, Comcast Corporation & President, Comcast NBCUniversal Foundation
READ MORE...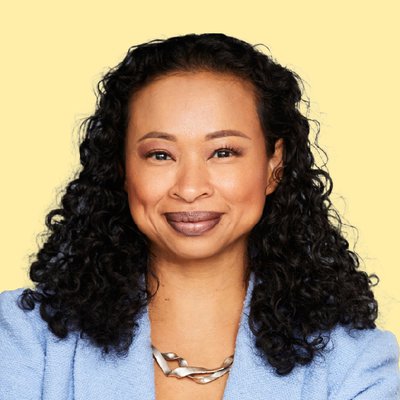 Dalila Wilson-Scott
Executive Vice President and Chief Diversity Officer, Comcast Corporation & President, Comcast NBCUniversal Foundation
Dalila Wilson-Scott serves as Executive Vice President and Chief Diversity Officer of Comcast Corporation and President of the Comcast NBCUniversal Foundation. In this role, Dalila oversees all Diversity, Equity, & Inclusion initiatives and philanthropic strategy for the corporation with a focus on advancing digital equity through Project UP, and the company's $100 million pledge to advance social justice and equality.
Dalila also leads Comcast's community impact initiatives, working across the organization to provide strategic leadership for all corporate social responsibility programs, including employee engagement and volunteerism. In addition, Dalila oversees efforts to utilize Comcast's world-class media platforms to bring greater attention to the work of our philanthropic partners, where in 2020, she shepherded over $500 million in support to nonprofit partners – deepening Comcast's commitment to creating a more connected and equitable world.
Prior to joining Comcast, Dalila served as Head of Global Philanthropy and President of the JPMorgan Chase Foundation. In this role, she led the firm's philanthropic and economic opportunity initiatives, including the firm's $100 million commitment to Detroit's recovery, while helping to set the company's overall corporate responsibility strategy.
Currently, Dalila serves on the boards of Main Line Health, United Way of Greater Philadelphia and Southern NJ, City Year, CodePath, and the Philadelphia Orchestra and Kimmel Center, Inc. Dalila has been named one of the "Most Powerful Women in Cable" by Cablefax Magazine; one of the "Most Powerful Women in Business" by Black Enterprise; and an "Innovative Rising Star: Building Communities" by Forbes Magazine. Most recently, she was recognized by ColorComm as one of the "28 Black Women in Communications Making History Now;" and named a "2022 Wonder Woman" by Multichannel News.
Dalila earned an MBA in Finance and Management from New York University's Leonard N. Stern School of Business and a B.A. in Economics from New York University's College of Arts and Science.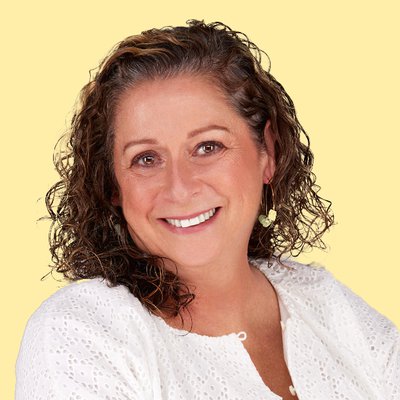 Abigail Disney
Emmy-winning Documentary Filmmaker, Activist, and Philanthropist
READ MORE...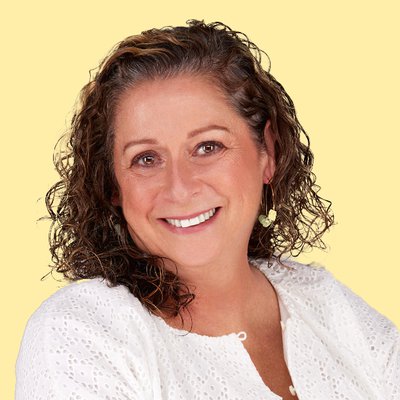 Abigail Disney
Emmy-winning Documentary Filmmaker, Activist, and Philanthropist
Abigail E. Disney is an Emmy-winning documentary filmmaker and activist. Her latest film, "The American Dream and Other Fairy Tales," co-directed with Kathleen Hughes, made its world premiere at the 2022 Sundance Film Festival. She advocates for real changes to the ways capitalism operates in today's world.
As a philanthropist she has worked with organizations supporting peace building, gender justice and systemic cultural change. She is Chair and Co-Founder of Level Forward, and founder of Peace is Loud and the Daphne Foundation.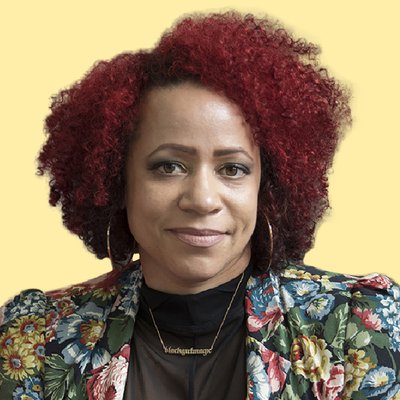 Nikole Hannah-Jones
Pulitzer Prize-Winner, 1619 Project & Staff Writer, The New York Times Magazine
READ MORE...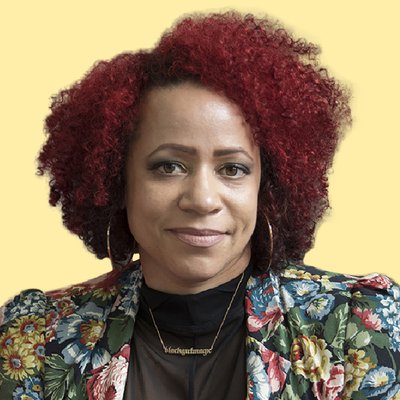 Nikole Hannah-Jones
Pulitzer Prize-Winner, 1619 Project & Staff Writer, The New York Times Magazine
Nikole Hannah-Jones is the Pulitzer Prize-winning creator of the 1619 Project and a staff writer at The New York Times Magazine. The book version of The 1619 Project was an instant #1 New York Times bestseller. Hannah-Jones has spent her career investigating racial inequality and injustice, and her reporting has earned her the MacArthur Fellowship, known as the Genius grant, a Peabody Award, two George Polk Awards and the National Magazine Award three times. She also serves as the Knight Chair of Race and Journalism at Howard University, where she is founding the Center for Journalism & Democracy. Hannah-Jones is also the co-founder of the Ida B. Wells Society for Investigative Reporting, which seeks to increase the number of investigative reporters and editors of color, and this year she opened the1619 Freedom School, a free, afterschool literacy program in her hometown of Waterloo, Iowa. Hannah-Jones holds a Master of Arts in Mass Communication from the University of North Carolina at Chapel Hill and earned her BA in History and African-American studies from the University of Notre Dame.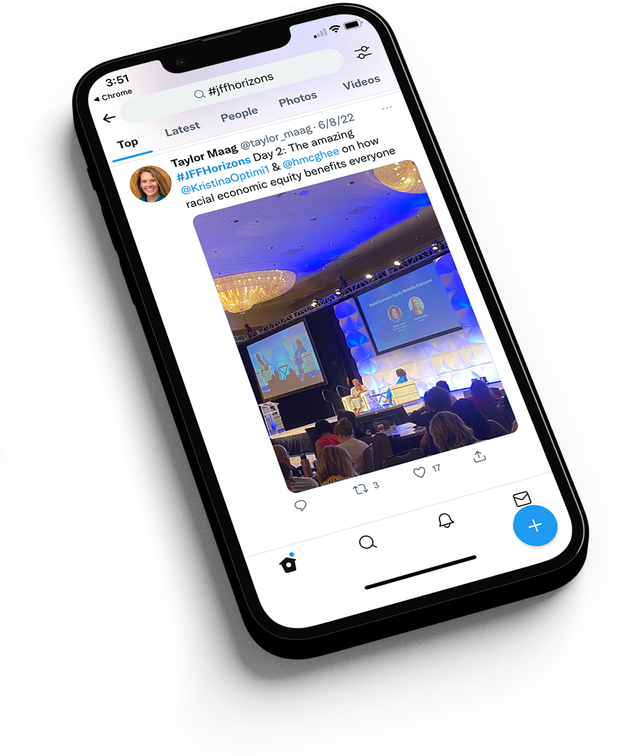 #JFFHorizons
Our conversation starts long before the national summit. Share thoughts, experiences, photos, and videos. Network and ask questions.