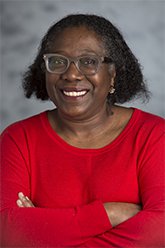 Sandra Jadotte provides administrative support to JFF's High School Through College projects, which help youth transition to and succeed in college.
Before joining JFF, Sandra was an executive legal assistant with Pederson & Freedman, LLP, in Washington, DC, where she assisted attorneys with research and correspondence, translated documents, handled public inquiries, prepared reports, coordinated meetings and events, and managed staff travel.
Sandra is fluent in French and Creole. She attended St. John's University in Queens, New York.