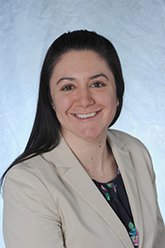 Patricia Maguire is an associate director for JFF, working to help low-income adults train for and succeed in jobs with career advancement potential.
Patricia's recent experience includes two years with Community Economic Development Assistance Corporation, where she managed the Commonwealth Workforce Coalition, a statewide capacity building program that provides training, professional development, and network opportunities for workforce staff. Prior to that, she spent three years with SkillWorks at The Boston Foundation, where she coordinated and managed four workforce partnerships—totaling over $3 million—with goals of serving 1,000+ adults over five years for a $10 million public-private workforce development collaborative.
Patricia holds a bachelor's degree in English and sociology from College of the Holy Cross and a master's degree with a macro concentration in policy, planning, and administration from Boston College.