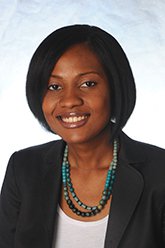 Myriam Sullivan is a director at Jobs for the Future.
A member of the team in the Center for Apprenticeship & Work-Based Learning, she focuses on helping low-skilled adults advance to family-supporting careers while enabling employers to build and sustain a productive workforce. Her current portfolio includes New Skills at Work, a landmark JPMorgan Chase workforce readiness initiative aimed at closing the skills gap. Before that, she led Credentials That Work, JFF's emerging work in the development and application of labor market information (LMI) and workforce research.
Before joining JFF, Myriam served as a presidential management fellow for two offices within the U.S. Department of Labor. As program analyst in the financial management division, she managed LMI grants for 10 states and oversaw key meetings of state and federal LMI stakeholders. As a manpower development specialist in the Office of Workforce Investments, she managed federal grants and provided technical assistance to state- and local-level entities that administer and provide workforce development programs and services to various adult and youth populations.
Earlier in her career, she worked at the Massachusetts Executive Office for Administration and Finance, the Federal Reserve Bank of Boston, and JPMorgan Chase & Co.
Myriam has a master's degree in public administration from Long Island University and a bachelor's degree in political science from the State University of New York at Albany.