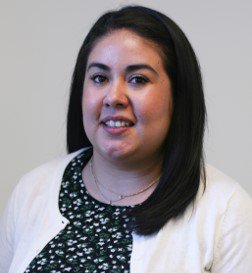 Mireya Sandoval (she/her/ella) is a senior program manager in JFF's Center for Apprenticeship & Work-Based Learning. She focuses on expanding the Center's efforts to advance Registered Apprenticeship and other work-based learning models to create new opportunities for economic mobility for youth and adults, particularly those who are members of populations that historically have been denied access to those types of programs.
Mireya has a multifaceted background and has developed skills and expertise in the following areas:
● Partnership management
● Youth development
● Conference planning and execution
● Technical assistance delivery
● College access and success
● College affordability
● Program design and implementation
● IT
● Student support
Before joining JFF, Mireya was the senior manager of training and technical assistance at uAspire, a national college affordability nonprofit. In that role, she managed national training partnerships and delivered high-quality technical assistance while prioritizing the needs of students.
Mireya has had a wide range of experiences in her career, including training and event planning positions, as well as IT roles at El Paso Community College and YouthBuild USA, a national nonprofit organization serving opportunity youth.
She says she is excited to join JFF because of its commitment to driving change in the workforce and education systems while prioritizing equity and inclusion.
Mireya has a bachelor's degree in psychology from the University of Texas at El Paso.
If she is not spending her time with family and friends, you can find Mireya watching the latest movie or TV show, writing in her journal, or catching a soccer game.