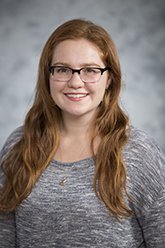 Micayla Boari is a senior graphic designer at JFF. She works with the Communications team to create visual products that align with the JFF brand and promote JFF's thought leadership.
Micayla works on all kinds of visual products, including infographics, social media graphics, publications, event signage, presentations, emails, websites, and app graphics. She is also very involved in environmental design for JFF's national summit, Horizons.
Her skills and areas of expertise include:
Print design
Environmental design
The Adobe Creative Suite
HTML 5
Email design
Before joining JFF, Micayla worked at Boston Productions, where she created interactive experiences for museums and exhibits—specifically the informational games and displays at the Niagara Power Vista in New York. Earlier in her career, she served with AmeriCorps NCCC for 10 months, doing service projects in California, Montana, Washington, and Oregon.
Reflecting on why she chose to work at JFF, Micayla says, "I have always been attracted to volunteer and service work. I love working at JFF because everyone is passionate about the work they do and I know I'm doing a job that's making a difference."
Outside of work, she says, "I am really into outdoor adventures. I love going to the beach and learning to surf or, more recently, trying to tackle the 48 4,000-foot peaks in New Hampshire."