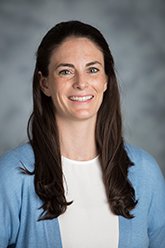 Julia di Bonaventura is an associate director for the Pathways to Prosperity Network, a collaboration between the Harvard Graduate School of Education and JFF, where she supports leaders in K-12, higher education, business and industry, and government in developing and implementing rigorous career pathways leading to high-wage, high-demand jobs that leave open the prospect of further education.
Prior to joining JFF, Julia worked at Brigham & Women's Hospital as part of the Workforce Development team. In this role, she coordinated work-based learning and employment initiatives serving young people, focusing primarily on a large summer high school internship program and college internship program. Through partnerships with community-based organizations, training vendors and local school systems, she also worked to connect unemployed or underemployed adults to meaningful employment at the hospital.
Before Brigham & Women's Hospital, Julia worked at the Boston Private Industry Council (Boston PIC), Boston's Workforce Investment Board and the city's school-to-career intermediary organization. While at the Boston PIC, Julia first served as a Career Specialist at Charlestown High School and then as the STEM Coordinator.
Julia has a master's degree in education from the Prevention Science & Practice Program at the Harvard Graduate School of Education. She also holds a bachelor's degree in sociology from Brown University.