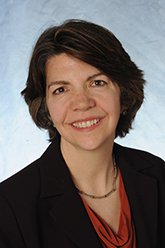 Jennifer Freeman has been involved throughout her career in efforts to help low-income and under-prepared adults obtain postsecondary credentials and self-sustaining jobs. As a senior director at JFF, her focus has been to help community colleges design programs so adults can more easily access college and quickly build skills that are needed in the local economy. That work includes helping colleges and their community partners build career pathways, develop credit-for-prior-learning policies, and design strategies for employer engagement. As part of this work, Jennifer manages a multiyear effort to provide technical assistance to community colleges that are recipients of the Trade Adjustment Assistance Community College Career Training (TAACCCT) program, a major initiative of the U.S. Departments of Labor and Education.
Before joining JFF, Jennifer successfully oversaw the management of one of the TAACCCT grants, a $20 million project involving 15 Massachusetts community colleges and state, industry, and community-based partners. From 1999 to 2011, she was principal of Freeman Consulting, where she developed strategic approaches to program design, organizational development, partnerships, and sustainability for organizations in the nonprofit, government, and philanthropic sectors. In addition to workforce development and community colleges, her areas of expertise include child and family services, public assistance, and homelessness policy and services.
Her experience spans the nonprofit sector, where she has developed and overseen services and programs; the philanthropic sector, where she has helped set strategic direction and make funding decisions; and the public sector, where she has served in roles as planner and policy analyst for city and state government.
Jennifer has a master's degree in public affairs from the University of Massachusetts–Boston and a bachelor's degree in sociology from the University of Wisconsin–Madison.