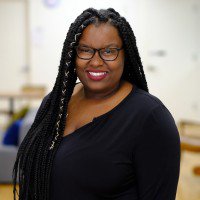 Ikeia Miller is a senior program manager at JFF. She leads the Learning Unit's efforts to engage and support its networks, with a particular focus on the national Student Success Center Network (SSCN).
Ikeia's skills and areas of expertise include:
Work-based learning
Network design and development
Network engagement
Project management
Partnership development
Strategic thinking and decision-making
Before joining JFF, Ikeia was a project director of high school partnerships at Here to Here in the Bronx, New York, where she helped high schools develop work-based learning initiatives and engaged potential new high school partners. She also oversaw high school knowledge management efforts and identified emerging opportunities related to curriculum, professional development, and other key components of work-based learning.
Earlier in her career, Ikeia was a project manager for the Department of Administration, Leadership, and Technology at the Steinhardt School of Culture, Education, and Human Development at New York University (NYU) and a City Year AmeriCorps member.
She has spoken at several conferences, including Columbia University's Social Innovation Summit, and was an inaugural 2021 What's Working in Workforce award winner.
Ikeia says that she is excited not only to join and contribute to an organization that is doing innovative work, but also to be in a space where she can grow and learn from her peers. She is most looking forward to working alongside practitioners from across the nation to identify opportunities for collaboration and learning throughout the SSCN.
Ikeia has a master's degree in educational leadership, politics, and advocacy from NYU and a bachelor's degree in experimental psychology from the University of South Carolina.
Outside of work, she enjoys exploring new cities and countries, finding hidden gems within her city, expanding her taste buds, and playing basketball in local recreation leagues.