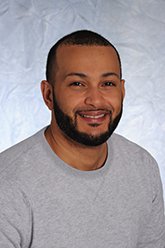 Gary Gonzalez is the office manager for JFF. He manages our Boston office space and supply needs while liaising with staff at the Washington and Oakland offices to help meet the needs of the organization as a whole. He also oversees construction and office design for the sites and the office supplies budget. He also acts as the liaison between JFF and our guests and visitors.
Mr. Gonzalez joined JFF in December 2008 as a data clerk for the Student Information System of the Early College High School Initiative, where he collected and co-managed assessment and supplemental data from across states and school districts. These capabilities provide information that guides the development and improvement of early college high schools, along with evidence of how well early college schools are achieving their mission: to help young people progress toward the education and experience they need to succeed in a family-supporting career. Prior to JFF, Mr. Gonzalez gained 10 years' experience as a maintenance supervisor and manager for a family-owned cleaning service company and credit analyst for a telecommunications company, both in Lynn, Massachusetts.
Mr. Gonzalez is a graduate of the Lynn Vocational & Technical Institute with a focus in graphic design.