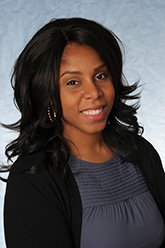 Eugenie Inniss is a senior digital content manager on the communications team at JFF. She manages JFF's social media channels and disseminates content about JFF's initiatives, raising awareness about our work.
Prior to JFF, Ms. Inniss spent three years as the member engagement and communications coordinator at the YMCA of Greater Boston, where she ran educational programs for families on healthier living, managed social media platforms, created marketing materials for various YMCA programs, and helped drive member sales.
Ms. Inniss also serves as the associate producer for Urban Update, a weekly public affairs program that airs on Boston's NBC affiliate, WHDHTV. She is responsible for researching and pitching stories and produced a 2014 gubernatorial candidate forum. Previously, she served as an ABE Career Advisor for Youth Build USA, where she recruited and mentored adults and youth pursuing their HiSet (high school equivalency test). She also served as a Digital Media Fellow at BBC Worldwide Americas.
Ms. Inniss earned her bachelor's degree in broadcast journalism from Emerson College.