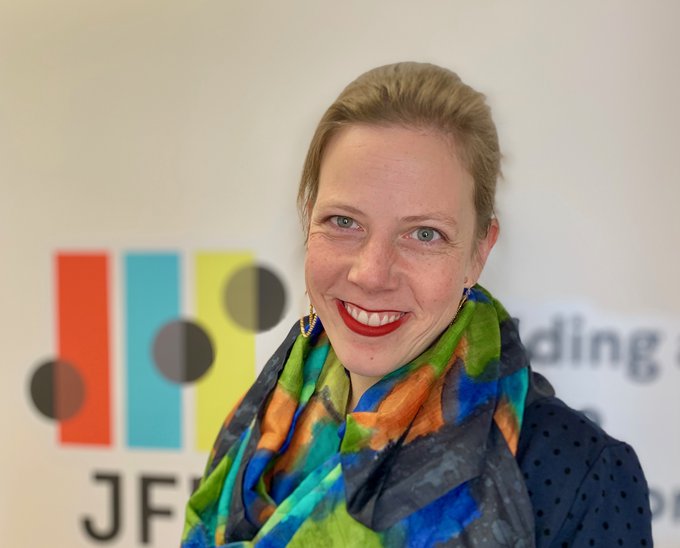 Elizabeth Kidd McWhorter is a senior director at JFF. She works to transform secondary and postsecondary learning systems through national and state-based networks of change agents.
Elizabeth's work requires changes to practices, policies, and perceptions. She co-leads a dynamic team of experts from every major education system as they reimagine learning experiences in ways that promote equity and quality, and that address the contexts and conditions necessary to learn and thrive.
Prior to joining JFF, Elizabeth was the vice president of Swanee Hunt Alternatives, an operating foundation that brings daring goals, distinctive perspectives, innovative practices, and extraordinary talent to some of the world's most complex and injurious challenges. She helped lead the organization's five major programs, and she aligned strategy and operations across the programs.
Earlier in her career, Elizabeth worked as a grant manager and development associate at various organizations, including the Civic Education Project, an international exchange program for academics, and the Port Discovery Children's Museum in Baltimore. She also served as a Peace Corps volunteer in Romania, and she says her experiences have taught her to pursue excellence through an adaptive, opportunistic, and collaborative approach.
Reflecting on her role at JFF, Elizabeth says, "When people ask me what I do, I tell them I'm changing the world by making organizations stronger. I deeply believe in the power of the nonprofit sector to lead large-scale transformative change. My time at JFF has only strengthened that belief."
Elizabeth lives in Massachusetts with her spouse, two kids, a dog, a cat, a fish, and two bicycles.