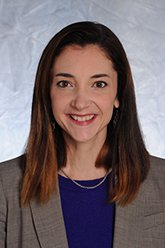 Clare Bertrand is a senior director at Jobs for the Future. A member of JFFLabs team, she leads efforts to integrate technology and innovative best practices into solutions designed to ensure that young people, and the adults who work with them, can successfully navigate education and career pathways.
Clare leads a team that works with communities, networks, and companies to identify high-quality career pathways for young people using technology. She launched JFF's first web and mobile platform, MyBestBets.
Her past JFF projects include leading the design, development, and expansion of the Students of the Center Hub, an online platform for educators, and led that initiative's social media campaign. She has also designed and led trainings with practitioners on topics such as labor market information, career navigation, blended learning, curriculum development, and edtech integration.
Clare began her career working as an educator and youth program coordinator at the Mattapan Family Service Center in Boston, and then worked on a number of educator professional development initiatives with with partners like Teachers21 and Simmons College.
Clare serves on the boards of ConnectED: The National Center for College and Career and the Eskolta School Research and Design.
She is an active alumna of the University of Pennsylvania Graduate School of Education, speaking at events and advising current students on their education entrepreneurship ventures.