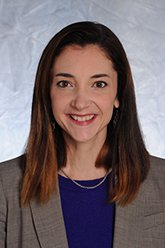 Clare Bertrand is a senior director at JFF. She leads efforts in JFFLabs to integrate technology and innovative best practices to ensure that young people can make well-informed decisions about their education and career pathways.
Clare focuses on innovating and scaling career pathway decision making for young people who are over-age, under-credited, and low-income. She leads a team that works with communities, networks, and districts to identify and take advantage of career pathways for young people using technology. Her achievements include launching JFF's first web and mobile platform, MyBestBets.
Earlier in her tenure at JFF, Clare led the design, development, and expansion of the online platform Students at the Center Hub, conducted research on education technology to improve outcomes for opportunity youth, and engaged in postsecondary policy analysis and application development.
Before joining JFF, Clare worked with Teachers21, a Massachusetts-based nonprofit that focuses on reshaping the profession of teaching. She also worked at the Mattapan Family Service Center in Boston.
An innovation leader, Clare devises technology solutions for a broad range of JFF programs. Most recently, she designed a partnership assessment process for JFF employees to follow when they pursue collaborations with technology vendors.
Clare speaks on a number of topics, including innovation in education, guiding young people to career and education pathways, and embracing entrepreneurial mindsets in nonprofit and education settings.
Clare says she enjoys working at JFF because it is "incredibly forward-thinking without falling prey to glossy solutions or silver bullets. This balance of innovative thinking anchored in historical context allows JFF to work with partners to design for change leveraging both fresh ideas and best practices."
Clare enjoys baking (especially French pastry), playing music, dancing, visiting museums and historical homes with her husband and son, making art, traveling with friends, and falconry.