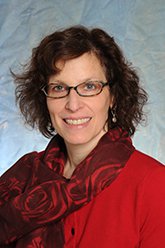 Carol Gerwin is the director of editorial services on JFF's Communications team. She leads editorial strategy with a single goal—to create engaging content that increases JFF's influence and impact.
Carol partners with JFF's subject matter experts to tell the stories of how our efforts to reimagine education and workforce systems transform the daily lives of people who are struggling to get by. She crystallizes the complex problems and innovative solutions at the heart of JFF's work for our wide range of audiences and media channels. She edits everything from research studies and policy briefs to email newsletters and blog posts.
Before joining JFF in 2014, Carol covered critical education issues for 20 years as a journalist and a contributor to national research organizations. She was also a longtime freelance editor for JFF. Carol began her career as a daily newspaper reporter in suburban Boston, and later became associate editor of CommonWealth, a public policy and political magazine focused on Massachusetts.
Carol was drawn to JFF because the mission matches her lifelong passion for helping people from vulnerable populations achieve a better life.
Outside of work, Carol advocates for people with autism and intellectual disabilities. She enjoys mastering and remastering her couch-to-5k app, binge-listening to podcasts, traveling with her husband, and spending time with her two grown sons.