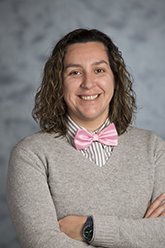 Ana Gutierrez is a senior director at JFF. She works with partners in various sectors at the state, regional, and local levels, supporting their efforts to transform systems so that they can succeed in the new economy.
She currently leads JFF's Regional Economic Development Unit in California and engages in research to better understand how cities and regions can lead the way in establishing equitable systems that lead to economic mobility.
Her skills and areas of expertise include:
Cross-sector partnerships and networks
Systems leadership
Inclusive economic development
Regional economic development and place-based policy
Human capital development
Ana is a teacher at heart, but she has worn multiple hats and played many roles in her career. In addition to enjoying a 14-year career as a teacher at a public high school and at a community college, she has held various leadership positions as a member of a nonprofit board of directors and as an elected official in city government.
Driven by a love of learning and places, Ana seeks to understand better ways to tackle the structural barriers (such as generational poverty, housing inequities, health problems, and adverse environmental conditions) that prevent so many people from achieving educational advancement and economic mobility.