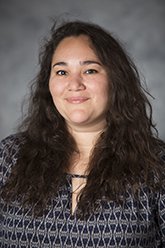 Alexandra Miano is the office manager in JFF's Oakland, California, office. In that role, she helps manage systems, processes, and facilities and provides staff support and direct program support for JFF's California team.
She has more than a decade of office management experience. Her strengths include project management, personnel management, scheduling, travel planning, events planning, facilities management and maintenance, time management, contracts, invoicing, and customer service.
Alexandra says she thoroughly enjoys the KonMari method of organizing and brings that approach to her work supporting office operations and projects. As she says, "Nothing says party like a spreadsheet and a work plan!"
Outside of work, Alexandra is a proud aunt, a lover of dogs, a plant collector, and a painter.