40th Anniversary Timeline
Building A Better Workforce
In the early 1980s, the team that would become JFF set out to solve a tough new economic problem: employers across the country faced difficulty finding enough highly skilled workers.
A pioneer in market research and a young Yale management school graduate founded an innovative organization to create a better balance between workforce supply and demand. Jobs for Connecticut's Future defined the state's workforce needs and designed education models to produce more qualified workers to meet them.
Fast-forward 40 years and many employers again have been struggling to find people with the right skills to fill good jobs. These are some of the highlights on our path to transform education and training systems so all US businesses and their workers can thrive.
1983-1989
JFF Founded to Help States Meet Economic Demands
Founded by Arthur H. White and Hilary Pennington, JFF launches partnerships with states to revamp education and workforce systems to meet pressing economic demands. Gov. Bill Clinton encourages them to bring the idea to Arkansas and JFF quickly expands to six states.
1990-1993
Groundbreaking Apprenticeship Models for Youth
JFF's National Youth Apprenticeship initiative develops groundbreaking models for linking employers with schools to create career pathways. JFF's work is featured at President-elect Clinton's economic summit and on The Today Show.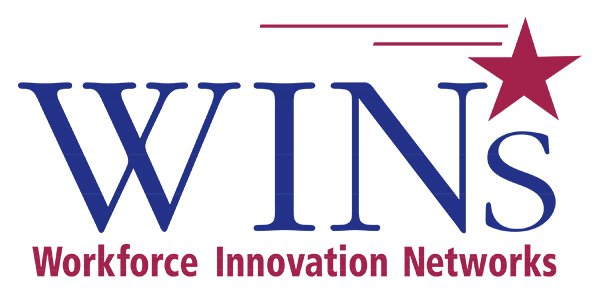 1997-2007
Supporting Workforce Intermediaries
Enabling workforce intermediaries to serve disadvantaged jobseekers and the employers that hire them, JFF and partners launch the Workforce Innovation Network. With the US Chamber of Commerce and the National Association of Manufacturers, the network operates for over 10 years in 21 communities and 3 states.
2003-2012
Partnering to Skill Up Employees
JFF helps design, launch, and implement SkillWorks: Partners for a Productive Workforce in Boston. The nationally recognized workforce and funder collaborative guides low-income, low-skilled adults to find family-supporting jobs and employers to find and retain skilled employees.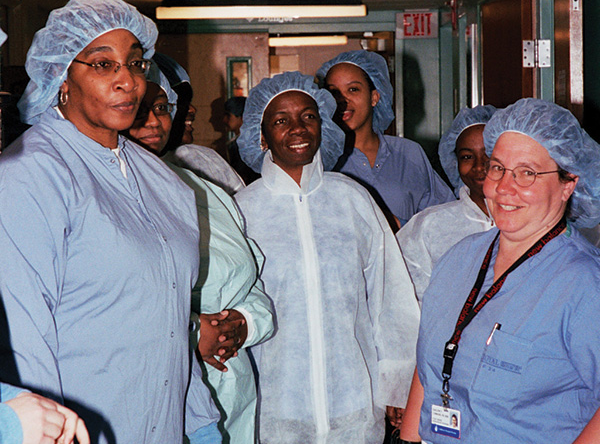 2006-2011
Advancing Frontline Health Care Workers
A dual mission of helping frontline health care workers get training to advance in their careers and improve the quality of care spurs the formation of Jobs to Careers: Promoting Work-Based Learning for Quality Care. JFF serves as the national program office for this initiative supported by the Robert Wood Johnson Foundation and other funders.
2010-2018
Harnessing Labor Market Data to Help Workers and Employers
JFF begins Credentials that Work, a service harnessing the high-tech power of "real-time" labor market information. Data culled from online job postings enables employers and community colleges to invest in education and training programs that match the specific workforce needs of regional industries.
2017-2018
A Talent Solution for American Businesses and Workers
JFF launches the Center for Apprenticeship and Work-Based Learning to provide expert guidance for companies, students, and workers. The center promotes innovations that advance proven talent development solutions for American businesses and workers.
2019-2023
Investing in Innovation
This period marks an exciting time of growth and expansion for JFF. In 2019, we acquired the Employment Technology Fund (now JFF Ventures) to support innovators looking to bring new solutions to the education and workforce eco-system. Recently, we welcomed the Education Quality Outcomes Standards (EQOS) to the JFF portfolio.
During this time, JFF has also launched two new Centers, our Center for Justice and Economic Advancement and our Center for Racial Economic Equity.
Redesigning Schools

The US education and workforce systems we know today planted their roots over a century ago, in the wake of the Industrial Revolution. American society has changed endlessly since then. Technology has many times transformed the way we communicate and do business. Previously unimaginable strides have been made in science, medicine, and quality of life. Yet our public schools—whose mission is to prepare students for work in these fields—has remained largely the same.
It is not a coincidence that, despite overall economic growth, economic opportunity remains limited for millions, with low-income people and people of color the least likely to advance. JFF believes that education, with its own revolution, can once again pave the way to economic advancement. We've played a key role in pioneering new designs that propel high school students to college and career success.
1994-2000
Connecting School to Career
JFF helps shape the emerging school-to-career movement with essential contributions to the 1994 School to Work Opportunities Act. JFF leverages over $1 billion in seed capital.
1994-2002
Demonstrating Work-Based Learning
JFF launches the Benchmark Communities Initiative, a six-year national demonstration of work-based learning as a central component in revitalizing high schools.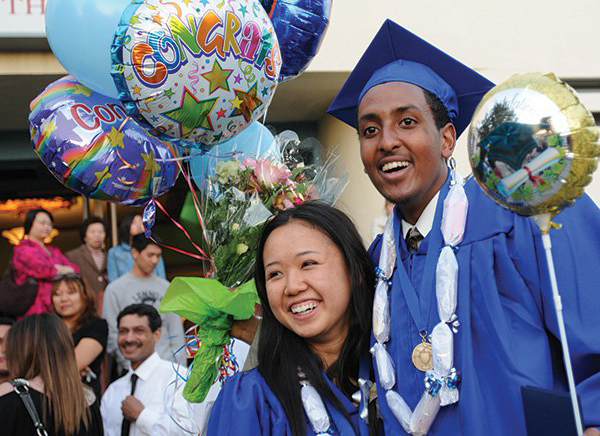 2000-2005
Revitalizing Schools with Groundbreaking Models
From the Margins to the Mainstream elevates breakthrough models for school revitalization, including college in high school, anytime/anywhere learning, and new strategies for reengaging dropouts.
2002
Early College Means Early Success
JFF begins its work on early college as the lead coordinator and policy advocate for the Early College High School Initiative, funded by the Gates Foundation and others, to create and redesign high schools serving tens of thousands of students each year. Federal grants later enable JFF and local partners to adapt, expand, and build the evidence base for this model.

2004-2011
Spreading Early College Designs
JFF creates the Institute for Student Success in partnership with Clark University and the University Park Campus School. The institute trains small-school developers, leaders, and teachers to implement UPCS's proven leadership strategies and instructional techniques.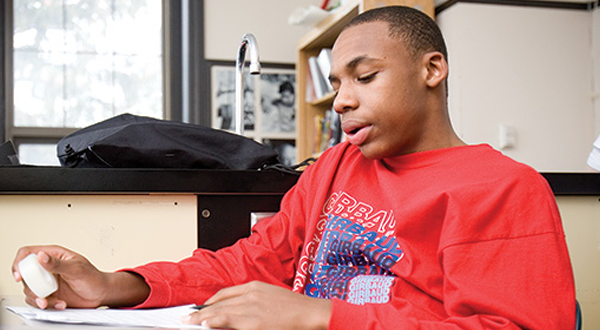 2012-2018
Engaging All Students for Success
Continuing the drive toward career and college success starting in secondary school, JFF leads Students at the Center, helping educators and policymakers implement learner-centered approaches that engage each student in acquiring the deeper learning skills, knowledge, and expertise needed for college and career success.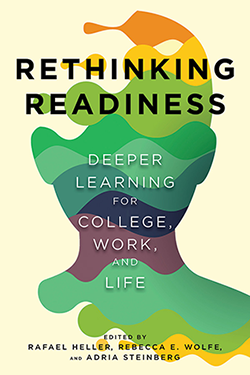 2012-2018
Linking Schools to Colleges to Employers
JFF partners with the Harvard Graduate School of Education and six states to create the Pathways to Prosperity Network, building state systems of career pathways for grades 9–14. The network has added eight states or regions since.

Tapping New Talent

The economy is strong, but opportunity remains limited for millions. Low-income people and people of color are the least likely to advance. About 5 million jobs go unfilled each year because employers can't find enough skilled workers. It is time to tap new pools of talent.
Employers can make greater efforts to hire nontraditional applicants, including older workers, people with disabilities, and young adults who do not graduate high school with their peers. JFF is committed to demonstrating to employers that traditionally untapped populations have the skill sets they need.
JFF designs and scales solutions that help create access to economic advancement for everyone in our society. These are some of our successes bringing equity and opportunity to the forefront of national conversations.
2000
Representing Diverse Viewpoints on Improving Economic Opportunity
JFF organizes Low-Wage Workers in Today's Economy, a conference of national experts representing diverse viewpoints and constituencies, to discuss how our nation can help low-income Americans achieve long-term economic self-sufficiency.
2003
National Call to Increase College Completion
JFF challenges education leaders to increase postsecondary outcomes for low-income and minority youth, organizing a national conference, Double the Numbers: Increasing Postsecondary Credentials for Underrepresented Youth, and releasing a publication from thought leaders that highlights emerging policy and practice strategies at the state, district, and school levels.
2005
Addressing Dropout Prevention and Recovery
The Youth Transitions Funders Group, a national network of grantmakers, engages JFF to help cities develop approaches to dropout prevention and recovery and to increase the number of young people who earn postsecondary credentials and enter family-supporting careers by age 26.

2006-2011
Getting Disconnected Youth Back on Track to Education and Careers
JFF's Making Good on a Promise works with national organizations and their community-based affiliates to help young people disconnected from school and work get back on track to attain educational credentials and launch an economically productive adulthood.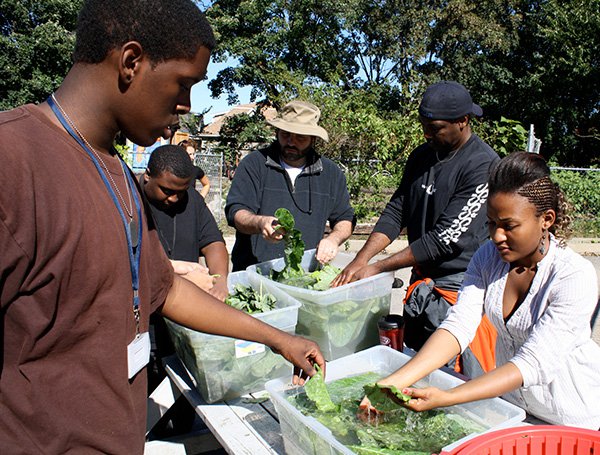 2007
Sustaining the Call to Improve Postsecondary Outcomes
JFF holds its second Double the Numbers: Increasing Postsecondary Credentials for Underrepresented Youth conference in 2007.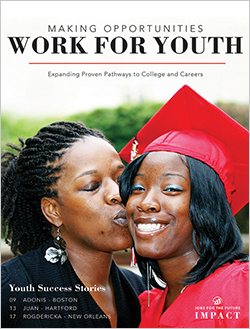 2014-2018
Scaling What Works for Opportunity Youth
With the Aspen Forum for Community Solutions, JFF is awarded a Social Innovation Fund grant for Opportunity Works. The evidence-building initiative demonstrates what works to improve credential attainment and employment prospects of low-income opportunity youth—16- to 24-year-olds who are not participating in education or the workforce.
Reshaping Education After High School

Reforming college math in Texas, ensuring equity in Washington, and boosting student support services in Michigan—JFF's unique body of community college work has made great strides in advancing policy and practice that help all students attain high-value credentials.
Recognizing the need to strengthen and expand training for the skills needed by regional employers, JFF assists community colleges across the US in boosting the success rates of education and training programs—particularly for low-skilled adults and other underserved groups.
2005-2011
Launching Efforts to Stop Leaving Lower-Skilled Adults Behind
JFF helps design and lead Breaking Through: Helping Low-Skilled Adults Enter and Succeed in College and Careers to promote and enhance the efforts of community colleges helping low-literacy adults prepare for and succeed in occupational and technical degree programs. Breaking Through reaches nine states, including urban, rural, and tribal colleges.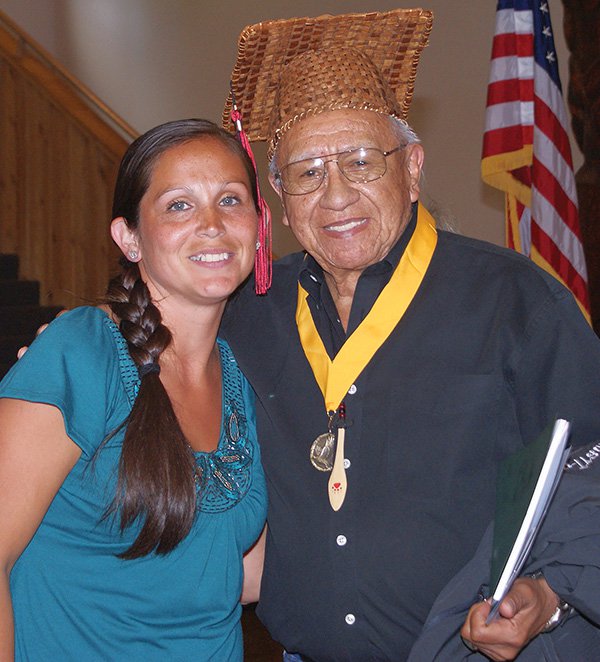 2009-2012
Reforming Developmental Education
JFF leads policy efforts of the Developmental Education Initiative, launched by six states participating in Achieving the Dream—with MDC and funding from Gates and Lumina Foundations—to support dramatic improvements for postsecondary students identified as needing remediation.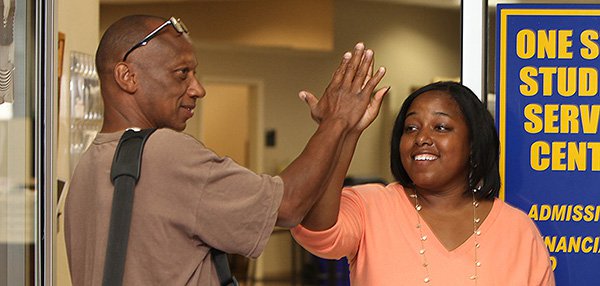 2012-2016
Improving Outcomes for Adult Basic Education Students
Expanding on the work of Breaking Through, JFF leads Accelerating Opportunity, an initiative to support state community college systems seeking to improve Adult Basic Education and increase the number of adults with low basic skills who earn credentials that lead to family-supporting careers. In the initiative's first three years in four states, students earned 7,000 credentials.
2015
Sharing What Works for Adult Learners Nationwide
JFF leverages a range of community college networks and stakeholders to launch Bridging the Gap, a 2015 conference featuring a cross-section of leading practices and strategies from many of JFF's initiatives that support community college students striving to earn credentials of value in the labor market.
2015-2018
Aligning Statewide Student Success Efforts
Half of US community colleges can benefit from the guidance of the national Student Success Center Network, managed by JFF with support from the Gates and Kresge Foundations. Centers in 15 states seek to scale proven practices to help more students earn credentials that lead to good jobs.
Building a Future that Works

Accelerating technological change deeply affects both employers and employees and the skills and credentials needed to succeed. These disruptions make it difficult for traditional systems to keep pace and create a risk that students and workers—especially those already struggling—will fall even further behind.
Since our founding, JFF has believed that the key to a prosperous future is ensuring that we are able to create—and sustain—an educated workforce with the skills needed to succeed in this increasingly competitive world. JFF finds and scales effective ways to develop and maintain a thriving workforce. As the challenges have evolved, so have our solutions. These are some of the accomplishments on which we'll build the work of our next 35 years and beyond.
2004-2005
Supporting Workforce Intermediaries
The Annie E. Casey and Ford Foundations work with JFF to launch Investing in Workforce Intermediaries, a national support infrastructure for workforce intermediaries—unique partnerships that bring all stakeholders to the table. Focusing on improving business productivity, they also help low-income individuals advance to careers that enable them to support themselves and their families.
2005
Preparing for a Global Economy
In 2005, JFF brings together top corporate, education, and workforce policymakers for The Fate of the American Dream: A National Forum on Strengthening Our Education and Skills Pipeline to address the need to prepare the nation for the demands of the knowledge-based global economy of the 21st century.
2007-2015
Incubating a Workforce Nonprofit
JFF is the lead intermediary for a collaborative of funders in order to incubate the National Fund for Workforce, with a goal to seed and strengthen local and regional workforce partnerships.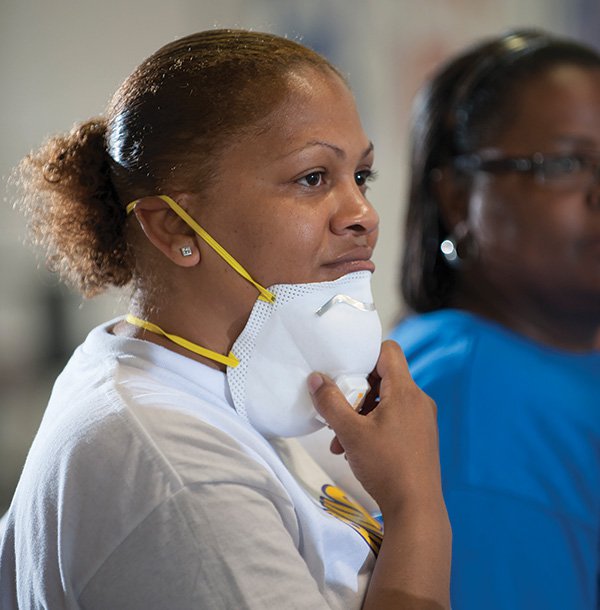 2008
Opening a Policy Office in Washington, DC
JFF opens a second office in DC in 2008, focused on education and workforce policy, to advocate for the adoption of federal policies, informed by practice, that accelerate credential attainment and career advancement.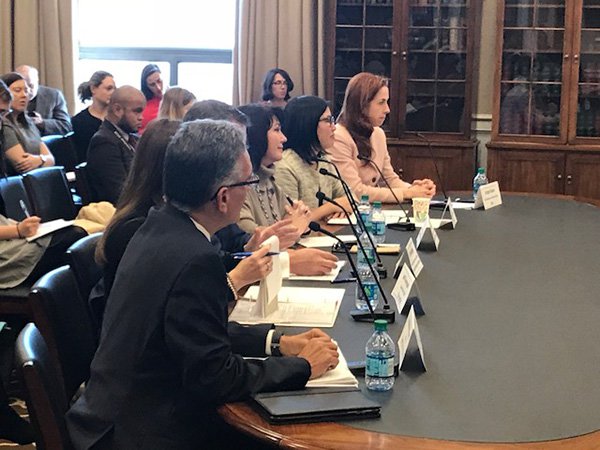 2015
Opening a West Coast Office
JFF opens our third office in Oakland, CA, in 2015 and launches a body of work, with funding from the Irvine Foundation and The California Endowment, to support regional- and state-level networks of leaders from education, workforce development, and industry in California. The work advances high-quality career pathways and other strategies promoting economic security for youth and adults.
2016
Bridging Education and Work at Our First National Summit
JFF hosts Voices for Opportunity and Economic Mobility, our first national summit in 2016. Bringing together 650 educators, employers, funders, policymakers, researchers, and practitioners, we amplify the call for what it will take to bridge the education and workforce systems to expand economic opportunity for all.

2017-2018
Expanding Our Horizons
JFF's CEO Maria Flynn launches a new vision for accelerating and deepening our work as a field leader in the design and implementation of innovative solutions, the networking of those seeking transformative impact, and influencing industry actions to improve the educational and economic outcomes of low-income youth and adults. The vision includes JFFLabs, an affiliated innovation and invention engine that infuses JFF's traditional field leadership with new economy thinking, relationships, and disruptive practices.